Microsoft has just announced the latest iteration of its exclusive Gears of War 4, and with it a new and long-awaited feature: the ability to buy the game and play it anywhere on Xbox One and Windows 10, with cross-platform co-op and multiplayer between the Xbox and Windows 10 servers.
Microsoft announced the title with exclusive gameplay footage of the title's story mode, which has the player fighting to save their character's mother in a polished and high-intensity setting. Like previous Gears games, the player will be fighting the Locust Horde across story mode, online Horde Mode multiplayer, and multiplayer co-op.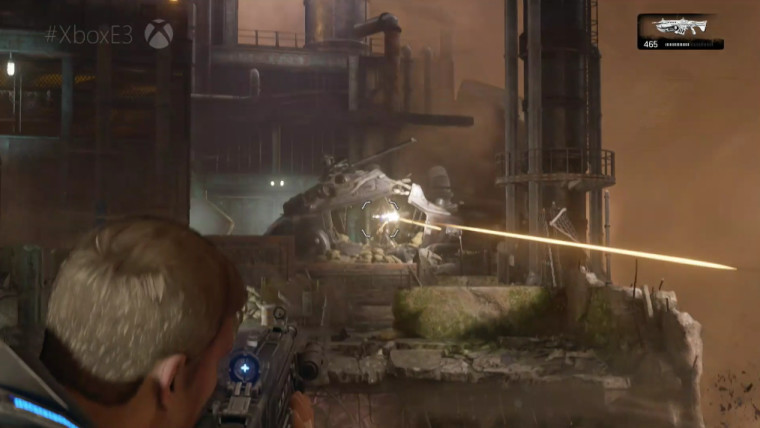 In addition to the gameplay footage, Microsoft also debuted a new Gears of War 4-skinned Elite Wireless Controller, which will be priced at $59.99. The controller sports buttons mapped to each of Gears' signature weapons, and a deep red, blood-spattered paintjob. The controller is available for pre-order now on Xbox.com. You can check it out in Microsoft's new release video below:
According to Microsoft's Larry Hyrb, Gears will be one of the first titles to employ Microsoft's new Xbox Play Anywhere feature, which will allow gamers to buy a game digitally, and play it across Xbox One and Windows 10 at no extra cost. The best news is that progress will be shared between the two platforms, meaning you will likely be able to load up a Gears session on Xbox One, advance through the story, and pick up right where you left off on Windows 10.
Gears of War 4 will be released on October 11, 2016, but the game is available for pre-order now.
Check back for our additional coverage of Gears of War 4 and stick around for the rest of our coverage as we report from Microsoft's E3 press conference and the rest of E3 2016.