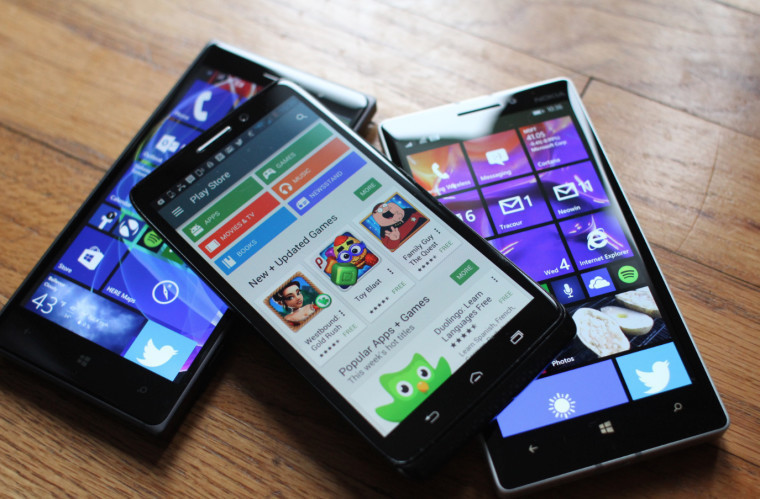 It's no secret that the Windows Store has less apps and games as compared to the Google Play Store or Apple's App Store, with little support from first-party developers. And while the company hopes to improve on the situation with its Universal Windows Platform strategy, developer response has been a mixed bag recently.
While companies like Valve, Wells Fargo, Netflix and more have either brought their apps to the platform or reiterated their support for it, many others, including developers from Rovio, Kabam, and the most recent one; Niantic, makers of Pokémon GO, have either voiced their disinterest for the OS in favor of Android and iOS or haven't announced plans to release their apps on Windows.
With that being said, it is still a bit too early to determine the success or failure of the Universal Windows Platform. In terms of games, as we've noted in the past, there are some fantastic titles available on Windows Phone 8.1 and Windows 10 Mobile, but then again, there are many other popular names that are yet to make a debut on Windows phones. We've made a list of some of the best Android games we wish were available on Windows phones. Bear in mind that some of these games are available on other OSes (such as iOS) too, and that the list is in no particular order.
Pokémon GO
Whether you like (or admit) it or not, Pokémon GO has become a global phenomenon. In fact, the title is so popular that there have been issues with server overloading, which has forced a staggered rollout of the title. People all over the world are playing it by either downloading it from official sources or via third-party websites.
The augmented reality game allows players to travel to real locations and "capture" elusive Pokémons using their phone's camera, GPS and data connectivity. The experience is a whole lot more fun if you have friends that play the game, but if you don't, you can catch a wild Vaporeon with hundreds of strangers in the Central Park too!
The game is certainly catching the attention of not only children, but adults as well, who have been craving to "catch'em all" since the 90s. It's difficult to think of reasons to not want it on Windows phones. But, Windows phone users would want to get access this game as soon as possible on the OS, before it turns out to be a short-term fad. Candy Crush Saga anyone?
Download | Pokémon GO
Telltale's The Walking Dead series
Telltale Games is well known for developing choose-your-own-adventure games with relatively basic graphics but gripping and emotional stories. While the publisher has developed several popular games including Tales from the Borderlands, Game of Thrones, The Wolf Among Us and more, its best outing is arguably The Walking Dead, based on the hit graphic novel series of the same name.
Two seasons of the critically acclaimed series have been published as of yet, with the third coming this fall. The series revolves around a young girl named Clementine who is brought up by a convict named Lee who escapes his police escort after the zombie apocalypse strikes. In the first season, players get to assume the role of Lee (and Clementine for a short while) as they try to survive the end of days while making tough choices along the way.
And these choices matter, unlike most other games. Your decision may lead to the death of a character or it may save them, depending on what you choose. More than one time, you'll be forced to choose one of two characters and the end result will likely be gut-wrenching whatever you choose, all the characters are just so well-developed.
The second season will see players take on the role of an older and more mature Clementine as she struggles to survive in a zombie-ridden world. The third season - which has already been announced - will continue the story of Clementine from where it left off in Season two, and is slated for a launch this fall.
Windows needs this series, simply because it's just so good ...and there's a shortage of choose-your-own-adventure games on the OS, with the exception of a few. This is a segment that Telltale Games can easily tap into, and luckily, there's good news for Windows phone users asthe company recently announced that it plans to bring its gaming library to Windows 10 PCs and Mobile, including its upcoming Batman game. With that being said, Telltale Games has not announced specific titles it plans to bring to the OS, but not including The Walking Dead would be a huge missed opportunity, should the company decide to bring only the most recent games.
Download | The Walking Dead: Season One
Download | The Walking Dead: Season Two
Clash of Clans
While most of the initial excitement for Clash of Clans has died out by now, shifting over to Supercell's latest title, Clash Royale, it's important to know that loads of people still play this game. The title is among the top five most grossing Google Play apps in various countries including the US, UK, Canada and Switzerland.
The free-to-play simulation and strategy title follows the same basic formula as most other games in the genre, with players building their own cities, hunting for resources, attacking other players and defending their own clans. For this reason, Clash of Clans has attracted a large user base over the time, making it one of the more popular game in recent times.
It's unfortunate that the game's publisher Supercell, has repeatedly said in the past that it doesn't plan to bring Clash of Clans to Windows phone. But,with Windows 10 now installed on more than 350 million devices, that could all change. If cross-play is made possible between players on Android and iOS, Supercell will undoubtedly be able to increase its user base by quite a lot.
Download | Clash of Clans
Score! Hero
We counted Score! World Goals as one of the best games available on Windows Phone 8.1 nearly one year ago. Unfortunately, the second game in the series made by the same developer isn't available on the platform as of yet. Arguably the better title in the series, Score! Hero keeps and improves upon the gameplay mechanics of the previous game, but allows players to create a football star and score awe-inspiring goals with him, while controlling the rest of the team as well.
Score! Hero offers a nice blend between RPG, puzzle, strategy, and simulation, while not faltering in either. The main game mode which can be called a "Story Mode" allows players to rise above the ranks with their custom character, scoring amazing goals, and join (and leave) famous clubs and international teams. Goals can be scored in various ways, encouraging creativity and finesse. Coupled with decent graphics, Score! Hero fails to disappoint.
Score! Hero has been installed nearly 50 million times on Android and has garnered a commendable rating of 4.6/5 after more than two million votes. Seeing that the previous game in the series, which is available on the Windows Store has a enjoyed similar popularity - albeit on a smaller scale with 8,000 votes in the U.S. - with a rating of 4.7/5, it's both surprising and disappointing that Score! Hero didn't make its way to the platform.
Download | Score! Hero
Injustice: Gods Among Us
If arena battles fully rendered in crisp 3D graphics, with a large roster of superheroes at your disposal is your thing, you can't go wrong with Injustice: Gods Among Us. While the 3-on-3 combat game offers simple tap and swipe-based gameplay mechanics, it's extremely fun to play.
Gamers have the ability to play as various iconic DC superheroes and villains including the Batman, Superman, Wonder Woman, Joker, Doomsday, Bane, the Flash and others. The 3D environments and surroundings not only add to the aesthetic appeal of the game, but can also be utilized to your advantage. Injustice boasts of familiar locations such as Arkham Asylum and the Batcave as well. Each character has their own unique powers, advantages and disadvantages and can be leveled up.
Another element in the game is the presence of online multiplayer, should you get bored of the main game mode. Fighting with other players to reach the top in leaderboards is exhilarating and competitive. With almost 50 million installs on Google Play and an impressive rating of 4.4/5 after two million votes, there's little reason to not want this on Windows devices. Unfortunately, Warner Bros. - the publisher of the game - has yet to release the title on the OS, so it's unlikely that we'll see the game on the platform any time soon.
Download | Injustice: Gods Among Us
---
Are there any other Android games you wish were available on Windows phones? Let us know below!