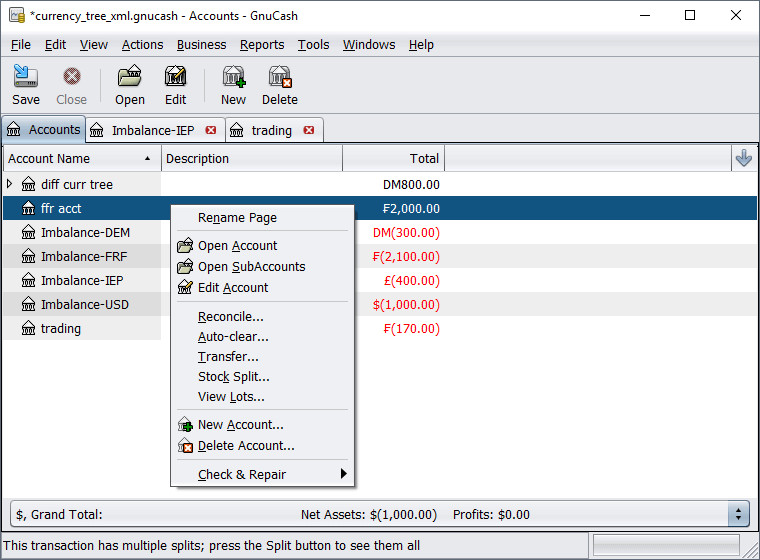 GnuCash is a personal and small business finance application, freely licensed under the GNU GPL and available for GNU/Linux, BSD, Solaris, Mac OS X and Microsoft Windows. It's designed to be easy to use, yet powerful and flexible. GnuCash allows you to track your income and expenses, reconcile bank accounts, monitor stock portfolios and manage your small business finances. It is based on professional accounting principles to ensure balanced books and accurate reports.
GnuCash can keep track of your personal finances in as much detail as you prefer. If you are just starting out, use GnuCash to keep track of your checkbook. You may then decide to track cash as well as credit card purchases to better determine where your money is being spent. When you start investing, you can use GnuCash to help monitor your portfolio. Buying a vehicle or a home? GnuCash will help you plan the investment and track loan payments. If your financial records span the globe, GnuCash provides all the multiple-currency support you need.
Between 4.10 and 4.11, the following bugfixes were accomplished:
Bug 797163 - qof_book_get_option segfaults when retrieving a non-leaf frame
Bug 798053 - Accounts renumeration (renumbering)
Bug 798471 - Can't see or select Income or Expense accounts in Income Tax Information GUI
Bug 798483 - GnuCash Crashing With SIGSEGV During QFX Import Transaction Matching
Bug 798491 - MT940 of day 28.02.2022 ends in transactiondate 01.01.1970
Bug 798493 - Invoice Report Quantity & Unit Price fields have limited decimal precision on printed invoices
Bug 798496 - gncEntry Quantity and Discount are misusing commodity scu
Bug 798499 - Expense Chart data tables include extra columns of data
Bug 798500 - FTBFS (tests failure) on armhf
Bug 798501 - Balance wrong date end of period
Bug 798531 - Selecting "Print" from the file menu on a report crashes gnucash
Bug 798533 - Crash when importing quicken @ currency
Bug 798535 - Crash when increasing the number of periods in a budget
Bug 798547 - Calculated Due Date is short 1 day when posting on day of fall change from Daylight Time to Standard Time.
For a complete list of new features and other changes see the Release Notes
Download: GnuCash 4.11 | 143.0 MB (Open Source)
Links: GnuCash Home page | Other Operating Systems
Get alerted to all of our Software updates on Twitter at @NeowinSoftware