With an expected release of 5th May, fans of the HTC Magic will now be able to pre-order it, and be the first to receive the device when it launches in Europe. The handset will be free for 18 month contracts at £35 per month or greater, and £195.74 or £293.62 for 18 month contracts at £30 per month or lower from Vodafone.
The Magic is the widely anticipated successor to the T-Mobile G1, or the Dream, as it is known to the rest of the world, from handset manufacturer HTC. Although many people believe the Magic is essentially the G1/Dream sans the QWERTY keypad, there are many changes under the hood as well.
The Magic, upon release, will be the second handset to run Google's Android platform. Unlike, the platform on the G1/Dream, the Magic runs on an updated version of Android, codenamed 'cupcake'. Expected are changes to the download manager, the framework, Bluetooth, the system software, radio and telephony, developer tools, the build system and several applications, as well as a number of bug fixes. It also includes a virtual touch sensitive QWERTY keypad due to the Magic's lack of a physical one.

Image courtesy of CNET UK
One difference that you can immediately notice between the prototype models (from the Mobile World Congress) and the final model is the button design on the face of the device. HTC was reportedly unhappy with the responsiveness and tactile feedback of the earlier designs and had therefore revamped the layout and size of the buttons. The rest of the device remains largely unchanged.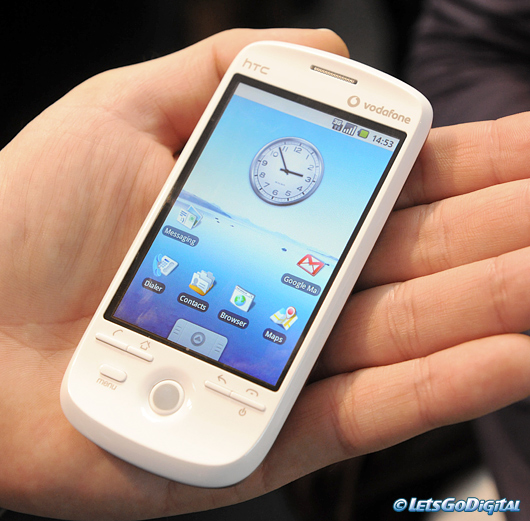 Here is the feature list from the Vodafone website:

HSDPA

Built in GPS navigation

3.0 - 4.0 megapixel

3G

GPRS

WiFi

Triband

Bluetooth

Built in GPS navigation

Touch screen

Vodafone Mobile Internet

Email

Games

MP3 player

Camera / Video

Alarm clock

Calendar

Handsfree headset

White

Touch screen
Specifications:
Screen size: 3.2 inches
Dimensions: 113 x 55 x 13.65 mm
Fans around the world, keep your fingers crossed.
Link: Product Page