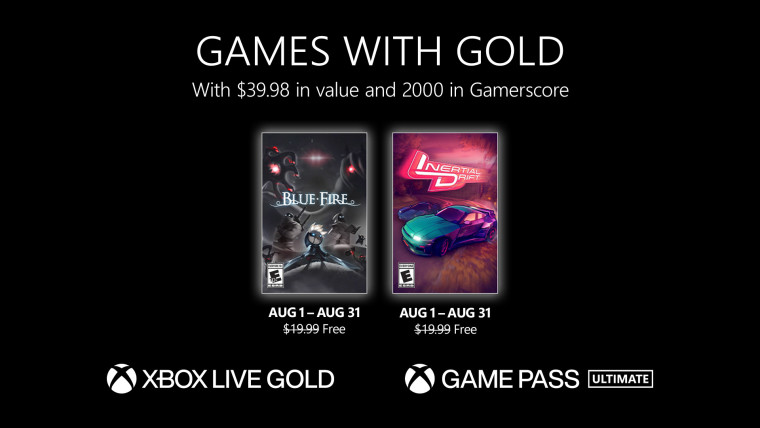 Microsoft today unveiled what will be the bonus games of August for Xbox Live Gold and Xbox Game Pass Ultimate holders. This marks the last month of Games with Gold as well, and unfortunately, there isn't anything special planned for the occasion it seems. Microsoft is offering copies of Blue Fire and Inertial Drift to claim in the coming month.
From the duo, Blue Fire is an action 3D platformer from indie developer Robi Studios. Released in 2021, the game has you mastering its movement abilities to navigate its challenging levels and slashing your way through various enemies and bosses.
Meanwhile, Inertial Drift is an arcade racer from 2020 by developer Level 93 Entertainment, promising a unique solo and multiplayer driving experience that uses twin-stick controls.
The two are Xbox One titles, but thanks to Xbox Series X|S backward compatibility, they are also playable on the latest consoles.
Both games are being offered from the start of the month due to Games with Gold's (and Xbox Live Gold) incoming end in September. The final two titles from Games with Gold and their availability dates are these:
Blue Fire: Available August 1 to 31
Embark on an extraordinary journey through the desolated kingdom of Penumbra and discover the hidden secrets of this long-forgotten land. Explore mystical temples, encounter survivors and take on strange quests to collect valuable items. Along your adventure, slash your way through daunting adversaries, roam across mysterious and abandoned regions, leap through deadly traps and ultimately master the art of movement.
Inertial Drift: Available August 1 to August 31
Set in a 90's retro future, Inertial Drift is an Arcade Racer with a devastatingly unique handling model and unbelievably satisfying twin-stick drift mechanics. Inertial Drift offers a whole new level of accessibility and challenge to the arcade racing genre - for a driving experience genuinely unlike anything you've played before
Microsoft is transforming the Xbox Live Gold subscription into Xbox Game Pass Core and shaking up the benefits. This unfortunately means losing the long-running free bonus games offer for Xbox Live Gold and Xbox Game Pass Ultimate members. Previously claimed titles will still remain attached to accounts.
For those who missed it, the two July Games with Gold still have time left on the counter too. Darkwood is leaving the program on July 31 while When the Past was Around will be available for claiming until August 15.