The latest phone from LG, the KF900, may be able to steal marketshare from the iPhone. It has been revealed that the phone sports a capacitive display allowing it to achieve multi-touch input. This comes after news of the Blackberry Storm having similar functionality. The specifications, however, show it having a smaller 3.0 inch screen with a 240x400 resolution showing the phone is possibly catering for those who prefer a smaller sized fashion accessory. In typical LG fashion, this smartphone also includes an elegant design but with the drawback of low battery life. Where it improves upon the iPhone is mainly with the five megapixel camera and the spacious slide-out full qwerty keyboard.
With the launch of this stylish phone, LG and Prada have also provided a watch accessory. The watch not only tells the time but will also provide information on current phone calls and allow the user to read full text messages. In addition, the leather banded bluetooth watch pictured below is water resistant so that you may never need to take it off. While it comes with vibration and noise alert so you never miss your calls, it doesn't include a microphone so you may not always be able to pick up your call.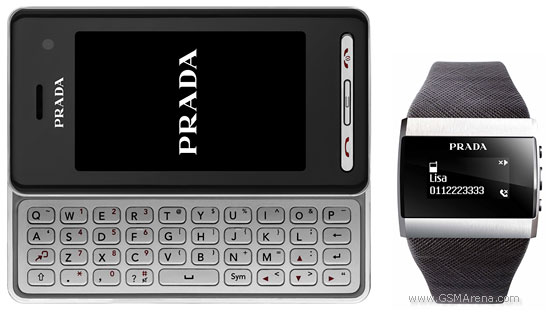 Photo: GSMArena
The phone will be available in European stores by late November for around 600 Euros. The wrist watch, sold seperately, comes to 299 Euros.
You can view the teaser site here.