Microsoft's new Windows Phone 8.1 flagship, the Nokia Lumia 930, went on sale in the UK this week, more than three months after it was unveiled at the company's BUILD conference at the beginning of April.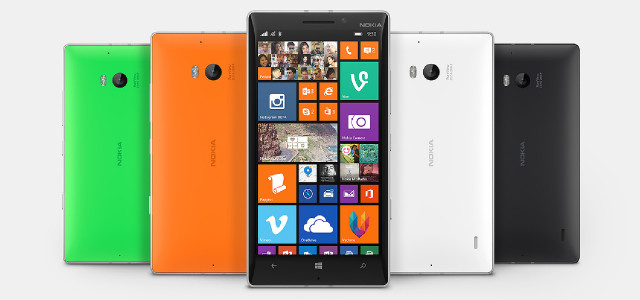 Featuring a 5-inch OLED screen, quad-core 2.2GHz Qualcomm Snapdragon 800 chipset, 2GB RAM and a 20MP camera, it is offered in four colours: black, white, bright green and a rather striking orange, which is the one that we're currently testing ahead of our full review here on Neowin.
Every Lumia 930 sold in the UK comes with a free desktop wireless charger, allowing you to take advantage of the handset's integrated Qi wireless charging feature. But in addition to this, Microsoft has teamed up with selected retail and carrier partners to offer a special promotional launch offer. 
Anyone who purchases the Lumia 930 from participating UK retailers before July 31 will also get a free wireless bundle, which includes a portable wireless charger, MD-12 wireless speaker and a £20 app voucher for the Windows Phone Store. This all adds up to around £130 worth of free stuff. 
But where exactly can you buy the Lumia 930 in the UK? Let's take a look at some of the leading options. 
Network operators
Available in both black and orange versions, the Lumia 930 is available on EE, the UK's largest 4G network, with no upfront charge on two-year contracts from just £29.99 a month. For that price, you'll get 1000 minutes of talktime, unlimited texts and 1GB of data - but there are plenty of other price plans available too, all the way up to £74.99 a month, which includes unlimited minutes/texts and a massive 50GB of double-speed 4G data.
EE is also selling the Lumia 930 off-contract for just £349.99 including VAT (plus a required £10 pay-as-you-go top-up). That's a pretty awesome price, even when you consider that the device is locked to EE's network. 
The Lumia 930 is available in black and green with O2, with a range of 24-month contracts available. To get the handset free (or with no upfront charge, if you prefer), you'll have to sign up to a £43/month contract, which includes unlimited minutes/texts and 5GB of data. For £33 a month, you can get the handset for just £9.99 upfront, but you'll only get 1GB of data. If you want to pay less per month, you'll have to pay more for the phone - contracts priced between £13 and £28 a month will require you to pay £480 upfront.
Like EE, O2 also offers the device off-contract, but it is asking far, far more - it will cost £479.99 to buy the 930 on O2 Pay & Go, although it does include £10 of credit. Even so, that's more expensive than simply buying the device unlocked and off-contract.
Vodafone has not yet listed the Lumia 930 on its website, despite Microsoft naming the carrier as one of its launch partners for the device. We understand that some Vodafone stores have received stock of the 930, but we do not yet have information on pricing. 
Independent retailers
Carphone Warehouse is selling the device on-contract with six different carrier brands - EE, O2, Orange, T-Mobile, TalkMobile and Vodafone - and pricing differs considerably depending on which carrier you choose. On T-Mobile, for example, you can get unlimited 3G data and texts, along with 500 minutes, for just £27.99 a month, but you'll have to pay £149.99 upfront for the device. You can also trade in your smartphone, and CPW will give you "an extra £100 on top of the normal value of your old smartphone."
Both on- and off-contract, the Lumia 930 is available in black, orange and green via Carphone Warehouse. If you buy the SIM-free handset online, you'll pay £419.95, saving you £60 compared with what you would pay in store.
Phones 4u is selling the Lumia 930 on-contract with EE, Orange, T-Mobile and Vodafone - which is useful, given that Vodafone is not yet officially selling the device except, perhaps, in some of its physical stores. You can get the handset free on a 24-month contract on Vodafone for £30.50 a month, which includes 600 mins, unlimited texts and 500MB data; but various plans are available rising to £50.50 a month for unlimited mins/texts, along with 13GB of 4G data.
In addition to offering the black, orange and green versions, Phones 4u is also the only Microsoft partner in the UK to offer the white Lumia 930, so if this is the model you want, you'll have to take your business there. Phones 4u also sells the device on PAYG for £429.95 (+ £10 top-up) on T-Mobile, Vodafone and Orange; a SIM-free version is also available, but effectively costs the same amount, at £439.95. 
Clove.co.uk is selling the Lumia 930 SIM-free for £435 including VAT, but warns that it has only limited stock of the free wireless bundle available (its earliest allocation quickly sold out, but has now been replenished) - so if you're considering buying from them, don't waste any time! 
Despite being named by Microsoft as a UK launch partner for the device, Amazon.co.uk is not yet selling the Lumia 930. The device is available to purchase from various Amazon Marketplace resellers, however, for around £420 including VAT.
Tesco Direct is selling the Lumia 930 SIM-free for £425.00, and the device is available in black, orange and green variants. 
Top two images via Nokia