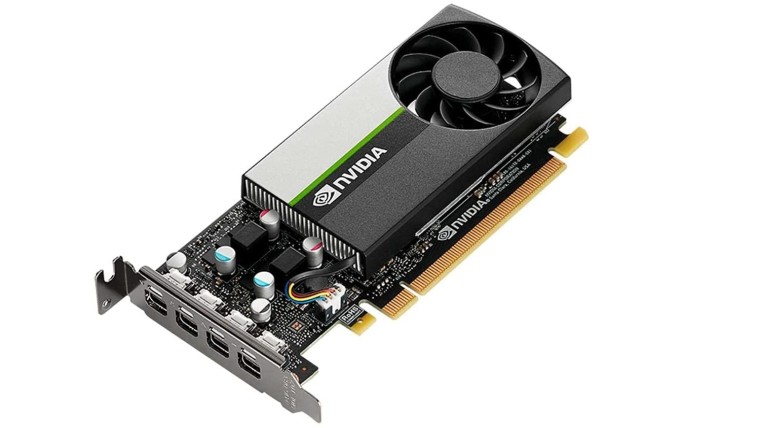 The Nvidia T1000 graphics card is now slowly appearing on virtual storefronts. The "entry-level professional" GPU features a single-slot low profile, but packs up to 8GB of memory, and can drive up to four 4K, or two 8K displays, at 60Hz.
One of the world's smallest multi-display "professional" graphics cards is now available for purchase. Given the ongoing chip shortage, it is not clear how long the card will be available, especially at the MSRP. Moreover, Nvidia's partners have launched the graphics card without any fanfare or formal announcement, which might suggest the Nvidia T1000 could be an attempt to partially meet the demand for graphics cards.
The Nvidia T1000 graphics card is based on the previous generation of architecture, codenamed Turing. The graphics card houses TU117 GPU, which packs 896 CUDA cores, and promises 2.5 FP32 TFLOPS. It comes in 4GB and 8GB variants, and the memory is GDDR6 with a 128-bit interface.
The T1000 consumes just 50W of power. Hence, it does not even require any additional power connectors from the motherboard. This low-profile graphics card also ships with a single-slot cooling system that houses one fan.
As for the abilities of the Nvidia T1000, the GPU can drive up to four 4K60 displays or two 8K60 monitors. This makes the T1000 one of the few low-profile graphics cards with a multi-4K-monitor capability.
Nvidia suggests the T1000 is good for light CAD/CAM applications that do not need serious graphics power. As for gaming, the GPU is reportedly at par with the Nvidia GeForce GTX 1650. Needless to add, the T1000 was not designed to run games at high fidelity. It is, however, a good product for multi-display applications such as video walls.
Back when Nvidia launched the T1000, none of the company's major sales partners offered any variants immediately after the announcement. This could have been due to the chip shortage. It seems Nvidia has managed to secure some production capacity as well as chips to resume commercial production of entry-level GPUs at least.
The Nvidia T1000 starts at $405 (without tax) for the 4GB variant, going all the way up to $500 for the 8GB model. The 8GB variant is currently available only in Japan for now. In the U.S., the 4GB variant of Nvidia T1000 is currently listed for about $395, with promised deliveries in March.
Source: Tom's Hardware via Akiba PC Hotline