The Lumia 630 became the first handset designed for Windows Phone 8.1 to go on sale last week, following its launch in Asia, and in Brazil (where it will include integrated digital TV support). This week, Microsoft launched the device in the UK, where it will be sold for £89.95 from May 29, and it will soon make its way to many other markets, including continental Europe. 
Microsoft UK kindly provided us with a Lumia 630 to try out, and we'll be publishing a full review of the affordable handset once we've had a chance to thoroughly put it through its paces.
But before then, we'd love to hear from you if you have any questions about the 630. 
Just to remind you, the device features a quad-core 1.2GHz Qualcomm Snapdragon 400 processor, along with 512MB of RAM and 8GB of onboard storage (plus a microSD slot). A 4.5-inch ClearBlack IPS LCD screen sits up front, protected by Corning Gorilla Glass 3, with FWVGA (854x480px) resolution. 
There's a 5MP rear camera, but no flash, and no front-facing camera either. There's also no hardware camera button, and the familiar trio of Windows Phone hardware buttons (Back, Start, Search) on the front are displayed on-screen on the 630 instead.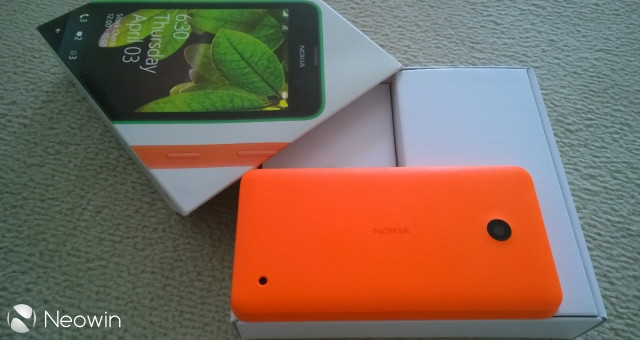 Those are the basic specs, but as we all know, the spec sheet doesn't come close to telling you the whole story about the device, so we invite you to share your questions in the comments below, and we'll do our best to answer them.
Feel free to ask anything you want about the new handset - perhaps you'd like to know how easy it is to use with one hand; or maybe you have a more unusual enquiry, like how easy it is to insert or remove the SIM card; or you may want to know something else about it entirely. 
We'll do our best to answer your questions, and if there's anything we can't answer ourselves, we'll see if we can get an answer for you from Microsoft. And of course, we'll be publishing our full review soon to let you know just how good (or bad) the new entry-level Windows Phone 8.1 handset really is.
So, what would you like to know about the Lumia 630?