Samsung today finally announced the Galaxy Note7, after months of rumors.
The company made a big deal about the new iris scanner on the device. According to Samsung, it took five years to develop a proprietary algorithm to make it fast and accurate. Moreover, you'll be able to use the iris scanner to do everything that you could do with fingerprints before, such as log into websites.
The design is similar to what we've seen from Samsung in recent years, with subtle differences. The Note7 will be the first Galaxy Note to include a dual-edge display, but it will also have a curved back like the Note5 did, making it easier to hold with its 5.7" display. The company promises perfect symmetry in the design.
Base model storage has doubled, so you're going to get 64GB of internal storage. That's also expandable by up to 256GB, which the company actually referred to as "a ridonculous amount of storage" onstage.
Speaking of things said onstage, the firm wasn't afraid to throw a little shade at Apple, saying "Want to know what else it comes with? An audio jack." Clearly, this is referring to the fact that the iPhone 7 is rumored to have no analog headphone jack.
Back to the device itself, the Galaxy Note7 will have the largest battery of any Note yet, coming in at 3500mAh. As usual, it uses Fast Charging and Fast Wireless Charging technologies.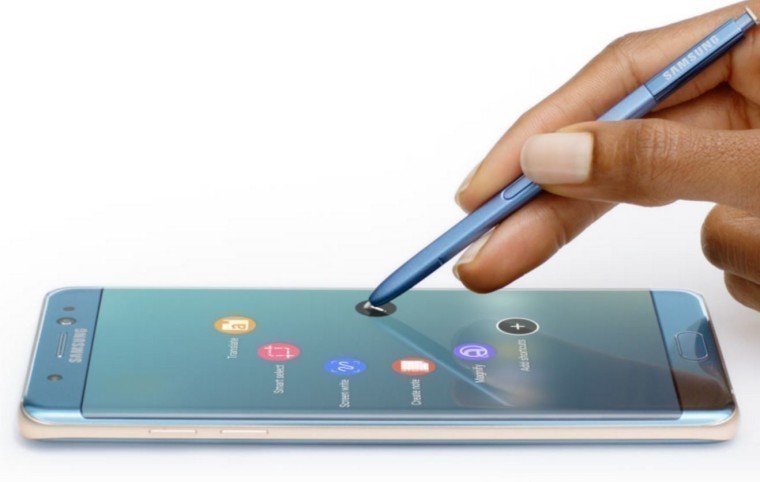 Of course, it's a Note, which means that there are new S Pen features. The company didn't seem to focus on it quite as much as it did last year, but there are a couple of items of note (pun intended). You can now use the S Pen as a translator, so if you're reading a menu in a foreign language, it can help you figure things out.
You'll also recall that last year with the Galaxy Note5, Samsung introduced the ability to take notes from the lock screen by popping out the S Pen. Now, you'll be able to pin those notes to the Always On Display.
If you're wondering about the camera, there's really not much to say. Samsung didn't hide the fact that it used the same camera from the Galaxy S7.
The company introduced a new cloud storage service today called Samsung Cloud. If you buy a Note7, you'll get 15GB of storage free. This should help in backing up your device.
Finally, Samsung also launched a new Gear VR headset. This was something that was bound to happen, as the company was one of the last to switch to USB Type-C in its flagships. The old model uses micro-USB, so in order to begin using USB Type-C, a new Gear VR must be made.
Samsung's Galaxy Note7 packs top-level specs and quite the punch, so if you want it, it's going to cost you. Over on T-Mobile, it's going to run you $849.99, but you'll get your choice of a free Gear Fit2, year of Netflix, or 256GB micro-SD card. It will be available beginning on August 19, but pre-orders are "days away".