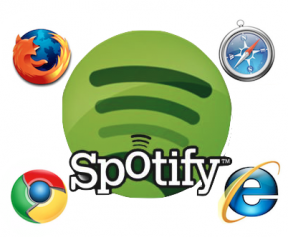 According to a recent report, Swedish music streaming service Spotify has a browser-based version in the works. This way it won't be necessary to run a client app on your computer, but it's not clear if the browser version will eventually replace the desktop client.
Although Spotify hasn't responded to TechCrunch's report, it's quite a logical step for the popular streaming service. Its direct competitors such as Pandora and Rdio already offer a web interface. Spotify's rumoured project would also account for the the lack of updates for the desktop client. It's believed that improvements to the service are on the way, like new ways to discover music; Spotify may, for example, start suggesting popular user lists to follow and asking celebrities to share their playlists.
Spotify's pricing model could also be updated to encourage mobile use by dropping the price for an ad-free experience from $10 to $8 a month. Currently, the desktop version is free if you don't mind advertisements, and $5 a month if you want those removed. To be able to listen to your playlists offline on the desktop, or when using a smartphone, you have to pay $8 a month.
It's not clear when the Swedish company plans to launch the browser based version.
Source: TechCrunch via CNET | Images via TechCrunch