With the Sandy Bridge processors hitting full stride, the recent release of AMD's Bulldozer processors was not enough to slow sales. This was largely due to Bulldozer's inability to compete well enough with the Core i5-2xxx series. Even worse than that, it's next to impossible to actually buy an AMD FX-8150 processor thanks to chip shortages. Meanwhile, Intel is preparing to strike back by bolstering their 2nd generation Core processors even further.

Today marks the arrival of Sandy Bridge-E and three new processors released initially, which include the Core i7-3960X Extreme Edition, Core i7-3930K and Core i7-3820. Powered by a new LGA2011 socket, these 32nm processors provide up to six cores with a dozen threads. Intel has also upgraded the integrated memory controller with four channels supporting DDR3-1600 memory, for a theoretical peak bandwidth of 51.2GB/s.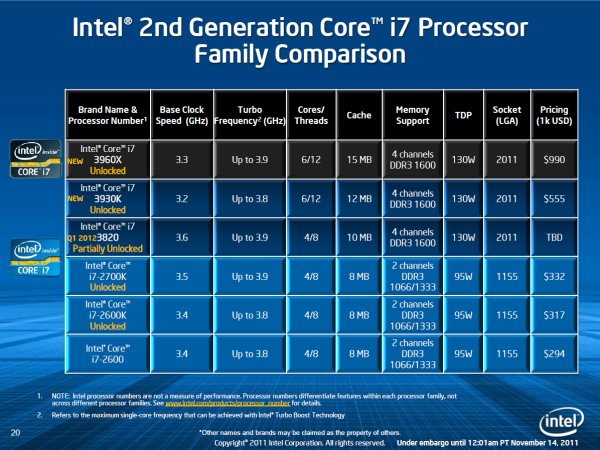 These processors will be explored in greater detail shortly, but for now it's worth mentioning they feature a total of 2.27 billion transistors in a die size of 20.8mm by 20.9mm, which are mind-boggling stats to say the least.
Read: Intel Sandy Bridge-E Debuts: Core i7-3960X, X79 Platform Reviewed
These articles are brought to you in partnership with TechSpot.