As has been obvious for a while, Microsoft is prepping to launch its next-gen Xbox later this year, and as such the company has been making a slew of announcements related to the console and accompanying services. One service that hasn't been talked about too much though has been Xbox Live Gold.
While there are plenty of other retailers through which you can get Live Gold - not to mention via Xbox Game Pass Ultimate -, you were still able to purchase this separately from Microsoft's website for one up to 12 months. The latter option seems to have gone away, though.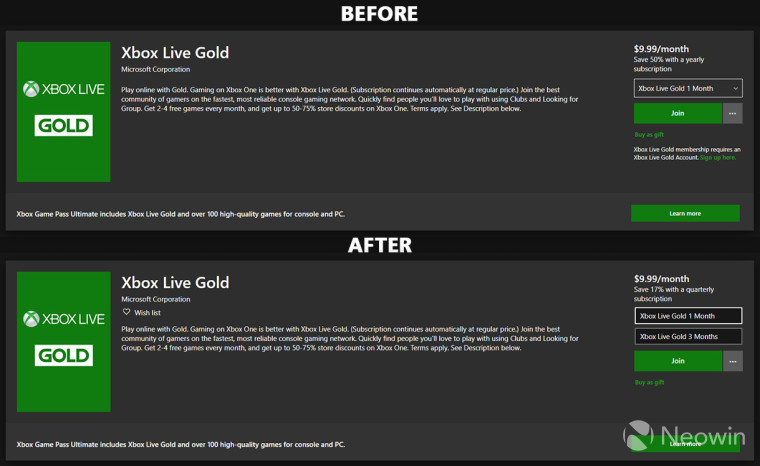 Note not only the disappearance of the 12 month option, but also the change in wording. What's particularly interesting about this is that Microsoft still offers you the possibility to gift 6 months of Gold, but not an entire year. On the Game Pass Ultimate side, you are able to purchase 12 months of the service for somebody else.
With the launch of Xbox Series X set for later this year, as well as Project xCloud coming to Game Pass Ultimate subscribers in September, it's not outside the realm of possibility that Microsoft would make changes to its pricing structure. We have reached out to the company for clarification on this matter.
Update: A Microsoft spokesperson provided the following statement on the matter:
At this time Xbox has decided to remove the 12 month Xbox Live Gold SKU from the Microsoft online Store. Customers can still sign up for a 1 month or 3 month Xbox Live Gold subscription online through the Microsoft Store.