Weekend PC Game Deals is where the hottest gaming deals are amassed into an easy to follow format, every week, from all over the internet. So kick back, relax, and hold on to your wallets.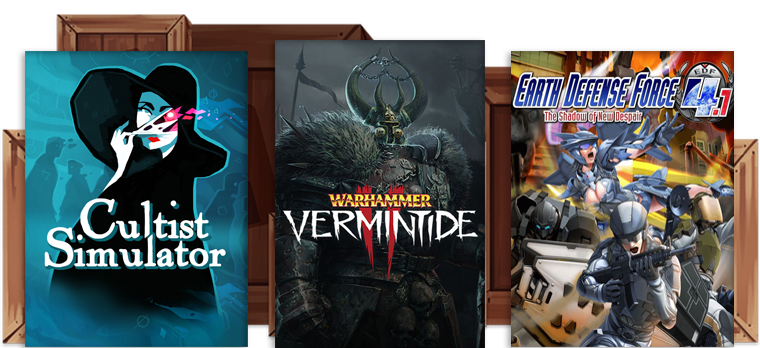 As we roll into a new month, the Humble Monthly Bundle has refreshed once again with a new selection of early unlock games. Taking the place of Yakuza 0 and The Division are three new arrivals.
They are the cooperative action game Warhammer: Vermintide 2 - Collector's Edition, the card-based rogue-like sim Cultist Simulator, and the Japanese third-person shooter Earth Defense Force 4.1, which happens to come with a whole lot of DLC packs.
Don't forget that in addition to these early unlocks, several more games will also be revealed and delivered on March 1, with the entire bundle adding up to $136.79 in the end according to Humble. Subscribing costs $12 per month and also gets you a 10% discount on the Humble Store and access to the DRM-free games included in the Humble Trove.
Also, for those who missed it last time, Fanatical store has brought back the $6.99 Star Wars - Unleashed Bundle for just this weekend, offering up five classics from the franchise such as Knights of the Old Republic and its sequel, among others.
The giveaway ball has fallen into Ubisoft's court this weekend, as the company has begun handing out Assassin's Creed Chronicles: China for free via its Uplay client celebrating the Chinese New Year.
You have until February 5 to grab the game, which takes place during 1526 as the Ming Dynasty begins to collapse. You can grab the game for free through the Uplay client as well as by heading here and logging in.
Meanwhile, the atmospheric horror game Kholat is free to claim on Steam until February 4. Inspired by true events, the exploration-focused title has you uncovering what happened to a missing group of hikers in the Ural Mountains. Interestingly, Sean Bean serves as the narrator.
Free Events
After some free event heavy weekends, we are now dealt a couple games to try out for the next few days, but that's only if you have a VR headset.
The VR mil-sim tactical shooter, Onward, is free to try out this weekend. If the 5vs5 multiplayer mode feels too intense, you can also try out the game's cooperative mode that pits a team of humans against AI opponents.
Creed: Rise to Glory is the other VR game that is now temporarily free to try out. The boxing title has you playing as Adonis Creed from the Rocky spin-off movie series, and a recent update has added classic characters from the original movies to spar against.
Both games officially support HTC Vive and Oculus Rift headsets.
Big Deals
If you're a Sims fan, then Origin store's new The Sims Anniversary Sale may be right up your alley. In addition to pulling down The Sims 4 base game to $9.99, all of its expansion and DLC prices have also been slashed by up to 50%.
Also, rumors point to the Steam Lunar New Year sale being almost here, so maybe it's a good idea to hold off on any big purchases until the event opens its doors.
*DRM-free version is also included
DRM-free Goodness
Now, with all those DRM-filled games out of the way, let's have a look at the long line of DRM-free deals that are on offer mostly from the GOG store this weekend.
Keep in mind that availability and pricing for some deals could vary depending on the region.
---
And that is it for our pick of this weekend's PC game deals folks, and hopefully, some of you have enough self-restraint to not add even more games to your growing backlogs. Of course, there is an enormous amount of more deals ready and waiting all over the internet if you comb through it hard enough, so keep your eyes open for those, and have a wonderful weekend.