GEEKOM is a brand known to us here at Neowin. In recent times we've reviewed a couple of their Intel-powered Mini PCs (1, 2), and more recently an AMD Mini PC inspired by the ASUS PN53 called the GEEKOM AS 6. We were also sent the A5 and we took a look at it, it's a bit of a strange configuration being a mix between old and new, but we took it for a spin so you don't have to.
Below are the full specifications of it.
GEEKOM A5

Dimensions

117 mm x 112 mm x 49.2 mm

Weight

652g

CPU

Ryzen 7 5800H (8 Cores, 16 Threads, 16MB Cache, 3.2 GHz~ 4.4 GHz)
cTDP: 35-54W

Graphics

Integrated AMD Radeon Vega 8 Graphics (8 graphics cores)

Memory

32GB Dual-channel DDR4-3200MT/s SODIMM (up to 64GB)

Storage

2 x M.2 2280 PCIe Gen 3x4 SSD , supports up to 2TB (* NVMe only)
1 x 2.5"7mm SATA HDD, supports up to 2TB

Operating System

Windows 11 Pro

Bluetooth

Bluetooth v5.2

Wireless LAN

Wi-Fi 6

Kensington Lock

Yes
SD Card reader
Yes

Adapter

120W, 19V/6.32A Power Adapter

Front I/O Ports

2 x USB 3.2 Gen 2 Type-A
1 x Audio Jack (Line out/ Mic in/ Headphone out)
Rear I/O Ports

2 x USB 3.2 Gen 2 Type-C
1 x USB 3.2 Gen 2 Type A
1 x USB 2.0 Type-A
2 x HDMI 2.0b Port
1 x 2.5G RJ45 LAN
1 x DC-in

Price (MSRP)

$499
GEEKOM only has the one configuration listed for the A5 which includes 32GB of DDR4 Dual Channel RAM (3200MT/s) with an oddly small 512GB Lexar NM620 SSD for storage. A Windows 11 Pro license is also preloaded. And although the MSRP is $499, as of writing it is currently listed on the website for $399, over on Amazon it is $399.99 once you apply a $50 off coupon.
Before we dive in, you should not confuse this with the GEEKOM AS 5, which is based on the ASUS ExpertCenter PN52 configuration. The GEEKOM A5 is a totally different beast and as far as looks go, it follows the more traditional Mini IT13, IT12, IT11 designs we've seen in Intel configurations.
The packaging follows the same design and experience of the Mini ITxx Mini PCs. After pulling the top off you are presented with the Mini PC sitting on a "shelf", and under that there is a Thank You card. Upon removing the side cushion, card, and cardboard shelf you can find the power lead, HDMI cable, VESA plate, a bag of screws and documentation.
What's In The Box
1 x A 5 Mini PC
1 x VESA Mount
1 x Power Adapter
1 x HDMI Cable
1 x User Guide
1 x Thank You Card
As you can see below, you have everything you'll need to get started.
Design
The look of it is pretty cool, it is, what GEEKOM calls "Rose Gold", for that I would have liked to have seen a bit more red hues coming through, but there is no mistaking that it is completely golden with a ring of silver going around the "lid", which itself is completely flat with the GEEKOM logo in silver, centered on the top of the Mini PC.
All of the edges are rounded off, so there are no sharp edges, and although the outer housing is plastic, it does have a premium feel to it. The A5 feels light as well, it's just 652 grams, so it won't weigh you down when carrying it from place to place.
The front of the A5 includes two USB 3.2 Gen 2 type A ports, with the left one supporting power delivery, which means you could charge a phone from it. However, it isn't possible to connect a screen on the front, which is a bit of an inconvenience.
It's worth mentioning that GEEKOM also claim on the product page that the A5 series underwent the following tests prior to production:
Vibration
Drop test (unspecified height)
Temperature and humidity
Port test (unspecified nr of times)
Noise test (unspecified dB)
Salt spray test
It's a bit disappointing that there is no more information about the above tests, I have asked my contact if GEEKOM plan to clarify any data points that customers can look in on, and will update when I hear back on this. In previous GEEKOM reviews, the max noise level was usually recorded in the product details, but no such luck here (yet).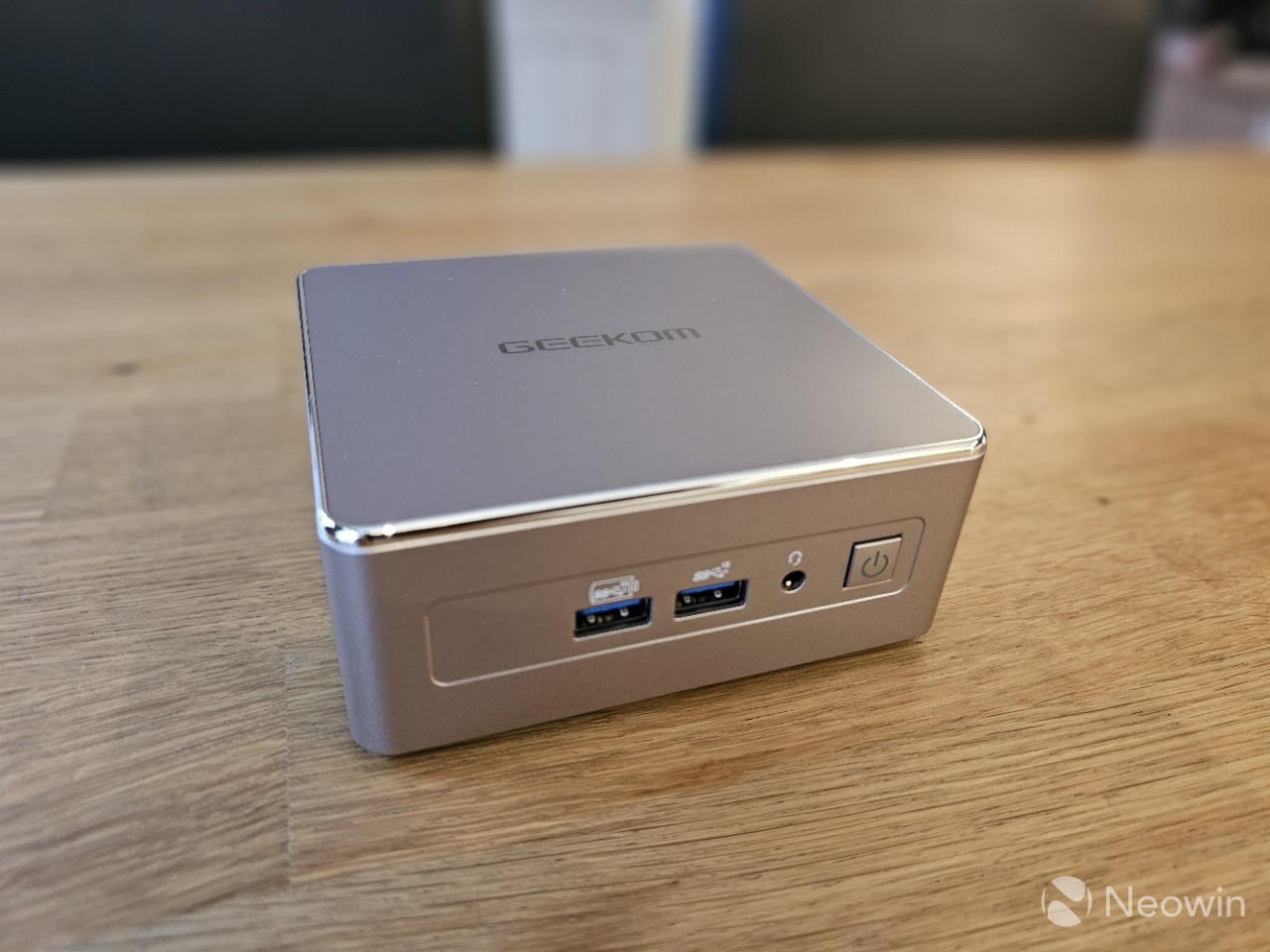 As far as looks go, and as previously mentioned, it's a golden color, and thanks to the fact it's not glossy, it's not a fingerprint magnet. Essentially, it's a plastic shell covering a metal frame. It doesn't feel cheap and isn't flimsy either, and even when the base is removed it remains sturdy.
Accessing it is as easy as unscrewing the bottom plate with the four Philips head screws located in the center of each rubber foot, a small hobby screwdriver is usually enough for the job, although our A5 seemed to have really tight screws so I had to start them off with a full sized screwdriver.
You may want to use a flat-head screwdriver to prise the plate free, taking care not to damage the ribbon which connects to an SSD port that allows for an optional full-sized 2.5-inch SSD which can be secured in a "sled" on the backplate. Helpfully, the backplate screws do not come loose from the rubber feet, so you won't lose them either.
As you can see from the above images which can be enlarged when clicked on, there is ample room to manage the SODIMMs and Lexar 512 GB PCIe 3.0 NVMe SSD, so you can swap them for something else if you want.
The ribbon is long enough to let you lay the backplate completely flat next to it, which affords ample management to attach a 2.5-inch SSD in the system if you wanted. The backplate only fits back in one way, but this is to ensure that the NVMe is always connected to the heat spreader.
Usage
On first boot, you are prompted to complete the setup of Windows 11 Pro, meaning you do not have to fork out for a license, which is nice. After the setup was completed, I was impressed that I only had to install the October Patch Tuesday update (see above). In addition, GEEKOM does not include any bloatware in their PCs, so that is always a bonus.
The A5 supports up to 8K @ 30Hz through USB Type C, or 4K @ 60Hz over the HDMI 2.0b port. I was able to connect my Samsung Odyssey Neo G9, but I could only get 5120 x 1440 @ 60Hz over HDMI. However, for the purpose of this review I was also switching between the ZSCMalls 17.3" FullHD 144Hz portable screen which was powered by one of the rear USB Type C ports.
It's possible to attach four screens to the A5 using the two HDMI, and the two USB 3.2 Gen 2 Type C ports if you wanted. In the documentation, it says that the A5's Integrated AMD Radeon Vega 8 series graphics include "quad display support".
Regarding connectivity, there are two HDMI 2.0b, two USB 3.2 Gen 2 Type C ports, one USB 2.0 port, an RJ45 2.5 GbE Ethernet port, along with a barrel port for power on the back. Around the front, there are two more USB 3.2 Gen 2 ports, and a port for a 3.5mm headphone jack. Unfortunately there is no Type C on the front. For audio output, I linked my Edifier 360DB over Bluetooth, and I did not experience any noticeable audio delays.
As you can see from the two images above, you can affix a Kensington lock on one side. Both sides are entirely a plastic grill for air cooling, of which smaller grills can also be found on the back and on the bottom backplate.
Benchmarks
Before I started running benchmarks, I ensured that Windows 11 and drivers were up to date. At the time of testing, the A5 was running Windows 11 Professional 22H2 build 22621.2428 and I also upgraded to the latest available Adrenalin 23.9.2 WHQL certified driver (August 2023).
With that out of the way, and because people like that sort of thing, I ran some benchmarks and compared it to my (now retired) PC which I built in 2019 and benchmarked in December 2022.
The reference PC consists of the following:
Intel Core i9-9900K (stock)
Gigabyte Z390 AORUS PRO WIFI (BIOS revision F12)
64GB DDR4-3200 G.Skill Ripjaws (16-18-18-38) dual channel
Samsung 980 1TB NVMe
KFA2 RTX 2070 SUPER (Nvidia driver 527.37)
Windows 10 22H2 build 19045.2311
For the benchmarks, I used 3DMark, PCMark 10, Geekbench, and Cinebench R23. 3DMark Time Spy tests gaming capability with DX12 graphics performance.
PCMark tests are a mix of CPU and real-world productivity tests, such as using an office suite, web browsing, light photo/video editing, and making conference calls.
Cinebench stresses the entire CPU as it is a multi-threaded rendering test. Finally, Geekbench is a synthetic benchmark that is great for a quick look at the potential performance across a wide range of workloads.
3DMark
(Time Spy)
—
PCMark 10
Extended
—

Geekbench: Single
Multicore
Compute

Cinebench:
Single
Multicore
—

7-Zip

GEEKOM A5
Ryzen 7 5800H
1,663
6,402
5,545
1,432
8,646
17,861
1,413
10,359
74,002
Beelink SER6 Max
Ryzen 7 7735HS
2,740
7,048
6,676
1,600
9,806
32,217
1,563
12,846
—
GEEKOM AS 6
Ryzen 9 6900HX
2,430
6,382
6,113
1,586
9,326
27,784
1,544
11,244
—
GEEKOM AS 5
Ryzen 9 5900HX

1,597

6,582
5,664
1,549
8,532
16,973
1,492
11,456

—
Intel NUC 13
Intel Core i7-1360P
1,845
6,152
5,701
1,823
10,154
18,337
1,903
11,883
—
GEEKOM Mini IT12
Intel Core i7-1260P
1,740
5,629
5,218
1,739
8,628
17,277
1,671
8,162
—
Selfbuild
Intel Core i9-9990K
9,995
6,619
8,853
1,300
8,186
99,450
1250
11,711
—
As you can see, the Ryzen 7 5800H in the A5 performs just under the Ryzen 9 5900HX powered GEEKOM AS 6 in the CPU tests. Impressively, our Vega 8 on the Ryzen 7 5800H scored just 5 points under the world's best in Time Spy, which I also validated. And yes, it clearly outperforms the Vega 8 in the AS 5.
However, as you might see from the scores, don't think you can replace your gaming desktop with this, you'd still need a dedicated GPU if you intended to do much of any gaming on it.
I also tested the SSD's capability using AS SSD and CrystalDiskMark.
| AS SSD | CrystalDiskMark |
| --- | --- |
| | |
Despite running all of the above benchmark tests, the A5 did not get hot to the touch, and there were no annoying noises coming from the single fan that cools the unit.
Speaking of the fan, the A5 also includes a laptop inspired cooling system that GEEKOM claims minimizes overheating and noise, and I can confirm the A5 never got hot to the touch and barely made any noise that I could hear.
As I did this on all the previous Mini PCs, I decided to give Quake Champions a go to see if it would be playable, and after toning down the screen resolution to 3840 x 1080 with everything set to "Low" (which was auto-detected anyway).
I can say that it was barely playable, and it didn't look great. Gameplay was a bit choppy, and the graphics were blocky with everything set to low, I tried bumping the Details, Post Processing and Texture Filtering to Medium but it just made it lag even more.
Conclusion
As with all the Mini PCs I've reviewed this year, the A5 isn't a gaming PC. You will not be able to enjoy graphically intensive games on it, but it is suited as something like an office workstation with a mixture of light gaming, or perhaps a good solution for a student or office worker without a permanent desk affording the ability to pack this away after every use.
This thing also isn't taking up much room in your bag, or you can screw it to the back of a screen if it has VESA support with the included mount plate.
When it comes to Mini PCs, the market is saturated with cheaper options, but you'll be quickly disappointed to find they might not include USB 3.2 Gen 2, dual channel memory, or even a Kensington lock and more. Some manufacturers are also still selling "new" Mini PC's with 8th gen Intel Core mobile CPUs, so you really have to be on the lookout.
When you're spending a few hundred dollars to replace the job of a full-sized PC, you're going to want it to replicate as much of the capability as possible, aside from the obvious lack of GPU prowess.
As I said earlier, the decision ultimately comes down to what you're willing to pay for the options you need. This Mini PC will let you connect up to four displays all operating at 4K @ 60Hz, whereas cheaper solutions might be limited to two screens.
At only $399 on the official website, or $399.99 on Amazon (with a $50 coupon applied), for this A5 Mini PC which includes a Ryzen 7 5800H processor, 32GB of 3200MT/s DDR4 memory, and a 512 GB PCIe 3.0 NVMe with Windows 11 Pro installed on it, it's not going to leave a massive dent in your wallet.
For me this loses a point for the tiny NVMe storage that was included, and another point for not having a USB Type C port on the front, but then going with a USB 2.0 port around the back. We can forgive the prev gen hardware because it is priced right at around $400.
If you're happy with prev gen DDR4 memory and a PCIe 3.0 controller for storage and aside from not being able to seriously game on it, you are getting a very capable Mini PC with a vast array of connectivity options that utilize a tiny footprint. It may not be setting any gold standard for a Mini PC, but in my book it is not far off checking all of those boxes.
As an Amazon Associate I earn from qualifying purchases.
Pros
Cheap (at $399) Premium finish Vega 8 graphics
Cons
Includes USB 2.0 No DisplayPort 512 GB SSD