Zen Studios has long been known for their high-quality pinball engine. After awhile, the company then began working with content companies to license their themes, bringing rise to sets like Marvel's Women of Power and Vengeance and Virtue, various Star Wars tables, and even some tables based on video games. To date, the company has released over 70 different tables.
The problem is that many people would play a table for awhile, get a high score, and then move on. While there is replayability in trying to get new high scores and complete different modes, Pinball FX2 was definitely a single player experience, and in today's age of connectivity, the lack of multiplayer options was definitely missing.
That's why Zen Studios has released Pinball FX3, a free upgrade from the previous Pinball FX2, available on Xbox One, Playstation 4, and Steam. Although the core of the game is still very similar, there are now many competitive modes that let you go against both friends and strangers alike. The company also released three tables based on films from Universal Studios: Back to the Future, Jaws, and E.T., which we hope to review in the future. How well does the new engine work? Let's take a look.
Previous Tables
The first question any player of Pinball FX2 will ask is: "What about my old tables?" The good news is that you will be able to import almost any of your previous tables into the new Pinball FX3 engine. The bad news is that there were few tables that Zen Studios was not able to secure the licensing for, meaning you will probably never be able to play them in the new engine. Here's the list of tables that you won't be able to play:
South Park Pinball 2 Table Pack
Street Fighter Pinball
Ninja Gaiden Pinball
Plants vs. Zombies Pinball
Ms. Splosion Man Pinball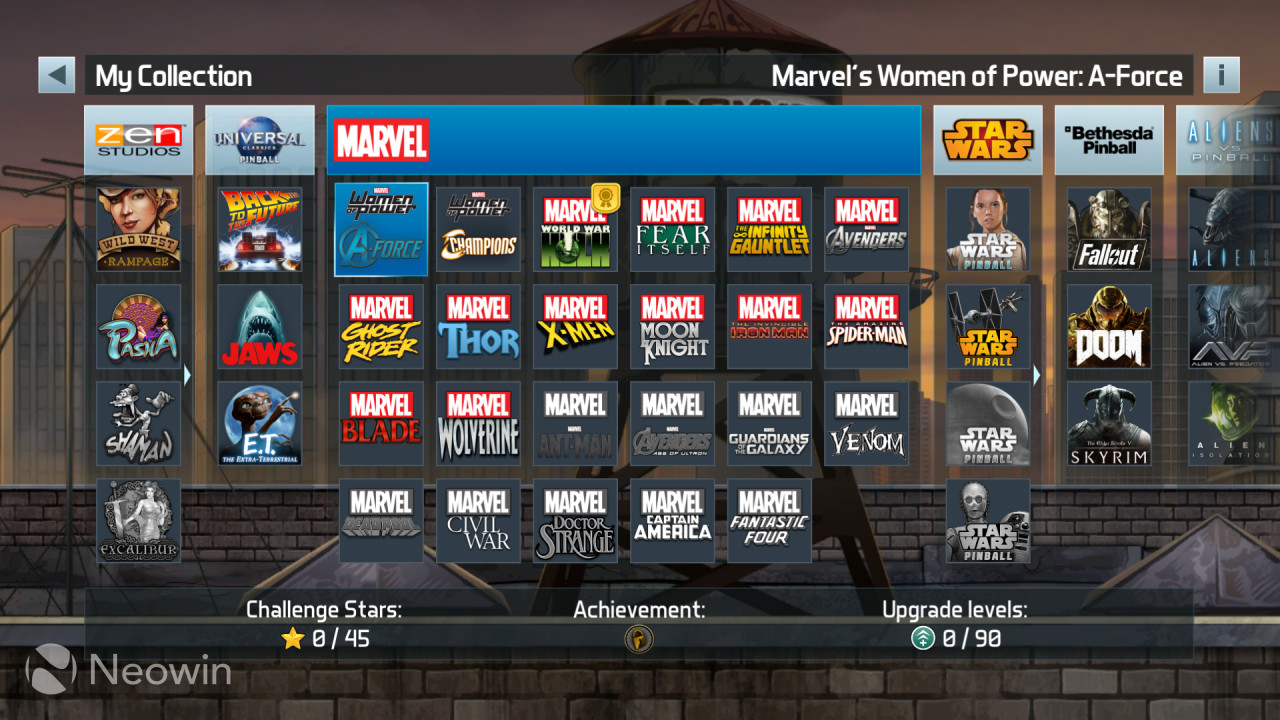 Before you can play any of your previously purchased tables, you'll need to go through the import process. While it would've been nice if importing was done automatically, unfortunately it's not and the process is a little annoying. When you first run Pinball FX3, you'll need to press the "X" button on the Xbox One (or the space bar on Windows 10) to run the import process. On the Xbox One, this caused the game to constantly switch to the Xbox Store for each group of tables that I owned where I then had to select install and then press "B" to go back to Pinball FX3, where the game then automatically took me to the next set of tables in the Store. If you only have a few tables, this process probably wouldn't be too bad, but since I own 58 of the 68 available tables, it was annoying. In addition, after about 10 different times, it took me to the Store and gave me an error another half dozen times for some reason.
There also appears to be an issue importing some tables into Windows 10. After installing the game through Microsoft (not Steam), and linking up my Xbox profile, I received an error telling me that my Windows profile is a lower version than my Xbox One profile and that I should upgrade. Unfortunately, there's no way to fix this and while it doesn't appear to impact gameplay, it seems like it might be preventing me from installing all of the tables that I should be able to. I've reached out to Zen Studios to see if this problem is widespread or only limited to my account.
Regardless of this glitch, it's great news that the company not only secured the rights to transfer tables into the new engine but also between the Xbox One and Windows 10.
Single-Player Features
Although most of the changes are multiplayer features, there are some new single-player features that also make this a worthwhile install.
In addition to regular scoring, each table now has three different challenge modes and nine different ways to upgrade scoring. IPlayers can also unlock concept art and graphical game models for each table by proving their table mastery.
Playing the "Challenges" mode is a new way to experience a table. There are three different challenge modes currently available: 1 Ball Challenge, 5 Minute Challenge, and Survival Challenge. These modes are pretty self-explanatory. In the 1 Ball Challenge mode, you are tasked with scoring as many points as you can with a single ball instead of the default three balls. Similarly, 5-Minute Challenge mode lets the user rack up as many points as they can in five minutes, and if you lose a ball in this mode, the game simply launches a new one. In Survival Challenge mode, you're tasked with getting to a specific score within 60 seconds. Once you get to that score, the target score increases and the timer is reset to 60 seconds. The mode ends once you fail to meet the new score.
The three challenge modes directly lead to three of the nine upgrades available for each table and are unlocked by receiving five (out of 15) stars. Dubbed "Wizard Powers," these upgrades are activated by the player during gameplay and can be used to either slow down time, increase all scoring, or rewind time. In practice, they sound really helpful, but since you have to manually activate them, it's often hard to pay attention to the ball and press the button at the same time.
There are also six different passive upgrades. These can increase the time that combos or ball saves are active, give extra points for simply keeping the ball in play, or increasing the points you receive during multiball, for making a skillshot, or for hitting bumpers. These upgrades are unlocked by simply playing the table and relate directly to what the upgrade does. For example, to unlock the upgrade that provides more points for hitting the bumpers, you have to hit the bumpers an undisclosed number of times during regular play.
You're allowed to have one Wizard Power and two Passive Upgrades activated for each game.
Once unlocked, there are ways to upgrade the powers from level 1 to level 10, each providing either more points or longer times.
While it's fun to chase the upgrades, the purist in me feels like these extra powers invalidate the scores that you see on the leaderboard and reward players who simply grind their way to higher upgrades. For those who don't want to be tempted by upgrade powers, you can instead play a "Classic Single Player" game, which automatically disables them.
Graphics
Zen Studios is taking advantage of the improved graphics capabilities of the Xbox One (and PlayStation 4) by introducing improved graphics and dynamic lighting. In my experience, the graphics looked very similar between tables, but the dynamic lighting was definitely a nice touch. There were several times that I saw large shadows cast on the playfield as the ball moved in front of a light source. While it doesn't change the gameplay at all, it was definitely a nice effect.
The above two images show the graphical differences between Pinball FX2 and Pinball FX3 on the World War Hulk table (click them for full resolution). You can quickly tell that the original is consistently lit across the table, whereas in Pinball FX3, the lighting is more localized. Both images were taken in the "1w" view.
There were two display issues that I'm not a fan of. The first is that, as shown in the image, the camera is in a different location in the updated version. While subtle, using "1w" as your camera means you're pulled a little further back from the action than you were in Pinball FX2. It was a little disorienting when I first started to play, although I did get used to it. The other camera modes are still available as well, although I've always found that the action cameras make it hard to keep track of the game.
The second issue is that the dot matrix display (DMD) in the upper-left corner of the screen now hugs the corner, whereas in the previous version the location was configurable. While you still have the ability to select what corner of the screen the display will reside on, I couldn't find a way to move it away from the edge of the screen.
Multiplayer Features
The new multiplayer features are the meat of the upgrades to Pinball FX3, and end up adding a lot of replay capabilities, even to older tables you may not have played in years.
The first new feature is called Matchup and is how you get ranked within the overall pinball community. At launch, everyone who plays is in the lowest category, Bronze III. After the first week, the top 20% of players will advance to the next rank, Bronze II. It's not clear how this will play out over time, but I suspect that going forward, the lowest 20% will drop down a level and the top 20% will rise to the next level, with the middle 60% staying in the category. The categories include Bronze, Silver, Gold, and Diamond, with three levels in each category.
In Matchup, you play an asynchronous game against an opponent and earn points if you win. Zen Studios selects the four tables that are part of the week, and the player chooses between three players to compete against. Winning gives you the listed number of league points (plus potential bonuses), while losing causes you to lose a few league points. It's not only a fun way to prove yourself against other competitors but is also a great reason to dust off some of the tables that you haven't played in awhile. That said, it's also a smart move by Zen Studios to try convincing gamers to buy more tables.
My one minor complaint is that there is no way to play Matchup on an even playing field without upgrades. Sure, you can play the game yourself without upgrades, but that would put you at a disadvantage against the players you're competing against. It'd be nice to see two tracks so that the purists can play based purely on skill.
That said, I found the competition to be extremely simple. While I'm an above average player, I'm far from an expert, yet never had trouble beating the scores in only a fraction of the time I was provided. I suspect that once the game has been out for awhile and players are slotted in rankings that match their skill level that the level of competition will increase.
The other new multiplayer feature is the inclusion of tournaments. A tournament is played on a specific table and can be either a normal game or one of the previously mentions challenges such as playing with a single ball. In addition, the creator of the tournament decides what, if any, upgrades are allowed to be in effect.
Playing in a tournament simply pits your score against others on a specific table and you receive experience points based on where you finish. It's yet another way to not only dust off an old table you may not have played in awhile, but also to compete head-to-head like you would in an in-person tournament. Anybody can create a tournament, and the game can be public or protected by a password.
Zen Studios currently has two running, one on the Deadpool table and the other on the Walking Dead table. It will be interesting to see if the company creates any interesting tournaments, potentially with in-game rewards of some sort.
Pinball FX3 now allows users to compete against each other on different platforms. This means that players on the Xbox One can compete against players on Windows 10 or on Steam, while PlayStation 4 players can also play against people on Steam. Unfortunately, we're told that, while technically possible, Sony is not allowing their platform to play against Microsoft's platform.
Sadly, the only way to play head-to-head against a specific player is the same as before: Local hotseat. I hope that in the future, Zen Studios will add the ability to play against friends, but there's been no word on that yet.
Conclusion
I'm a huge fan of pinball, and even purchased my first physical table, Terminator 2, earlier this year. While Zen Studios doesn't mimic a physical table, it captures the spirit and I've been a fan for years.
There's really no reason to not install the latest version of Zen Studio's pinball engine. It's a free download, comes with a free table (Sorcerer's Lair), and adds many multiplayer functions that make the game feel fresh and new. The only reason to keep using Pinball FX2 would be if you're a huge fan of one of the six tables that Zen Studios lost the licensing rights for. However, that doesn't preclude you from keeping both engines installed if you want.
Although the import function is a little clunky and you may experience bugs importing all of your tables, it's a one-time issue and something that I'm sure will be addressed. The ability to host tournaments is exciting, and the idea of league points ranking the skill of players is a cool idea that's already used in physical pinball leagues. In short, if you're a fan of pinball or curious what it's all about, spend a few minutes flipping out on Pinball FX3. You may soon find yourself on pinside.com, scouting out a physical machine to take home for yourself.
Don't forget to follow @NeowinGaming on Twitter for more gaming reviews!
Pros
Play on Xbox or Windows 10 Cross-platform compatibility Free Multiplayer features Individual table upgrades
Cons
Table import process Minor import bugs Camera differences No remote head-to-head