Samsung's launch of the Galaxy S III is no doubt the most high-profile launch of an Android smartphone ever, overshadowing HTC's launch of the One Series just a few months ago. That said, HTC set the bar high with their flagship HTC One X for the first time in years, and this round of smartphones Samsung has some serious competition for top spot.
The Galaxy S III takes what was good about last year's Galaxy S II and improves on it: you get a bigger display, better camera, new design, more powerful innards and a fresh batch of software. The question remains, though, as to whether these improvements to the Galaxy S III are not only worthy, but enable it to keep up with the foreboding competition.
As always, thanks to Mobicity Australia for providing me with a Samsung Galaxy S III so I could get some hands-on time with it. They currently have the device available starting from AU$729 unlocked and off-contract, so check them out for this device and all the latest in smartphones (not just the GS3).
Specifications
As you would expect from a flagship Samsung device, the Samsung Galaxy S III has a top-notch set of specifications which should make using the smartphone a breeze.
The display is a 4.8-inch 1280 x 720 Super AMOLED HD manufactured directly by Samsung. As you'll notice there is no "Plus" mentioned in the type of display the GS3 uses, which indicates a PenTile subpixel matrix is in use; although at this density it shouldn't be all that noticeable. Also, this isn't the first time I've used a display like this - the Samsung-made Galaxy Nexus used a similar panel, albeit slightly smaller.
The chipset in use is a new one, again manufactured by Samsung and part of their Exynos line. While unfortunately it's not from their upcoming Exynos 5 series with ARM Cortex-A15 cores, the Exynos 4 Quad improves on the "Exynos 4 Dual 45nm" (aka Exynos 4210) used in the Galaxy S II in many ways: you get a bump to a 1.4GHz quad-core SoC (still using Cortex-A9 cores) plus a higher-clocked ARM Mali-400 MP4 GPU for improved graphics performance.
Other stand-out features of the Galaxy S III include an improved 8-megapixel rear camera that comes from the same sensor series as the iPhone 4S, support for microSDXC cards up to 64 GB and a relatively large, very removable battery. Check out the rest of the specifications in the table below.
 
Samsung Galaxy S III
Product Codes
GT-i9300
GSM Bands
850 / 900 / 1800 / 1900
3G/4G Bands
HSPA 850 / 900 / 1900 / 2100
Display
4.8-inch Super AMOLED HD at 1280 x 720
306 ppi pixel density
Corning Gorilla Glass 2
Processor
Samsung Exynos 4 Quad
1.4 GHz quad-core ARM Cortex-A9 CPU
Graphics
Mali-400 MP4
RAM
1 GB
Storage
16/32/64 GB internal user storage
microSDXC slot
Connectivity
Wi-Fi 802.11 a/b/g/n (dual-band)
Bluetooth 4.0
A-GPS
NFC
DLNA/Wi-Fi Direct/Wi-Fi Hotspot
Camera
8 MP rear camera with zero shutter lag and LED flash
1.3 MP front camera
1080p/30 video recording (rear), 720p/30 recording (front) 
Ports
MicroUSB
3.5mm audio jack
Battery
Li-ion 2,100 mAh removable
Launch OS
Android 4.0 "Ice Cream Sandwich"
Touchwiz Nature UX
Launch Date
May 2012
Size & Weight
136.6 x 70.6 x 8.6 mm
133 g
Price
Unlocked & Outright: AU$720 (~US$750)
Also available on carriers worldwide
Design
The tagline for the Galaxy S III is a curious one: it reads "designed for humans, inspired by nature". This whole statement is quite ridiculous to be honest, because I would sure hope that the smartphone I just bought is designed for humans and not, say, pandas. Secondly, I'm not fully understanding how the design is "inspired by nature"; I don't recall having seen Galaxy S III-shaped plants or animals roaming around the wilderness.
In fact the Galaxy S III is more accurately "inspired" by the usual design principles for slate-style smartphones. The front is mostly display, the back is mostly nothing except for the camera and the sides occasionally have a few buttons.
Just quickly taking a look at the placement of things around the Galaxy S III and you'll find a tactile home button in between two capacitive menu and back buttons below the screen, with a speaker, front facing camera, sensors and notification light present above. The back is minimalist, featuring just a centered camera with a flash to the left and speaker grill to the right. On the top is a headphone jack, the bottom has the microUSB port, and the power button and volume rocker are on the right and left sides respectively.
There are a few things that definitely must be praised about the design Samsung has used for the Galaxy S III. For a relatively large phone with a giant 4.8-inch display, it's quite comfortable to hold and the minimal bezel makes it easy to reach across the display. You'll probably have to shift about the phone in your hand to reach all corners of the screen, but the shape and thinness makes this very easy to do.
The other thing that must be praised is the positioning of some of the buttons. On the HTC One X it was difficult to turn the phone on with the power button on the top, but this is not an issue with the Galaxy S III with the button on the right-hand side. The home button, while it is a long way down the front face of the device, thanks to it being a tactile push button I found it very easy to hit.
Unfortunately this is where I say goodbye to the pleasantries in regards to the design, and get a little bit nastier. Sorry Samsung, but the Galaxy S III is ugly. I'm not sugar coating this in any way at all because it really needs to be emphasized. The Galaxy S III is ugly.
At the launch of the GS3 I thought it looked ugly, and despite other tech journalists responding it was much better in real life, I was immensely disappointed the first time I took it out of the box; after all I had used a One X for most of the previous month and that was a design masterpiece. The design has grown on me as I've used it for the past few weeks, but only to the point where it's shifted from terrible to mediocre in my mind.
Why, you ask, does the Galaxy S III have an "ugly" design? Well as you might expect it's a multi-part tale.
Few things about the design are spaced or curved appropriately. I don't understand why the three hardware buttons on the front are not in the middle of that section of bezel. I am perplexed as to why the sensors are visibly squished between the front-facing camera and the Samsung logo. Why does the curving start from seemingly random positions along the sides? I didn't believe that the whole "designed by lawyers" spiel would be noticeable, but to me it definitely is.
Then there are the curves themselves. I just know I'm going to sound pedantic here but they are too curved; the far less curved One X, and even the similarly sized Droid Razr, are still comfortable to hold without this ridiculous curving. The Nokia Lumia 900, HTC One X or Sony Xperia S - all high end phones whose designs prefer a squarer body and look better for it - make the GS3 look like a child's toy next to newer and maturer styles.
Finally there's the plastic. The device is a flagship, high-end device from Samsung worth many hundreds of dollars and all they can muster is plastic that doesn't even carry a premium feel. Sure, the Lumia 900 is (along with many other phones) also technically made of plastic (polycarbonate), but Nokia chose a higher quality, tactile plastic that adds quality and style. You certainly don't get that with the Galaxy S III.
The plastic in use here looks and feels cheap, and it's so smooth that it could easily slip out of the hands of someone with greasy fingers. I admit, the smoothness of the Gorilla Glass 2 is amazing, but when the back has virtually no grip I have room to complain. I honestly have no idea why Samsung couldn't have spent a few more bucks fancying the plastic and perhaps adding some metal finish, because without it, the GS3 is a flagship device in a medicore case.
And so ends the reasons why I don't like the design of the Galaxy S III. Luckily for anyone reading this review, the biggest negative is now out of the way, and we can move on to the finer parts of the device.
Display
The Samsung Galaxy S III packs a 4.8-inch 1280 x 720 Super AMOLED HD display, and it's fair to say this panel has some definite ups and some definite downs. However, as I've used a similar sort of display on both the Galaxy Nexus and Galaxy Note, both Samsung-made devices, I already knew what I was in for.
First of all I want to address the "PenTile" issue that I'm sure some people are worrying about with this type of display. Indeed the Super AMOLED HD panel here is not "Plus" branded and does indicate the use of a PenTile subpixel arrangement, but at such a high pixel density you're not going to notice the way Samsung has chosen to manufacture the display. Sure, an RGB-stripe array in an LCD panel is slightly better, but chances are you're not going to notice or care.
As with all Super AMOLED displays you get vibrant colors, superb contrast and black levels that an LCD panel, no matter how good it is, simply cannot reproduce. The colors you'll see produced by the GS3's display are vibrant, leaning towards oversaturated; however in my eyes a bit of flare is better than boring flatness. White levels on this display are also reasonably good for an AMOLED, with no obvious color tinting present.
The pixel density of this display is also fantastic, coming in at 306 ppi which is above the magical 300 mark, meaning you won't be able to easily identify individual pixels. Text is reproduced extremely sharply, images look fantastic and web browsing is an absolute treat on a display so large and crisp. 
One problem I did have was the brightness of the display. Auto-brightness seems to have some issues indoors, almost always making the screen just a tad too dark; I believe Samsung should be able to fix this in a software update though. On the other hand, the display is not physically bright enough in direct sunlight: the white bezel reflects a lot of light and makes the display itself very hard to see, and comparing it to an LCD panel, at full brightness the AMOLED is noticeably dimmer.
Viewing the Galaxy S III outdoors often looks like this
I expect the brightness problem in sunlight is not going to be as bad if you get the blue model, but this is a problem with current generation AMOLED displays. They also use considerably more power displaying white than an equivalent LCD panel, which is something I hope Samsung can improve in the future.
Interestingly Samsung has also included some software settings that control the way the display produces images. I recommend "Standard" mode as it gives the most vibrant colors that show off the abilities of the Super AMOLED panel, but also because "Natural" and "Movie" modes ironically make images look less natural. None of these modes fix the auto-brightness problem, disappointingly.
Directly comparing the Super AMOLED HD panel to the Super LCD 2 panel in the One X the latter of the two is noticeably better. Colors are more natural while still remaining vibrant, brightness is considerably better, viewing angles are surprisingly superior and the clarity is slightly better in the next-generation of LCD panels.
Despite this I want to stress that the AMOLED found in the Galaxy S III is still quite good. I don't think anyone purchasing the Galaxy S III, or considering a purchase, will be in any way disappointed with the screen they end up with (especially once Samsung fixes the indoor auto-brightness); just the Super LCD 2 panels provide an even better viewing experience. Hopefully I will explore the differences between the two technologies more closely in a future article.
Software
The software pre-loaded onto the Galaxy S III is a combination of Android 4.0 and Samsung's own TouchWiz user interface, although they have dropped the version numbering this round in favor of calling it just "TouchWix Nature UX" - fitting with the "inspired by nature" tagline.
Many of the base Android 4.0 features, such as the data usage manager, notifications pane on the lockscreen and Android Beam, are still present on the Galaxy S III. As such, I recommend you check out my review of Android 4.0 which covers all the features that the operating system includes.
→ Android 4.0 "Ice Cream Sandwich" review
Now, let's take a look at the TouchWiz Nature UX.
Overall Style
Just like with HTC Sense and a whole bunch of other Andorid 4.0 skins, Samsung is trying to aim for consistency across all the apps on the device. Unfortunately, again like Sense, this backfires miserably because in stock Android 4.0 many apps follow the same design guidelines, while with an OEM skin there is a horrible mish-mash of skinned and unskinned elements. But I'll look more closely at that later.
Note: The colors in these screenshots look more vibrant on the Galaxy S III due to the nature of the AMOLED display
TouchWiz has always been about adding features to the operating system along with visual flare. Many of the app icons on the Galaxy S III version of TouchWiz make use of vibrant and stand-out colors, and a wide color palette is used across the skin. Samsung also favors the use of black as the base app color, which is probably due to the frequent use of AMOLED displays which favor black for power consumption reasons.
Compared to the 3D-style futuristic look of vanilla Android, which can look clean and professional, TouchWiz appears more cartoony and childish; often cluttered as well. Although, the cartoon vibrant styles used is something I surprisingly don't mind throughout the interface, as I do think it looks great on the super-saturated AMOLED display of the GS3.
One thing I'm not so sure about is Samsung's inconsistent use of flat colors with hard edges and gradients with rounded corners. Some visual elements make use of the stock-ICS-inspired hard edges, such as the improved notification pane and contact lists; but on the other hand gradients still appear out in force like with UI buttons and text input boxes, as well as headers and numerous other things.
It almost seems like Samsung's software designers couldn't decided whether to continue using the old style or push towards an ICS look, so they adopted both in a strange mix. The good news is that it doesn't look all that bad - obviously I far prefer stock Android as I have mentioned many times before, but it fits in better with the ideals of Android than Sense.
One other thing that must be mentioned is Samsung's use of a physical menu button on the device rather than the recent apps button. In ICS it's very clear that the menu button should be a legacy component, but Samsung is again refusing to fully adopt the future style and sticks with the old menu button. It doesn't impede usability much unless you're a multi-tasking master, but in my opinion it was the wrong move by Samsung.
New Features
There are a surprisingly large amount of new features that Samsung has managed to pack into TouchWiz that extend the already-great functionality of Ice Cream Sandwich.
Instead of the ring lockscreen Samsung opted for a cool ripple effect which I really enjoy, along with swipe-to-open applications. In the notification pane you also get a sliding pane of quick toggles, which comes in handy when you need to enable/disable things like Wi-Fi and Bluetooth. Unfortunately there is no brightness quick toggle here, which I would find more useful than some of the toggles such as for Driving Mode and screen rotation.
In the browser I was pleased to see options for both quickly adding website RSS feeds as well as an option that converts articles into a format that's easier to read. There is also a strange feature, also present in the video player, that allows you to override the default brightness settings on the device. You wouldn't think this would come in handy, but for those times you can't read the webpage because the screen is too dark you can simply change it from within the app.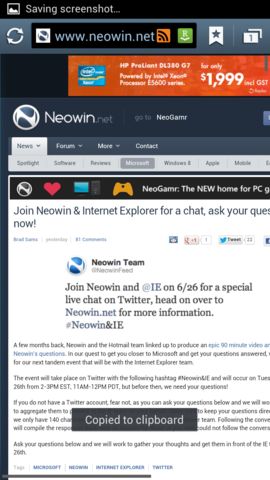 Samsung has included an interesting power saving mode which, when activated, limits certain functions of your device when the battery gets low. You can limit the maximum CPU performance and lower the power level of the screen, among other things that allegedly lengthen the battery life. If you check out further down the battery life of the GS3 is pretty good already, so this only serves to improve it in dire situations.
There are also a bunch of motion settings that utilize the various sensors in the device for advanced functionality. For example, you can set it so that when you are looking at a contact's info, and you bring the device to your ear, the person is automatically called. Some of the functions work well, but others - such as tapping the device to go to the top of the list - I found only worked sporadically.
One of the coolest features Samsung has implemented is called Smart Stay. It detects when you are looking at the screen (using the front-facing camera) and it disables the screen timeout in these situations; it comes in especially handy when you are reading lengthy articles online, for example. No doubt this feature uses slightly more battery life as it does activate the camera briefly at the same interval as the timeout you have set, but you can set the timeout for 15 seconds, enable this feature and potentially be more battery friendly.
Other features worthy of a mention include adjustable vibration intensities and patterns, a good set of TouchWiz widgets and the ability to use NFC in conjunction with Wi-Fi Direct to send files to other phones with the same feature set.
Stand-Out Apps
Many of the base applications - such as Phone, Contacts, Messaging, Calculator, etc. - don't have any stand-out features attached with them; luckily though there are a few other applications which really stood out to me, both good and bad - as I was using the Galaxy S III.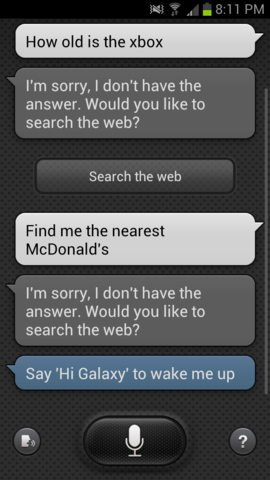 I'll start with the bad, shall I? Easily the worst software feature on the Galaxy S III is S Voice, which is no match for Siri on the iPhone 4S. It consistently misinterpreted what I was trying to say, and it was painfully slow at answering questions, although I was surprised it answered things such as "when was Lord of the Rings released?". It isn't really a suitable replacement for doing things manually, especially typing messages because I can do that much faster and more accurately than S Voice.
I was disappointed by the inclusion of bloatware apps such as Samsung Apps, More Services, Game Hub and their ChatON messenger which is not particularly useful without other people using it. Unsurprisingly, no-one on my contacts list was using ChatON so that's an app I won't be revisiting or encouraging people to use.
I also found Samsung's stock calendar replacement, S Planner, to be more confusing and cramped compared to the vanilla Android app. It has some innovative features, such as the ability to link to memos and pictures, but these aren't killer features that justify an interface and usability downgrade. It's interesting, because back with Android 2.3 and TouchWiz on the Galaxy Note I actually liked this app, but with the much improved ICS Calendar app this app is no longer high-class.
On the better end of the scale, S Memo is a fantastic app that is just as good as it is on the Note, albeit without the ability to use the awesome stylus. It's packed with features and visually appealing, making it an even better choice than most of the third-party apps available in the Play Store.
I also have to praise Samsung for the great music player app. It has all the features you want in a music player and more, including support for viewing lyrics, playing music from and to DLNA devices on your network and the cool Music Square feature. The music app analyzes your music collection and decides to what degree they fall between exciting and calm, and passionate and joyful. The resulting 5x5 square enables you to choose songs that suit the style and mood of music you are after, and it works surprisingly well.
The camera app is also very good in terms of features, but I've saved a lot of that for the camera section of this review.
Overall I would have to say that the features Samsung has packed into the Galaxy S III (software-wise) are amazing and really add a lot of functionality to the device. However, the visual design of TouchWiz leaves a lot to be desired and some dodgy applications unfortunately bring down the experience. Also, I would hate to see the inclusion of this skin hindering future updates to the device, but alas it almost certainly will.
Performance
I genuinely have no complaints whatsoever about the performance of the Galaxy S III, because simply put, it's the fastest device I've ever used in pretty much every respect.
Inside the Galaxy S III is Samsung's new Exynos 4 Quad chipset, which packs in four ARM Cortex-A9 cores clocked at 1.4 GHz with an ARM Mali-400 MP4 graphics chip. The quad-core chip here was built using Samsung's 32nm fabrication process, which should provide lower battery consumption and less heat output per core compared to the Exynos 4 Dual 45nm chipset used in the Galaxy S II.
Compared to the other major quad-core SoC, NVIDIA's Tegra 3, the actual CPU cores are pretty much the same; however a big difference lies in the GPU used. In my HTC One X review I noted that the performance of the Kal-El ULP GeForce GPU used in the Tegra 3 SoC is on par with the Mali-400 MP4 used in the Galaxy S II. Samsung chose to reuse this GPU in the Exynos 4 Quad, however it bumped the clock speed of the GPU up significantly, and so it should now outperform the Tegra 3 chipset; in theory.
The Galaxy S III review unit I received was the international version, and so it comes with quad-band 2G and 3G, providing Cat. 14 HSDPA (21 Mbps down) and Cat. 6 HSUPA (5.76 Mbps up). With Optus here in Australia I easily managed 7 Mbps down on the GS3, which is what I would consider the maximum possible speed in my location given the technology, which is great to see.
Also in terms of communication technologies packed in to the device you get Bluetooth 4.0, A-GPS, NFC and dual-band (2.4 and 5 GHz) Wi-Fi 802.11a/b/g/n. I had no problems using any of these on the Galaxy S III, and I was glad to see dual-band Wi-Fi was included so I could connect to the 5 GHz Wireless N network I have in my house.
I don't really think I need to say much about the performance of the Galaxy S III because, as I mentioned, it's the fastest device I've ever used. There was never a moment of lag throughout the operating system, web browsing was incredibly fast and fluid, and just in general terms the phone seemed snappier than anything else I have used before - including the One X.
Gaming performance also falls under the same banner. I threw every high-end game I could think of at the Galaxy S III and it didn't seem to have any problems chugging along without in-game frame rate drops. I had the smoothest Grand Theft Auto III experience yet using the Galaxy S III, and I think in Dungeon Defenders the phone was too fast for the game because controls were too smooth.
My experiences are backed up fully by the benchmarks of the device. Simply put, the GS3 dominates.
Here you can see the great performance output of the Galaxy S III's CPU. In SmartBench the GS3 is only edged out by 13% which can be accounted for by the One X's clock speed boost, and in Vellamo (which only uses two cores maximum) the One XL's powerful Krait CPU cores deliver an 11% lead. However, in Browsermark the GS3 completely dominates the closest device, the One XL, by a whopping 62%.
The Galaxy S III's Mali-400 MP4 GPU, with increased core clock speeds over the Galaxy S III, crushes the competition - including the iPhone 4S' PowerVR SGX543MP2 in GLBenchMark by 35% and 5% in the Egpyt and Pro tests respectively. In NenaMark, both the Galaxy S III and HTC One XL hit their frame limiters, which is a great sign for in-game performance of both devices.
The Mali-400 MP4's clock speed increase is so significant it delivers close to twice the performance of the very same GPU in the Galaxy S II. It's also around 50% faster than the Tegra 3's ULP GeForce GPU and the MSM8960's Adreno 225 GPU.
At the end of the day, anyone with the Exynos 4 Quad version of the Samsung Galaxy S III should be happy to know they are rocking the current Android performance leader.
Camera
Good news everyone! The Samsung Galaxy S III uses a Sony-made sensor which happens to be the model up from the one used in the iPhone 4S, which means we are in for some stunning camera performance from the device. The question, though, is whether the Galaxy S III's camera is as good as that found on the Sony Xperia S, which again has a class-leading Sony-made sensor from their Exmor R range.
I was expecting a great camera, and what I got was actually better than what I was hoping for. Color reproduction is perhaps the most awesome thing about the Galaxy S III's camera: no matter what type of lighting there is - be it cloudy, sunny or indoors - the sensor accurately captures this without over-brightening, changing the white balance or color tinting. The results can be some truly fantastic shots.
Wide shots are also very good, and even though the day I took this shot it was very cloudy and generally unpleasant, this comes across perfectly in the photo as the color reproduction is so good. I also included a 100% crop below to highlight how good the sensor is at capturing detail, and just as I saw with the Xperia S, the Galaxy S III excels in this area as well.
Then you come to the low-light shots, and while in this area it's not as good as the One X with its f/2.0 lens, you can still get reasonable clarity out of the Galaxy S III without causing too much grain. If you're worried about grain you can always use the flash anyway which provides reasonable results for the size.
Above you can compare the flash/no-flash results
There are also a number of features that the camera can do. Below I have included (in order) a HDR shot, an in-motion photo chosen from the burst mode results and a photo of me taken with the front-facing camera. You may notice the annoyed expression, and that is because I was disappointed in the results of the smile mode - it's supposed to take a photo automatically when you smile, but for me at least it always took the photo just too early and so the photo was of me with a terrible (and too embarrassing to show) awkward half-smile.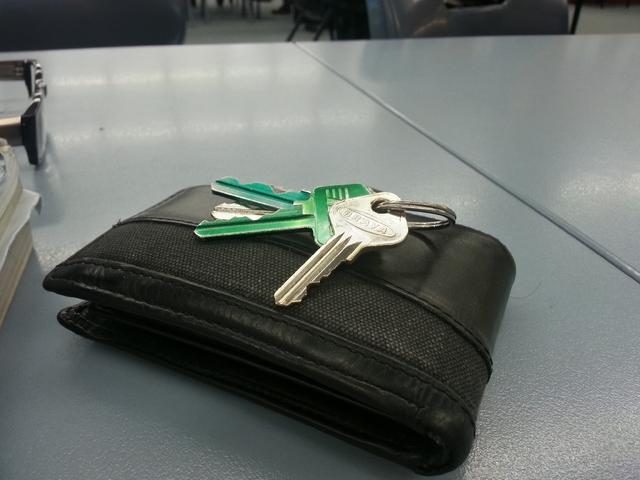 It also should be mentioned that Samsung has implemented zero shutter lag in the Galaxy S III with a very quick focus time, which means if you need to snap a photo very quickly this should be possible using the GS3. From memory, the Galaxy Nexus seemed slightly faster in this department, but overall the GS3's camera is much better than the Nexus.
Video recording quality is equally as good as the still shots. Colors come out remarkably well using the feature, and the video seems crisp and stable; although when moving the camera quickly there is an unavoidable jelly-wobble effect. Audio quality is the only downside, as there seems to be quite a lot of background noise and my voice didn't come out so well.
Check out the video that I took on the Galaxy S III below (it was 120 MB for just one minute at 1080p), and also the still shot I took while recording as I mention in the video.
So is the camera better than the Xperia S and iPhone 4S? Well in terms of comparing it to the latter I would say it's on-par, definitely delivering great results considering it uses pretty much the same sensor. It's a really tough call saying whether it defeats the Sony Xperia S, and after reviewing my wealth of sample shots for both devices I have to lean towards no - but it's very close. The Xperia S has the hardware camera button and a handful more megapixels with essentially the same quality, so that's why I swing towards the Sony made device.
Media Playback
Getting right in to the media playback of the Galaxy S III, and the speakers present on the device are both reasonable for the jobs they must undertake. The rear speaker, used for ringtones and loudspeaker mode, is powerful and clear; although it lacks quality for music playback as you would expect. The in-call speaker is loud and clear as well, and through active noise cancellation the people on the other end hear you equally as well.
The best music playback I ever got out of a device - without enabling any sort of software enhancement - was with the original Galaxy S, so I had high expectations with the Galaxy S III. Not to say that audio playback out of the GS3 is bad, but I was somewhat disappointed with the experience from the GS3, probably because of having too high expectations.
It's really hard to describe audio quality when most devices are so similar, but I felt as if the GS3's audio wasn't as tight as it was on the Galaxy S, and it definitely wasn't as good as Beats Audio on the HTC One Series. Again it's not a bad experience by any means, and you do have the ability to adjust the audio through the in-built graphic equalizer, but I was expecting more than just average with a flagship device.
Also, the audio quality may be down to my ears deceiving me, and I really wish I had a more scientific method of testing out the sound output. Maybe one day...
Anyway moving on to the video playback test, and we can see how the Galaxy S III fares with the Exynos 4 Quad chipset on-board. A large, high definition display means the GS3 is perfect for watching videos on the go, but I hope you don't have to do any format conversion.
Medium
Native Playback
3rd-Party Playback
Cordy Gameplay (.wmv)
640x360 WMV3 video @ 3046 kbps
WMA2 2ch audio @ 96 kbps
Perfect playback
Perfect playback using hardware decoding
The Big Bang Theory (.avi)
624x352 XviD video at 1082 kbps
MP3 2ch audio at 128 kbps
Perfect playback
Perfect playback using hardware decoding
Epic Rap Battles of History 7 (.mp4)
1280x720 H.264 video at 2531 kbps
AAC 2ch audio at 128 kbps
Perfect playback
Perfect playback using hardware decoding
TRON Legacy (.mp4)
1280x720 H.264 video at 2461 kbps
AAC 6ch audio at 401 kbps
Perfect playback
Perfect playback using hardware decoding
Black Swan (.mkv)
1920x800 H.264 video at 17025 kbps
DTS 6ch audio at 1536 kbps
Perfect video playback but no DTS decoding (so no audio)
Due to licensing issues MX Player removed the DTS audio codec (damn!) in the latest build, so unfortunately the results are the same as with the default player
THX Amazing Life  (.mt2s)
1920x1080 H.264 video at 9011 kbps
AC3 6ch audio at 640 kbps
Not recognized (this is usual for an MT2S file)
Perfect playback using software decoding (for the first time ever!)
MysteryGuitarMan  (.mp4)
1920x1080 H.264 video at 2701 kbps
AAC 2ch audio at 128 kbps
Perfect playback
Perfect playback using hardware decoding
This is, without a doubt, the best result I have every seen with my video playback test. Using MX Player everything bar DTS audio played perfectly, including the infamous THX Amazing Life video which has never played back perfectly until this point. I have to praise Samsung here for the fantastic video capabilities of this device.
I would normally recommend MX Player for all video playback, but with the default Samsung player you also get this interesting picture-in-picture-style setting that overlays the video you are playing over whatever apps you might be using. This is handy if you want to check Twitter, or something like that, during the middle of watching a long movie but without pausing it.
Battery Life
I was pleased to see the Galaxy S III packing a removable 2,200 mAh battery, which should easily see the device through at least a day of moderate usage. Indeed this is the case, and I don't really have much to complain about in the battery life department, because I never required a mid-day charge even under reasonably heavy usage.
The battery life of the GS3 I wouldn't say is huge, but for this type of device it's definitely more than adequate. I was especially pleased with how the device copes well when connected to a Wi-Fi network; when in a Wi-Fi zone the GS3 seemed to last noticeably longer compared to its cellular network performance and other devices in similar circumstances.
Under heavy usage, such as gaming or lengthy video recording, the Galaxy S III lasts around the standard 6-7 hour mark - possibly less if you ramp the brightness up all the way. The quad-core processor shouldn't be hugely more power consuming compared to a similar dual-core system,  and you'll find the display sucks the most power out of anything.
In my battery life test that I just started doing, the Galaxy S III fares the worst out of the measly three devices I have tested so far in playing back videos. It comes close to the One XL but loses out slightly, probably due to the slightly larger AMOLED display which can be hungry when displaying images that use a lot of white. Don't be dismayed though, because I've only tested three devices and I would think the Tegra 3 One X wouldn't do as well.
| Device | Movie Playback Life |
| --- | --- |
| Motorola Razr | 9:53 |
| HTC One XL | 9:03 |
| Samsung Galaxy S III | 8:41 |
| Sony Xperia S | 6:50 |
Video Overview
Conclusion
I spent a long time debating on how I would wrap up the review and how I would score the Samsung Galaxy S III. Different aspects of the device fall in different parts of the spectrum, which made it really hard to decided on a numerical value to brand the device with.
What really disappointed me about the Galaxy S III is the mediocre design, both visually and in terms of build quality. I'm sorry Samsung, but if I'm paying this much for a premium device I absolutely do not expect third-rate plastic to encase it; and your choice of "inspired by nature" style for the device is certainly questionable.
Samsung has improved their TouchWiz skin and added a wealth of great new features, but again I have to criticize how it looks in comparison to stock Android 4.0. It's not as good, and frankly I don't think any skin will visually look as consistent, modern, attractive and also as professional as vanilla Ice Cream Sandwich.
These two things really hinder the other good features, because what's good is really, really good. The Galaxy S III is a performance powerhouse that demolishes the current competition with the Exynos 4 Quad chipset, and the ability to replace the battery and expand the memory is a feature sorely missed from other devices.
The camera is also outstanding and a feature you certainly won't be disappointed with. After much deliberation the Xperia S is still retaining the title of best camera smartphone, but it was a close call as the GS3 certainly put up an enormous fight. The camera is also backed up by a solid round in the media playback arena, essentially acing the test.
Pricing I also feel is appropriate for this device, sitting around the $700 mark outright which is what I've come to expect from a flagship device. If you get it on a contract it's more than likely going to be subsidized, so the price isn't of a huge concern anyway.
→ Buy the Samsung Galaxy S III from Mobicity | Mobicity UK
→ Galaxy S III website
→ Android 4.0 review
→ Tweet me your Galaxy S III questions