USB gadgets are a market that you have to wonder about the wisdom behind. Deeming them novelty trinkets of little real interest would be understandable enough, but I've never actually had a chance to play with one and see how far I'd trust that view myself.
Alongside the Matias Tactile Pro 3.0 keyboard that getDigital.de sent me for review purposes, they also sent one of the USB gadgets they also stock, but I've been holding onto this review for a while.
I received this USB Missile Launcher alongside the keyboard, and we're going to be taking a good look at it. This is the standard version, though getDigital also stocks versions with webcam compatibility.
\
Boxed Contents
h
Inside the box, you'll receive the missile launcher and instructions for making it work with your Windows operating system. There's no compatibility with any other operating system, unless through Wine. The missile launcher is sandwiched between two molded pieces of plastic, so there's no chance it'll move around and get knocked about.
The plastic sandwich fits in with just enough room for the two instruction sheets included to slide in beside. It's also worth pointing out that the rockets are inside the plastic 'sandwich' with the launcher. They aren't fitted to it as standard, but actually preparing them for flight is not a difficult matter.
The instructions you get are functional. They might not be as fancy looking as the little booklet included with the Matias Tactile Pro, but the USB Missile Launcher doesn't retail for $149.99 either. You receive two sheets of A4 instructions, in German and English. Pleasingly, the sheets also provide images to further break-down the information. Images are always able to brighten up an otherwise dull list of commands.
Appearance

The shortest description of the appearance is that this looks like a missile launcher. For the more military minded reader, it looks a bit like a Surface-to-Air (SAM) launcher, I suppose. The dark green body of the launcher itself helps lend to the military theme.
Physically, it's a good bit bigger than the average computer mouse, and it's fairly hefty too. It weighs maybe 500 to 750 grams, and it's surprisingly big. I'd always pictured things powered by your USB port as being relatively small so they wouldn't sap too much power. Mind you, the internals likely aren't too intensive, so that could explain a lot.
Most of the internal workings seem to be located in the base, with only the barest essentials for it to work running up into the rotating upper half. However it's done, the weight is distributed well enough to keep the launcher upright, and I've never seen any indication of the weight being too much for it.
The plastic feels surprisingly thick as well. The USB missile launcher here really isn't a cheap little thing you buy at a dollar store with a lifespan of a weekend. I believe it would take some damage if you had an accident and dropped it, but it goes without saying that I'm not going to try this theory.
Flipping the launcher over, the underside has four rubber feet which might help explain its stability. The feet aren't big, but together with how the weight is spread through the product, they're more than capable of standing up to the job.
Having taken the time to check and compare, the feet are smaller than a 5p coin. I suppose this is something that could be changed easily enough. For the size of the launcher, as the picture above shows, they do seem undersized.
The getDigital sticker on the underside of the launcher also shows some other information, like how you should dispose of the product in the event you need to (not in the bin, basically). It isn't particularly surprising but it seems to be the only writing on the launcher, unless there's more under the getDigital sticker. The size is so minute it'll probably go unnoticed with most buyers.
Looking at the top of the launcher this time, you can get an idea of how it's made. Between the two fins on the top, you can see a faint line running. The plastic used to make the launcher must be molded using some sort of template and then joined, so the fit and finish is very smooth. I would trust that the two halves should stay together pretty tightly for the foreseeable future.
Software
At this point, it's very likely your computer will pass these minimum specifications.
Since this launcher runs off your USB port, there's also software involved in the equation. Getting the software is painless; you just download it from getDigital's site and install. It's a 1MB .exe so it is a near-instant download, even on slower connections.
The install procedure couldn't be easier. There's nothing different from any other software you may download on a regular basis, and it doesn't try to foist bloatware on you either. Something worth observing is that the software installs as 'Thunder', so you do need to note that when looking for it.
The software idles in your taskbar until you open it further. The software isn't beautiful but does follow a sort of military theme in its design. If you're an Aero / Modern UI purist it might upset your responsibilities, but if you're not, it's acceptable enough.
This is the main interface window for Thunder.
The only issue with the software is that all explanation is done with the instruction sheets. There's nothing in the actual software to explain to you what's going on.
The process is named as "THUNDER.exe", and according to Task Manager it's consuming just over 1800K of RAM for me. The impact on your performance should be negligible, if you even manage to detect one.
Poking around in the software, I found a link to a site called Dream Cheeky by clicking one of the buttons. Dream Cheeky appears to be an Asian company specializing in USB gadgets such as this one. Their site lists this product as 'Thunder', so it does seem that getDigital are reselling 'Thunder'.
The Thunder software comes with sound effects, but you can turn them off with one of the buttons inside it. I'd make sure and check they're off before putting your headphones in, for the sound effects are surprisingly loud. Their effect is dampened by being through headphones, since the idea is that you hear a sound as rockets launch.
Functionality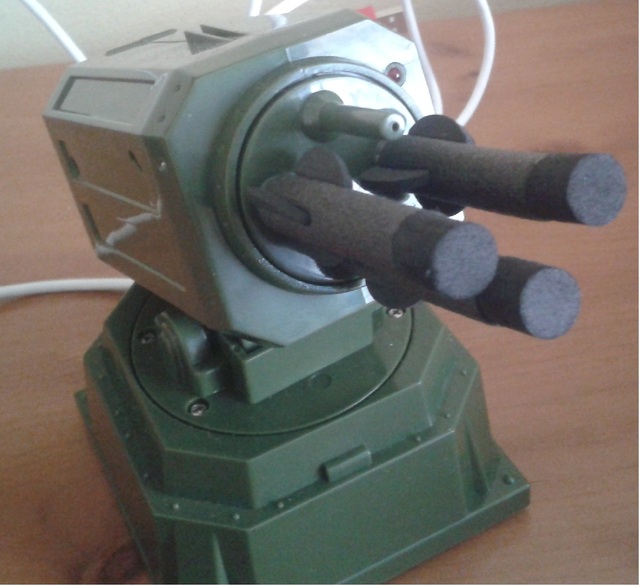 This is where it gets really fun. Unfortunately I can't get a decent video to show the range of the launcher, but I did put it to the test. It traveled close to ten feet, and it would have likely went further had it not run into a wall.
When it's being launched over such a long distance, you may wonder whether it could be dangerous. Finding no alternative, I did the decent thing and turned it on myself. The foam missile bounced off harmlessly. For all the force they're launched with, they won't hurt at all.
Since the missiles are completely made of foam, it's entirely possible they'll break after enough use. You get four missiles as standard. If you pick up spares they'll look different but should work. The rockets are small and dark, so you could potentially lose them. Depending on how concerned you are with the condition of your hardware, that could be a cause for frustration or concern.
Due to the design of the missiles, you do need to consider how you're sliding them into place. They're designed to be aerodynamic, with three foam fins to eke every last inch from a single launch.
Since the positions they slide into are quite close to each other, setting them up to avoid touching is required. It doesn't make it any harder to slide them into place, but due to the design it's worth mentioning.
I'm actually very impressed by the range of the launcher. Launching things accurately is difficult, but the range is surprising. You can use the fins on the top to angle a shot, but not with incredible precision. It's still an aid though, so that can help a bit.
Rockets alongside my Fisher Bullet Pen.
For reference, the Fisher Bullet Pen measures 9cm in length with the cap fitted as above. With the cap posted on the rear of the pen, it extends to 13cm. Hopefully this helps to give an idea of the size of the rockets you'll be firing.
Conclusion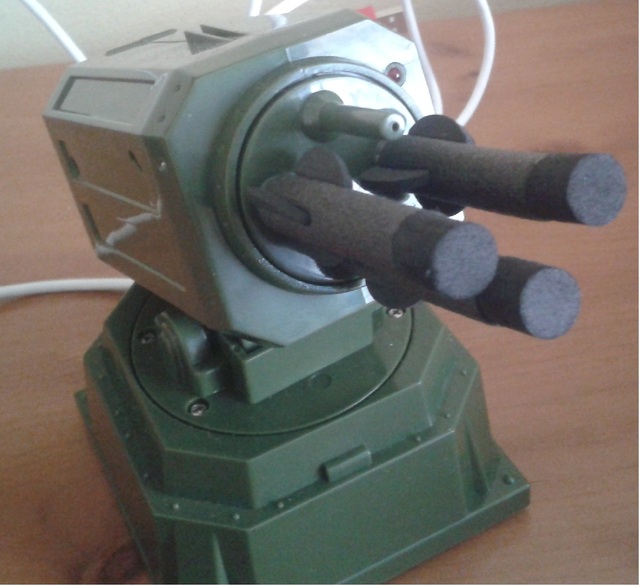 The bottom line for the USB Missile Launcher is that it works, and that's all you ever should have been expecting from it. The launcher feels like it's solidly constructed, and it has at least some weight to it. The actual missiles are less certain, but that's the pay-off for keeping them safe. Foam is soft and hitting it against walls repeatedly probably won't do its lifespan any favors.
It's a fun gizmo, and the software for it is pretty decent if not beautiful. If you have a spare USB slot, I imagine you could do worse than something for your own amusement. Depending on your workplace it might not be too welcome, but at home it shouldn't cause any concerns. At the same time I could understand any argument against having the USB Missile Launcher. It is a limited appeal sort of gadget. You might enjoy it but there are plenty of people who won't.
The USB Missile Launcher will set you back 34.95€, and that's a high cost for such a toy. If you have the cash and the idea captures your attention then you could do much worse than something for your own amusement. It's all it was ever designed for and it manages to deliver on that.
With that in mind, I've awarded my review score without considering the fact that it is a novelty of sorts.
Pros
Keyboard control Solid construction USB length
Cons
Expensive Missile longevity