TerraMaster reached out to me and asked if I was interested in checking out their newest entry level 2-bay TNAS device, the F2-212. I've had some experience with these devices, having recently reviewed the F2-223 and F4-423 and having owned a QNAP TS-253Be, Synology DS720+ and now the Synology DS923+, but for me, I only acquired them to do local and cloud backup and run my home theater solution using a combination of Emby and Plex.
All the aforementioned NAS devices I've owned are media-class, meaning they fully support having Emby or Plex installed on them and streaming over the network, aside from a few other things installed via Docker containers, or being able to follow a clear tutorial, that's about the extent of my expertise into the realm of network-attached storage devices goes; I'm still learning.
Here are the most important specifications:
TerraMaster F2-212
CPU
Realtek 1619B (ARM V8.2 Cortex-A55 64-bit)
Quad Core, 1.7 GHz
Memory
1 GB DDR4 non-ECC (Maximum supported)
Disk Capacity
44 TB (22TB x2)
RAID Level
TRAID, Single, JBOD, RAID 0, RAID 1
Network
1 x RJ-45 1 GbE (10/100/1000)
USB Ports
2 (1 x USB 2.0 and 1 x USB 3.0)
Power
PSU 40W
20.1W (Seagate 4TB ST4000VN008 HDDs in R/W)
10.4W (Seagate 4TB ST4000VN008 HDDs in hibernation)
Size (H/W/D)
222 x 119 x 154 mm
Weight
1.3 Kg
Price
$169.99
As you can see, it contains a Realtek processor, however I was unable to find any specific info about it other than on third party websites. Even the official Realtek page does not contain any useful information.
NAS Compares claims that the CPU is capable of decoding AV1 at 4K@60fps which is impressive within such a cheap device, not even the Intel Celeron N4505 included in the more expensive F2-223 is capable of decoding AV1 streams.
For the sake of being complete, and because I couldn't find an official page with this info, here is what NAS Compares says the chip is capable of:
GPU – ARM Mali G57
H.264 codec 2K60fps
H.265 decoder 4K60fps
H.265 Encoder 2K60fps
All HDR
AVS2.0 4K @60fps
VP9 Profile 2 Decoder @4k60fps
AV1 10bit Decoder @4K 60fps
Audio DAC SNR: 100dB / THD +N
Audio DSP 7.1ch shared CO-Processor for power management
Display support HDMI2.1 TX CEC
They also say that the chip is Quad core 2.0 GHz while on the TerraMaster page it is listed as Quad core 1.7 GHz, such fun... Although it's nice that it supports HDMI 2.1 as well, there's no port to attach a screen to the F2-212, so be prepared to configure this thing solely over the network, which also means you will need to have DHCP enabled so that a LAN address gets assigned.
First impressions
The packaging is nothing to write home about, although I'm pleased to say that it did not come in a comically-oversized box, and minimal packing materials were used. Everything you need to get yourself started is included.
In the box
Host unit (x1)
Power cord (x1)
Power Adapter (x1)
RJ-45 network cable (x1)
Quick Installation Guide (x1)
Limited Warranty Note (x1)
Screws (a few)
Design
It is plain to see that this is a budget device, right down to how the molded plastic parts are fit together, with a line running all the way around the device and next to the second drive bay. Initially I thought its purpose was to be able to gain access to it somehow, but my contact told me that accessing it to change any parts, like expanding the memory, is not supported.
On the front, you just have the two bays, their drive number and LED indicators for the HDDs, and power on the right. There is no LAN indicator and no power button. To access the HDDs, you must press at the top of the drive bay, which releases the bay to slide out. I would have liked to have a more satisfying click and connection on installing the drives, but it is what it is.
Around the back, you can find the power button at the top left, the two USB ports, blue for USB 3.0 and black for USB 2.0, a 1GbE LAN port, and a connector for the barrel port power source. There's no Kensington Security Slot present or any means to connect a display.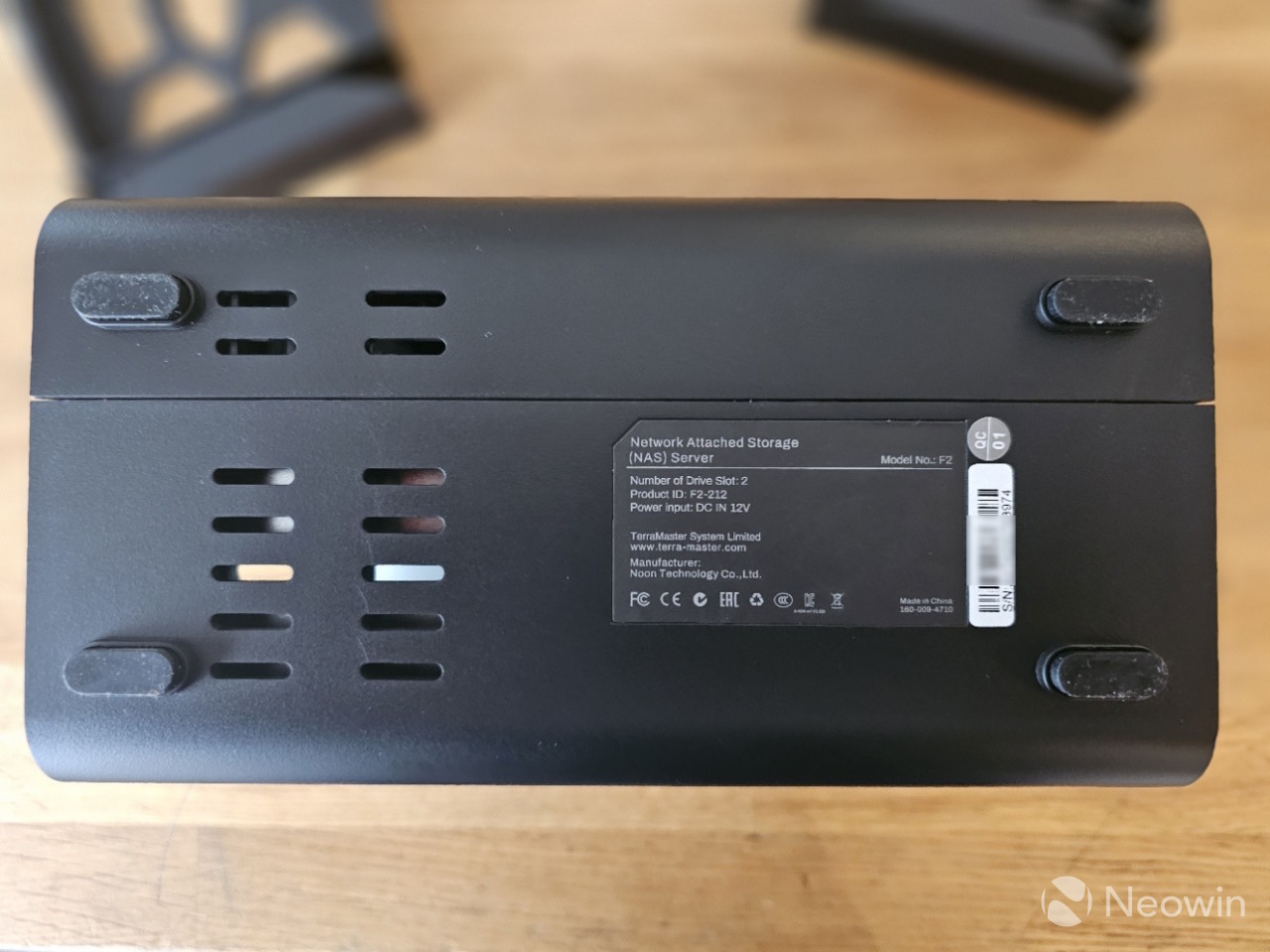 On the bottom, there are some holes to assist ventilation, the glued-on rubber feet and the device sticker. So, there's also no support for NVMe SSD storage, and as previously mentioned, or a means to access the F2-212 to increase the memory.
Setup
Upon connecting to the LAN and booting up, the F2-212 can be reached by navigating to http://tnas.local or if that doesn't work, by the local address assigned via DHCP which you can find using the TNAS PC desktop application, which is essentially a F2-212 finder.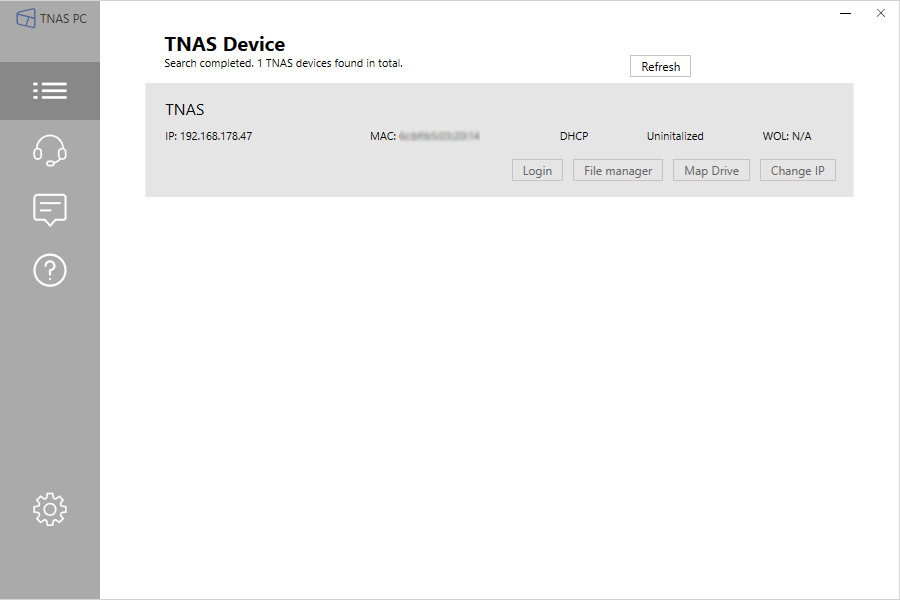 The setup process is pretty straightforward, which I've included below.
I used a couple of my own 4 TB WD Red HDDs, since TerraMaster say that they no longer supply HDDs with review units. Upon using the "Default" initialization, which is an "Easy setup mode", TRAID (which is the in-house RAID solution) is used, meaning that users will only benefit from the total storage space of one drive, because the other is used for redundancy.
It would have been nice if TerraMaster used the ample space on the setup page to make it clear that TRAID would be used in the dual drive setup. Since this isn't a professional-class device, home users might want to use the maximum possible capacity of the two drives in JBOD (two drives, one storage pool and volume).
Another annoyance was the length of time it took for the Storage Pool to initialize. Two 4 TB disks took nine and a half hours to complete, which gave me 3.63 TB of storage space. Nowhere is it made clear that this process has to complete first before you can even start using your new TNAS device. The disks I used are relatively small for a NAS, so I can only imagine how long it would take with far larger drives, days?
A CrystalDiskMark test on a mapped network drive from within Windows 11 22H2 PC (image above) connected over my LAN was disappointing in the random/sequential read/write tests and although limited with the 1Gig connection, it's a shame that 2.5GbE was not included here like on all of their other current-gen devices. TerraMaster do say that it is possible to purchase a 2.5G LAN Adapter, but that adds another forty bucks to the price. You can also find them on Amazon for roughly half that.
TOS 5.1 comes with an App Center that has a bunch of handy programs you can install right off the bat such as Emby, Plex, Docker as well as in-house Backup and Surveillance solutions that aren't really in the scope of this review.
Usage
Since this is kind of being marketed as a Personal Cloud and Media server, I decided to test how well it performs in the media department. Streaming via the Nvidia Shield and my Galaxy S23 Ultra smartphone with Direct Play ensured that the server did not break a sweat, however when I tried to play content that required transcoding, it started buffering within the first few seconds (bottom right image in the below grid) and then refused to continue playback.
I tested the same content through Plex on my DS923+ which does not have the greatest CPU for decoding (AMD Ryzen Embedded R1600) however the software powered decoding played fine (bottom left image in above grid) without any buffering at all, which starts to show that you get what you pay for. I also tried playback through Emby, which showed the latest version as being 4.5.2.0 and Blade Runner buffered every couple of seconds.
Aside from this, and trying to playback on three different devices in my house, we could not hear any sounds coming from the F2-212, as advertised, it really is quiet! So if you like how it looks, you could keep it in view in your media cabinet. The plastic casing remained cold to the touch, and the rear fan was not producing any warm air that I could feel.
Conclusion
What it comes down to in the end is the quality of the F2-212. It is the cheapest and lowest denominator of a NAS, and although the Realtek1619B boosts fancy features like H.265 decoding with 4K@60fps, and AV1 decoding, we could not reproduce any of that in our brief testing, the latter of which requires Plex v1.31 or higher, and we have no way to upgrade Plex from v1.28 because manual upgrade does not work and there is no later version in the App store. Bit of a shame that.
Even TerraMaster itself calls the F2-212 "adequate for home document backup and providing multimedia entertainment". If you intend to use this as a media server, it's important that the devices you will be streaming to support some form of hardware decoding of their own, like an Nvidia Shield or Firestick 4K. The Samsung TV Plex app just don't cut it, even with my pretty modern 2022 QN90B QLED TV.
After all, the F2-212 only costs $169.99, whereas the more capable F2-223 costs $299.99, which is quite a difference considering they are both two-bay devices. I didn't like that the default "quick setup" immediately went to TRAID (using one disk as redundancy). I would have liked that to be made clearer during setup, because it's not like you can add a disk for more storage space later on!
If you can see past all that, then it's a good, cheap, personal cloud with media streaming capabilities.
As I've said before, The only downside I can think of is that TerraMaster is a relative newcomer to the space, and there isn't a lot in the way of community support at present. They do have a community forum, but it is not brimming with activity, but hopefully this will change in the future.
As an Amazon Associate, when you purchase through links on our site, we earn from qualifying purchases.
Pros
Very cheap Tos 5.1 Easy setup
Cons
No SSD option 1 Gigabit Ethernet Memory not expandable Mediocre hardware transcoding