Terramaster reached out to us and asked if we were interested in checking out their newest 2-bay NAS device, the F2-223. I've had a little experience with these devices, having owned a QNAP TS-253Be, and now the Synology DS720+ but for me, I only acquired them to do local and cloud backup and run my home theater solution using a combination of Emby and Plex.
All of the aforementioned NAS devices I've owned are media-class, meaning they fully support having Emby or Plex installed on them and streaming over the network, aside from a few other things installed via Docker containers, or being able to follow a clear tutorial, that's about the extent of my expertise into the realm of network-attached storage devices goes; I'm still learning.
Here are the most important specifications:
| | Terramaster F2-223 |
| --- | --- |
| CPU | Intel Celeron N4505 (Dual Core 2.0 GHz, Max burst up to 2.9 GHz) |
| Memory | 4 GB, maximum 32 GB (16 GB x 2) |
| Disk Capacity | 40 TB (20TB x2) |
| RAID Level | RAID 0, RAID 1, JBOD, single, TRAID |
| Network | 2 RJ-45 2.5 GbE (10/100/1000/2.5 GbE) |
| USB Ports | 2 x 3.1 |
| HDMI | 1 |
| Size (H/W/D) | 227 x 119 x 133 mm |
| Weight | 2.4 kg |
| Price | $299.99 |
As you can see it contains a media class Intel Celeron N4505 processor that came out in 2021 and it ships with 4 GB of RAM which is double what QNAP included in the five-year old TS-253Be.
First impressions
The packaging is nothing to write home about, although I'm pleased to say that it did not come in a comically-oversized box, and minimal packing materials were used. Everything you need to get yourself started (except for a cross cable) is included.
In the box
F2-223 TNAS device
Power adapter
LAN cable (CAT 6)
Quick guide
Limited warranty notice
Screws (for HDD bays)
Stickers
Rubber standoffs
Design
Although this is a budget device, you wouldn't think so from the design and build quality, the case is entirely metal and is cool to the touch even after the F2-223 has been powered up all day. It's also a lot quieter than the QNAP TS-253Be. I had this sat next to my computer on my work desk and I did wonder if the noise I was accustomed to with NAS devices would annoy me, but all I could hear was a soft whirring.
On the front, you just have your two bays and power button along with LED indicators for the HDDs, LAN and Power. It would have been nice to have a USB port on the front, but alas, no such joy here.
Around the back, you have your two 2.5 GbE Ethernet ports, an HDMI port and a connector for the barrel port power source. There's no Kensington Security Slot present which is a bit of a shame considering it's a data storage device.
On the bottom, there are plenty of holes to assist ventilation, and upon checking there are no screws under the glued-on rubber feet. So, from looking, there's also no apparent means to get inside to expand the memory, which is supported according to the documentation. Nowhere does it say how you can achieve adding or replacing the memory modules.
After a bit of looking around, I discovered that four Philips screws on the back, that look like they're holding the fan in place and can be removed. Once you have carefully disconnected the fan from the main board, you can slide out the device from its metal case.
An extra memory module can easily be installed on the bottom of the main board, it also looks relatively easy to swap out the already included 4 GB module, although there is limited space to do this. Next to the memory module, there's relatively easy access to the CMOS battery too, which means further dismantling can be avoided.
You may also notice that it is possible to add a couple of M2 SSDs for drive caching, this SSD caching is supported and accounted for in TOS 5.1, but had I not taken the F2-223 apart I would not have known it was possible to add an NVMe, since it is not included in any documentation.
It's good that some thought has gone into the expandability of the F2-223, all it takes is four screws and you can really beef it up some.
Setup
Upon connecting to the LAN and booting up, the F2-223 can be reached by navigating to http://tnas.local or if that doesn't work, by the local address assigned via DHCP which you can find using the TNAS PC desktop application, which is essentially a F2-223 finder.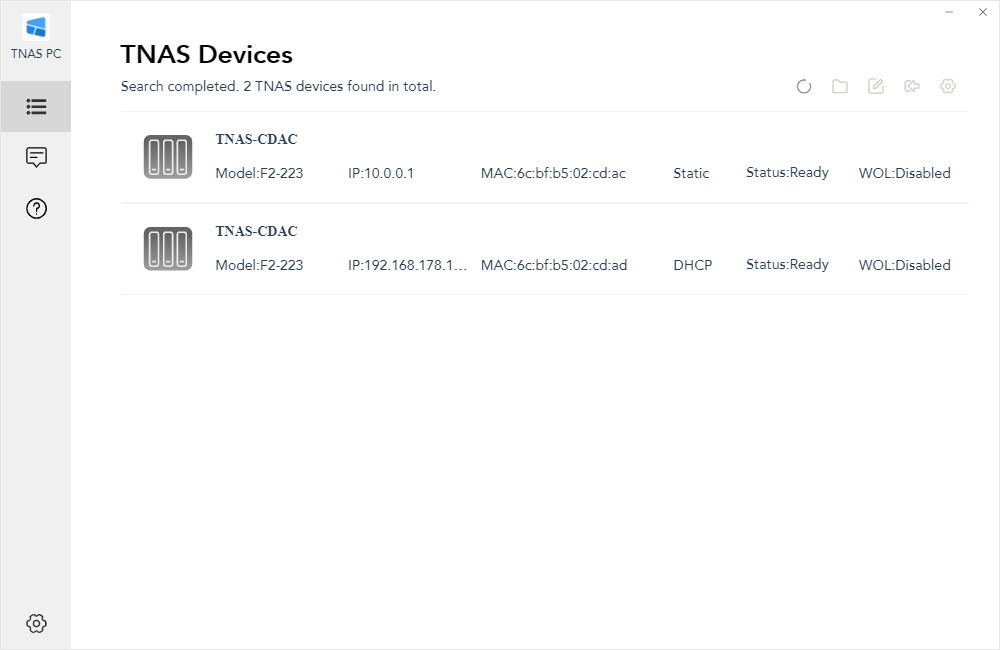 The setup process is pretty straightforward which I've included below.
Gallery: F2-223 Setup
I was able to borrow a couple of 4 TB Seagate Ironwolf HDDs to use in the testing since Terramaster informed me they no longer supply HDDs with review units. As you may have seen in the above images, it was suggested to use TRAID, which is the in-house RAID solution, and I went with it.
The Storage Pool took just over seven hours to complete, so it wasn't until the next day that I did a few file copy tests.
Using a combination of large and small files (video, images and docs) I was able to get around 209 MB/sec with Robocopy from a 4 GB OSFMounted RAM disk over the 2.5 GbE cross cable connection directly from my PC to the F2-223. A CrystalDiskMark test on a mapped network drive from within the same Windows 10 22H2 PC (image above) returned around the same result. No complaints here, you'll be satisfied, if not really happy with the 2.5 GbE speeds if your network and switches support it.
TOS 5.1 comes with an App Center that has a bunch of handy programs you can install right off the bat such as Emby, Plex, Docker as well as in-house Backup and Surveillance solutions that aren't really in the scope of this review. I did set up Emby as I feel it's important to test the streaming capability of the F2-223. I loaded up some 4K HDR content and it played fine without any stuttering.
Conclusion
What it comes down to is the quality of the F2-223, and I can say for $299 it's a great little device, but recommending it will depend on the individual's use case. If you're just looking for a small NAS device to back up your files and take care of your home theater streaming, then it is a great and inexpensive device to purchase. It provides great performance, takes up little space, and is on the whole, very quiet. You might find yourself limited with drive space with only two bays because it doesn't look like Terramaster sell an expansion kit.
On the other hand, if you think you will need more storage space in the future, you should probably go for the F4-223, which has four bays and costs only $140 more. In comparison to Synology's DS723+ which costs $449, or the $409 QNAP TS-262 you're also saving quite a bit of money
The only downside I can think of is that Terramaster is a relative newcomer to the space, and there isn't a lot in the way of community support at present. They do have a community forum, but it is not brimming with activity yet, maybe that will change in the future.
---
As of writing, anyone who lives in a supported country and has bought the F2-223, can apply for a free gift, which is an additional 4 GB of RAM. This takes your total to 8 GB which is more than enough for a small media and file backup server for your home. Be sure to read the instructions on how to successfully apply for the gift, we were gifted ours for the review, so we couldn't participate.
As an Amazon Associate when you purchase through links on our site, we earn from qualifying purchases.
Pros
Cheap Good build quality Media streaming
Cons
Lack of bays Hidden SSD port