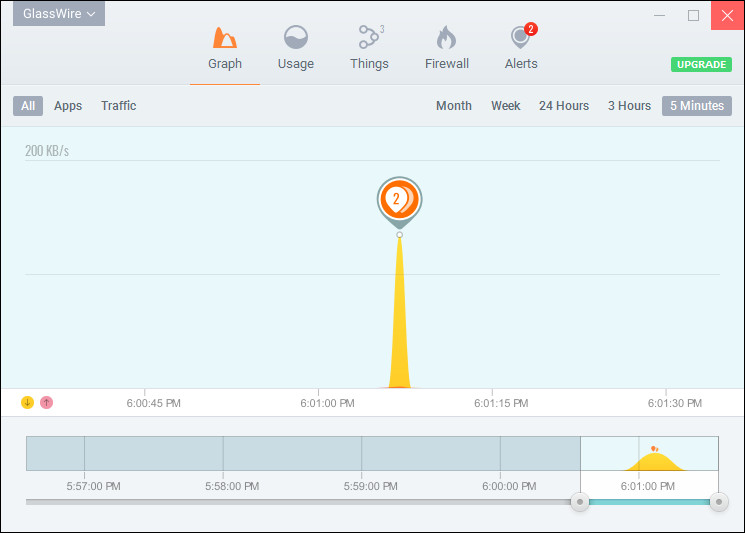 Visualize your current and past network activity by traffic type, application, and geographic location, on an easy to use graph. GlassWire lets you see what applications are sending out data over the Internet and shows you what hosts they are communicating with. The program also looks for; domains or IP addresses that are known threats, networking system file changes, unusual application changes, ARP spoofing and more.
GlassWire shows you what network activity occurred while you were away or logged out from your computer. No more wondering what your computer was doing while you were out. Just go back in time with GlassWire's graph and see exactly what happened in detail.
GlassWire visualizes what current and past applications are accessing the Internet. If you don't like what you see you can instantly block network access to specific apps with GlassWire's firewall manager.
GlassWire 2.2.201 changelog:
GlassWire now uses an improved remote access system for remote monitoring.
This system is not compatible with our previous system so you'll need to update your client and server software both with this new version. If you do not have access to your remote server due to quarantine or for some other reason, you should not upgrade this version. If you need our old version it is available here for download.
GlassWire memory and disk usage resource improvements.
Go to the top left menu to use our new free dark "asphalt" theme!
GlassWire now starts faster.
DNS resolving is now improved.
Graph data loading is now faster and improved.
VirusTotal analyzing is now faster.
Go to the top left menu "settings" to change GlassWire's speed units.
Subscriptions can now be extended if you go to the top right "About" menu.
You can now easily change change the remote access IP address.
The year was added to the alerts tab and calendar.
The date was added to the "while you were away" alert.
We fixed a problem with our Korean translation.
Things device discovery and DNS resolving is now improved.
Fixed a medium severity issue reported to our HackerOne bug bounty program about a theoretical filesystem data corruption due to the privileges granted to its service.
Download: GlassWire 2.2.201 | 46.0 MB (Shareware)
View: GlassWire Website | Android
Get alerted to all of our Software updates on Twitter at @NeowinSoftware