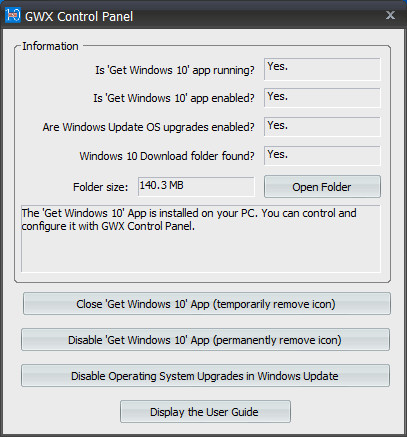 GWX Control Panel (previously named GWX Stopper) is a free program that you can use to configure and exit the "Get Windows 10" system tray application which continually pops up on PCs that are still running Windows 7 and Windows 8. GWX Control Panel really works, is safe and easy to use, and gives you the option to re-enable the icon and upgrade notifications if you're ever ready to move forward with Windows 10.
Why GWX Control Panel is better than other solutions:
Some methods are only temporary fixes. They make the app go away until you restart Windows, or maybe until you do another Windows Update, but they don't truly stop the Get Windows 10 app from bothering you- they just postpone it.
Some methods are unsafe (especially the ones that involve you disabling Windows Update).
Some methods have potential to result in unexpected or undesired behavior if you're not completely sure what you're doing or if you apply a change to the wrong files or folders.
And some just went way beyond what was truly necessary to keep the Get Windows 10 app from bothering you.
GWX Control Panel doesn't do anything special. It's just simple and safe, and it works.
GWX Control Panel is a standalone executable, doesn't require to be installed.
GWX Control Panel is digitally signed.
What's new in version 1.7.0.1:
New "Delete Windows 10 Programs" feature deletes program files known to be related to the Windows 10 upgrade and their related scheduled tasks. Right now this only covers files from the KB3035583 patch, but future versions will include other files as more problematic programs are discovered. Important: These programs are the main reason people were seeing their Windows 10 Upgrades settings getting reset in the 1.6 version of GWX Control Panel monitor mode. This new feature is the best way to prevent those reversions; simply removing the Get Windows 10 icon from your notification area is not enough to stop Microsoft from continually reverting your settings.
Now detects whether Windows Update is configured to automatically install updates (the "automatically install Windows Updates" field in the information section), because automatically installing new updates leaves you vulnerable to Windows 10 upgrades. (If you choose to ignore this alert, GWX Control Panel won't bother you about it again.)
Added new "Change Windows Update Settings" feature where you can set your Windows Update preferences in the event that GWX Control Panel detects that you are in automatically install mode.
Slightly reduced CPU and resource utilization (it was already pretty good before, but now it's even better).
Renamed "Disable OS Upgrades in Windows Update" feature to "Prevent Automatic Windows 10 Upgrades" because the old name confused some users.
Improved responsiveness and reliability of "Prevent Automatic Windows 10 Upgrades" feature.
Now additionally detects 32-bit version of MS "Get Windows 10" app on 64-bit Windows.
Tightened up Windows 10 detection logic; no longer triggers alerts in one case that's been determined to be safe. Added at least one new detection scenario.
Save Diagnostic Info report now includes human-readable details on exactly what traces of Windows 10 were found. Indicates parent subkey and registry value of detected (or missing) settings.
Some other additional details in diagnostic info, like whether current user is administrator and running status of some critical services.
No longer prompts for restarts after Prevent/Allow Automatic Windows 10 Upgrades. (The improved reliability of the new logic should make restarts unnecessary.)
Enable/Disable Monitor Mode feature now defaults to enabling Monitor Mode for all users instead of just the current user account. Per-user enable/disable is still available from a system menu option (see version 1.7 user guide for details). This new behavior is due to the very confusing way that Windows handles program credentials when users with Standard and Child accounts have to elevate to admin privileges when performing certain actions. The troubleshooting guide should include some background on this as well.
End User License Agreement now appears as a child of the main program dialog, preventing the situation where it appears behind other open windows but users have no idea since the old EULA dialog didn't have an icon in the taskbar.
Installer: Added shortcut to GWX Control Panel uninstaller in the GWX Control Panel folder of the Start menu.
Installer: Start menu and desktop shortcuts are now created for all users on the computer instead of just the profile of the user who installed it.
Installer: Added more logic to kill existing GWX CP processes during install/uninstall. NOTE: This doesn't work across multiple currently logged-in user accounts. Please log out all other user accounts before installing/uninstalling to ensure the program files can safely be installed/removed. Also, ideally you should run the installer from an administrator account, not an elevated Standard or Child account.
Download: GWX Control Panel Installer | 2.3 MB (Freeware)
Download: GWX Control Panel Portable | 4.2 MB
View: GWX Control Panel Home Page | Video Tutorial
UPDATE: GWX Control Panel 1.7.0.2
Issues fixed in version 1.7.0.2:
If you used GWX Control Panel's Monitor Mode and you use the installer to upgrade from an earlier version of the program, the installer didn't automatically restart Monitor Mode after the upgrade is complete. The installer now restores Monitor Mode if you had it enabled previously. GWX Control Panel will also now start Monitor Mode if it detects that you have it enabled but for some reason it isn't running.
The new buttons and information fields in version 1.7.0.1 made the program too tall to fit on very low resolution screens. The minimum screen size I tested with internally was 1360x768, but many netbooks have 800x600 screens, which can't display the whole GWX Control Panel program window. Version 1.7.0.2 has been re-arranged so that it doesn't take up so much vertical space.
If you already had your Windows Update settings configured to "automatically install updates" this would trigger an alert in Monitor Mode the first time it ran, even if you WANT to have Windows Updates at that setting. The real purpose of this alert is to let you know if Microsoft changes your Windows Update settings without your consent. Version 1.7.0.2 will now only trigger an alert if it detects that Windows Update changed from one of the other three options to "automatically install," which might indicate that a Windows Update patch reverted your Windows Update preferences.