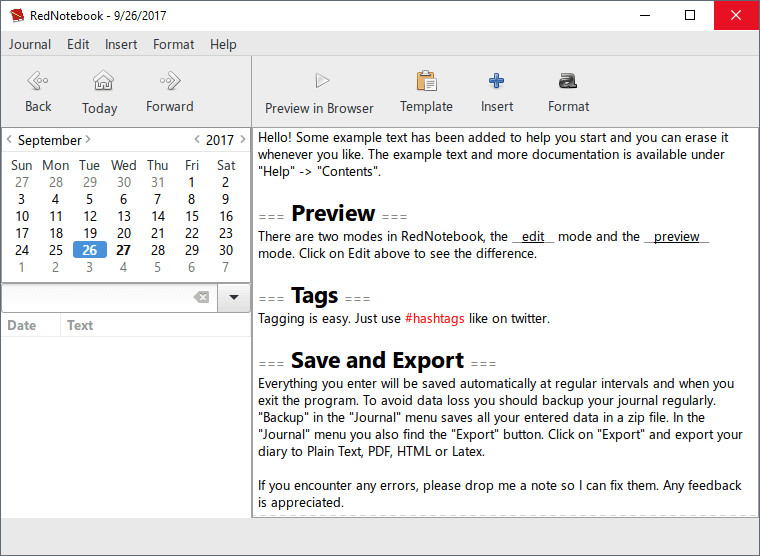 RedNotebook is a modern desktop journal. It lets you format, tag and search your entries. You can also add pictures, links and customizable templates, spell check your notes, and export to plain text, HTML, Latex or PDF. RedNotebook is Free Software under the GPL.
RedNotebook main fatures:
#Hashtags
Format your text bold, italic or underlined
Insert Images, files and links to websites
Links and mail addresses are recognized automatically
Spell Check
Live-Search
Automatic saving
Backup to zip archive
Word Clouds with most often used words and tags
Templates
Export the journal to plain text, HTML, Latex or PDF
The data is stored in plain text files, no database is needed
Translated into more than 30 languages
RedNotebook 2.5 changelog:
Restore instant search (search as you type).

Add option for disabling instant search to preferences dialog.

Disable undo/redo buttons in preview mode (fixes #103).

Remove option to show/hide right-side tags panel from GUI (still present in configuration file).
Download: RedNotebook 2.5 | 33.6 MB (Open Source)
Links: RedNotebook Website| Other Operating Systems
Get alerted to all of our Software updates on Twitter at @NeowinSoftware