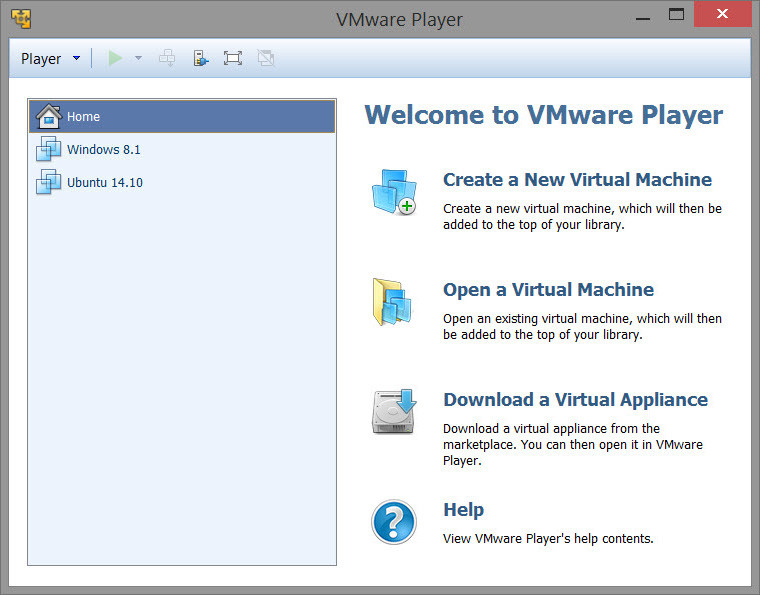 VMware Player is the easiest way to run multiple operating systems at the same time on your computer.
With its user-friendly interface, VMware Player makes it effortless for anyone to try out Windows 10, Chrome OS or the latest Linux releases, or to create virtual "sandboxes" to test pre-release software in. VMware Player can also be used to run a virtual copy of an old PC so that you can recycle the old machines you have under your desk or stored in the closet.
Run multiple operating systems simultaneously on a single computer
Experience the benefits of preconfigured products without any installation or configuration hassles
Share data between host computer and virtual machine
Run 32- and 64-bit virtual machines
Use 3rd-party pre-configured virtual machines and images
Share data between the host computer and virtual machine
Broad host and guest operating system support
Support for USB 2.0 devices
Gain easy access to virtual machines via an intuitive home page interface
What's new in VMware Workstation Player 16.1.0:
New host/guest operating system support:
Windows 10 20H2
Ubuntu 20.10
Fedora 33
RHEL 8.3
Updated vctl kind to support KIND v0.9.0
Resolved issues:
The Exporting Cluster Logs functionality in kind does not work. The user cannot use kind to export cluster logs for exploring. This issue is resolved.
Cannot start the virtual machine after upgrade to VMWare Workstation 16.0 on openSuSE 15.1 Leap Host. The virtual machine is not able to start. Every machine hangs at the "waiting for connection" phase. This issue is resolved.
Virtual machine won't start when enhanced keyboard is set to "Required" in VMware Workstation 16.0. The virtual machine boot up on the Microsoft Windows host takes long time and it appears as if the virtual machine does not start when the enhanced keyboard is set to "Required". This issue is resolved.
Download: VMware Workstation Player 16.1.0 | 215.0 MB (Free for personal use)
View: VMware Player Website
Get alerted to all of our Software updates on Twitter at @NeowinSoftware