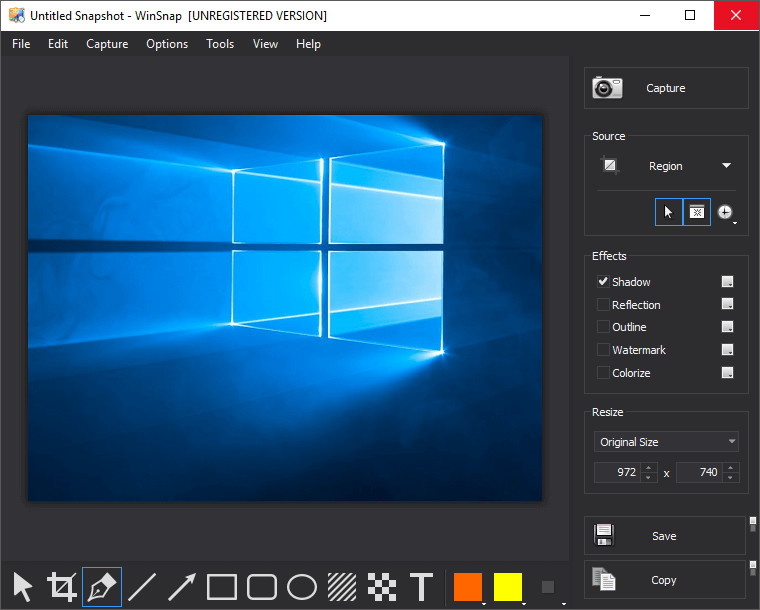 WinSnap is a fast user-friendly utility for taking and editing screenshots. It easily captures windows of non-rectangular form with transparent backgrounds including Aero Glass and instantly enhances screenshots with professional-looking shadows, reflections, highlights, outlines, watermarks and color effects. Built-in image editor provides basic capabilities to annotate screenshots and make them talk.
WinSnap runs on Windows 11, 10, 8, 7, Vista and XP (32-bit and 64-bit). It handles Aero Glass and shadows on all supported OS. Native 64-bit version is included in the setup package.
WinSnap key features:
Flexible screen capture capabilities
Smoothing shadow effect in Photoshop style
Powerful image processing and basic canvas transformations
Support of various image formats and advanced auto-save options
Easy Web publishing and E-Mail sending
Multilingual user interface (Unicode based)
Easy makes screenshots of windows with rounded corners
WinSnap saves info about window form and adds real smoothing shadows.
Alpha-Channel and PNG/TIFF transparency are supported.
Unique "Application" capture mode allows you to capture all visible windows of the foreground application with one click.
Unique "Multi-Object" capture mode allows you to select multiple windows on the screen and easy combine them into one screenshot.
Basic coloring effects and canvas transformations.
Advanced auto-save and auto-copy options.
Configurable External Tools menu to open image editors and optimizers.
Usual keyboard and mouse control (Print Screen replacement).
WinSnap 5.x new features:
New user interface: light, dark and system themes

Advanced resize feature: to width/height and to percentage

Outline color and larger shadows for shapes and text

Pixelate tool to hide sensitive information on screenshots

Larger icons and buttons for high-DPI screens

Number keys are used for tool selection now

Added watermark position menu

Many other improvements and bug fixes
WinSnap 5.3.0 changelog:
Added official support for Windows 11

Added rounded corners and shadow detection for Windows 11

WinSnap recognizes square corners of windows in layouts

Improved object selection for some .Net GUI applications

Removed an extra folder and URL from Startup menu

Some other minor improvements and bug fixes
Download: WinSnap 5.3.0 | 3.9 MB (Shareware)
View: WinSnap Website
Get alerted to all of our Software updates on Twitter at @NeowinSoftware