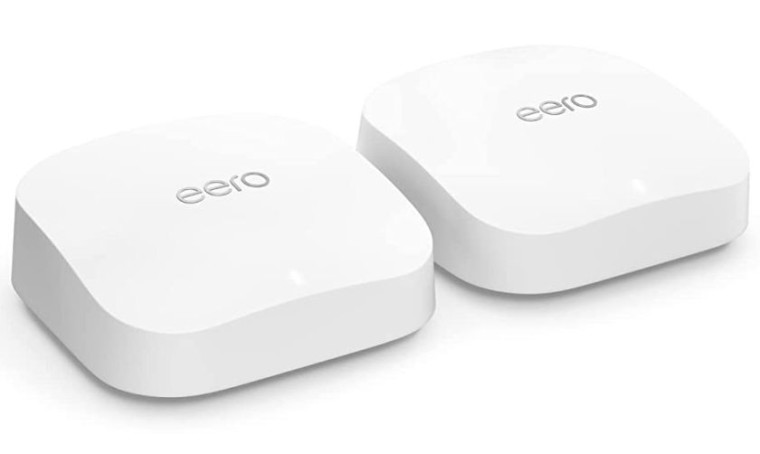 Wi-Fi routers can be tricky things to buy. If you get one, you may find that it doesn't adequately cover your entire house with a strong and fast signal. The Amazon eero Pro 6e Wi-Fi mesh router does a solid job on its own, but it can also be bought in a two-pack or a three-pack to extend your internet connection to cover even more of your property.
Amazon is currently selling the Amazon eero Pro 6e Wi-Fi mesh router for just $186.99 or 25 percent off its normal $249,99 MSRP. You can get a two-pack for $299.99 or a three-pack for $411.99, and both packs are discounted 25 percent off their normal MSRP.
By itself, one Amazon eero Pro 6e Wi-Fi mesh router covers up to 2,000 square feet. Getting a two-pack doubles that range and the three-pack will extend it up to 6,000 square feet. It supports network speeds up to 2.3 Gbps, with wired speeds up to 1 Gbps and wireless speeds up to 1.6 Gbps. If you have an internet connection that's faster than 1 Gbps, you can use the router's 2.5 Gbps Ethernet port for even more speed.
You can connect over 100 smart home devices to the router, and the eero app lets you set that up, along with features like guest network support and scheduling of when people can use the Wi-Fi home network.
Make sure you also browse through Amazon US, Newegg US, or Amazon UK to find some other great tech deals, or visit the Deals section of our articles to see if there's anything we've posted in the past few days that could be of interest.
Our stories may contain affiliate links for products/apps where Neowin is paid an affiliate fee if you complete a purchase via those links.