Today's highlighted offer comes via our Online Courses section of the Neowin Deals store, where for only a limited time you can Pay What You Want for the Learn to Web Design & Photoshop Bundle. Break into the lucrative world of professional web design with up to 75 hours of content.
What's the deal?
With the Pay What You Want bundles, you can get something incredible for as little as you want to pay. And if you beat the average price, you'll receive the fully upgraded bundle! Included in this Pay What You Want deal, are the following courses:
The following courses require a minimum of the average price:
Learn Photoshop, Web Design & Profitable Freelancing 2017
Discover the Photoshop Workflow & Establish a Lucrative Freelancing Career

Adobe Photoshop CC: Your Complete Beginner's Guide
The World's Most Popular Photo Editing Software Taught to You From A to Z

Responsive Web Design: Made Easy
Learn the Basics of HTML5 & CSS3 & Start Designing Dynamic Websites

The Complete Bootstrap Masterclass Course: Build 4 Projects
Discover the Scalability of Bootstrap by Building 4 Real, Responsive Projects

jQuery UI Ultimate: Design Amazing Interfaces Using jQuery UI
Implement A Wide Range of Interactivity Into Websites & Make Your Resume Stand Out

UI Design in Photoshop: Start Designing Web & Mobile Apps
Optimize Adobe Photoshop for Web & Mobile Design

Building Websites: Learn Bootstrap for Rapid Web Development
Enhance Your Development Workflow by Learning this Efficient Scaling Framework

Web Design: Make a Single Page Website Carousel Controls
Build a Completely Dynamic Webpage as the First Step Towards Web Design Mastery
Or Pay What You Want for the unlocked courses:
Design a Website From Scratch: HTML, CSS, Responsive Design
Create Responsive Websites Using the Foundational Blocks of Web Design
What's the benefit?
Qualify for the giveaway!
Beat the Leader's price (currently $151.00) and get entered into the epic giveaway— plus get featured on the leaderboard! Make it onto the leaderboard at ANY point during the sale and gain one entry to the giveaway!
>> Pay What You Want for the Learn to Web Design & Photoshop Bundle
See other Pay What You Want deals
This is a time-limited deal that ends in six days.
---
Save even more!
Stick with Neowin Deals and earn credit or even deeper discounts.
For every $25 spent, you get $1 credit added to your Neowin Deals account.
Refer the deal for $10 credit via social media or email and if it results in a purchase of at least $10, you'll get $10 credit added to your account.
10% off for first-time buyers: be sure not to dismiss the popup offer to subscribe to email updates on the deals page in order to profit!
---
Not for you?
If this offer doesn't interest you, why not check out our giveaways on the Neowin Deals website? There's also a bunch of freebies you can check out here.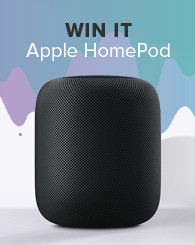 Or try your luck on The Apple HomePod Giveaway. Get the latest and greatest smart home assistant and speaker from Apple for 100% off. All you have to do is sign up here to enter this giveaway.
Miscellany and the fine print!
In some cases, such as with Online Courses, a store credit refund within 15 days of purchase is possible if you are unhappy with it; this does not apply to all deals, so please do check the terms on the page before making a purchase.
Check our other recent deals, before they expire, or our preferred partner software.
How can I disable these posts? Click here.
Disclosure: This is a StackCommerce deal or giveaway in partnership with Neowin; an account at StackCommerce is required to participate in any deals or giveaways. For a full description of StackCommerces privacy guidelines, go here. Neowin benefits from shared revenue of each sale made through our branded deals site, and it all goes toward the running costs. *Values or percentages mentioned above are subject to StackCommerces own determination of retail pricing.