Acer has unveiled a refreshed lineup of Chromebooks at IFA, targetting different price points and use cases. There's two 11-inch models aimed at productivity on the go, and two larger ones for entertainment.
All the models announced today include Gigabit Wi-Fi, Bluetooth 5.0, two USB 3.1 Type-C ports, and two USB 3.1 Type-A ports, which should provide solid external connectivity. There's also a microSD card reader.
Acer Chromebook 315 and Chromebook 314
The two larger Chromebooks are the 315 and 314, both coming in a traditional clamshell design. The main difference is the display, which is 15.6 inches on the 315 and 14 inches on the 314, though both are Full HD IPS panels and both have touch and non-touch options available. The larger model also has a dedicated number pad.
They can both be configured with up to 8GB of RAM, but the Chromebook 315 can have up to 128GB of eMMC storage, while the 314 maxes out at 64GB. The larger model can also have up to an Intel Pentium Silver N5000 processor, while the 314 only goes up to an Intel Celeron N4100. In terms of battery life, both promise up to 12.5 hours on a single charge.
The Acer Chromebook 315 will be available in EMEA in October starting at €329, and in North America in December, starting at $279.99. The smaller Chromebook 314 will be available around the same time, starting at €299/$279.99.
Acer Chromebook 311 and Chromebook Spin 311
The two smaller models have the same screen size, 11.6 inches, but different form factors. As the name indicates, the Chromebook Spin 311 is a convertible, while the regular Chromebook 311 uses a traditional clamshell form factor. The latter can also come with a touchscreen, but only the Spin variant can be bought with a Wacom EMR stylus for sketching and note-taking.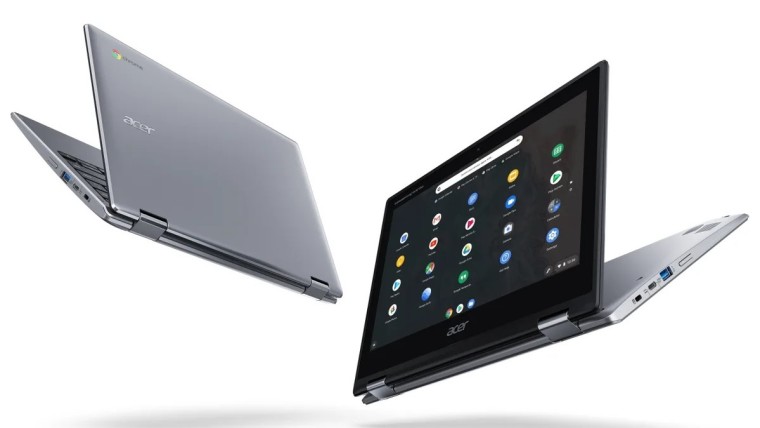 When it comes to the internals, the two devices are somewhat different, with the Spin 311 supporting up to 64GB of eMMC storage and 8GB of RAM. The clamshell variant can only have up to 32GB of storage and 4GB of RAM. The Chromebook Spin 311 is also the only one of today's devices that offers an option for a world-facing 1080p camera, in addition to the front-facing HD camera that's included in all the new models.
Both of the devices will be available in the EMEA region in October and North America in December. The Chromebook 311 will start at €249/$249.99, while the Chromebook Spin 311 will start at €329/$329.99.