In a special event held at Apple's HQ in Cupertino today, the next generation of iPhone was revealed which confirms previous rumours that it would include a fingerprint sensor known as Touch ID, a faster processor and improved camera with dual LED flash. A new 'champagne' colour option has been made available for the first time, which includes gold tinted metal, and white glass.
The exterior shell of the device is much the same as the iPhone 5, and looks almost identical at first glance. The home button loses its iconic look, and is replaced by a sleeker button with a silver ring surrounding it. Inside, the new A7 processor is said to have significant speed improvements and for the first time is 64-bit. This is the first smartphone with such a processor. Specifically, the 5S's CPU is 2 times as fast as the 5, and will utilise OpenGL|ES 3.0 for graphics. Battery life remains at 10 hours of talk time or LTE browsing, and 250 hours of standby.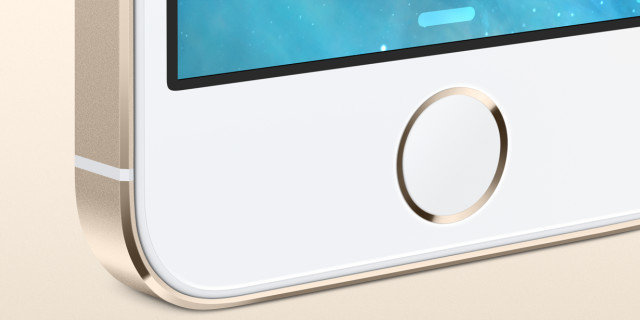 ​The new Touch ID sensor
A new security feature, which has been much hyped in rumours, is Touch ID, a fingerprint sensor built in to the home button, which replaces passwords around the whole system, including in the iTunes Store. It has a 500ppi resolution and 360 degree readability. It would allegedly be hard to 'hold it wrong'.
The improved camera is said to be significantly better than past generations, with vastly improved low light capabilities thanks to increased aperture. The five element lens has been designed by Apple, and has an f/22 aperture and a 15% active area on the sensor. A new dual LED flash has been named 'True tone' and has a far wider range, and better capabilities in all light environments. An array of new software features have also been developed for the camera, including a burst mode at ten frames per second, and an option to film 120fps slow-mo video at 720p.
A new chip has been placed inside the iPhone 5S, and has been dubbed M7. It contains the accelerometer, gyroscope and compass and continually measures data to give you health and fitness tips.
The iPhone 5S will launch later this year with iOS 7, the latest version of Apple's mobile OS. This update features an all new design which is famous for removing the ornamentation that iOS has been famous for since its original premiere in 2007.
This much anticipated update to the iPhone 5 falls in line with Apple's pattern of releasing incremental hardware updates in between larger updates every two years. It'll cost $199 for the 16GB model, $299 for 32GB, and $399 for 64GB on a 2 year contract in the US and can be pre-ordered from Friday 13th September (Unlucky for some?) and will be on sale September 20th.
Source: Apple | Images: Apple