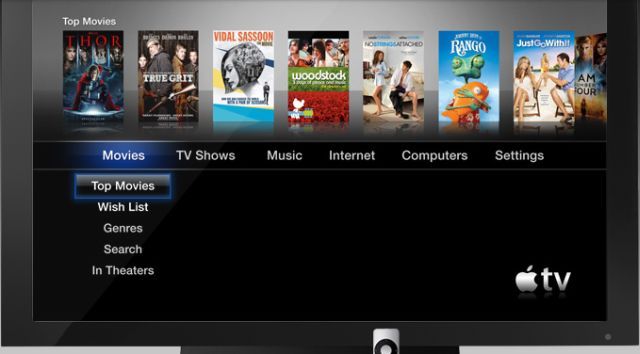 Thanks to the new biography out in stores, we now know that Apple's late founder and CEO Steve Jobs was working on some kind of television-based project before he passed away earlier this month. Jobs is quoted as saying, "I'd like to create an integrated television set that is completely easy to use. It would be seamlessly synced with all of your devices and with iCloud ... It will have the simplest user interface you could imagine. I finally cracked it."
Since then the Internet has been abuzz with speculation about what this Apple television might be like and also when it might be launched. Some believe that the Apple television product could be ready to launch by late 2012 or early 2013. Based on Jobs' description in the book interview, it sounds like this will be more than a new version of Apple's "hobby project" Apple TV (shown bove). That's a set-top box that connects to a TV and offers users a way to watch iTunes purchased movies and TV shows via a large screen.
By contrast, Jobs seemed to be thinking of a TV set that has interactive features along with that so-called simple UI. Many people have already speculated that the user interface for any Apple television product would be the TV owner's voice in a variation of the iPhone 4S's Siri feature. That's a safe assumption but we think that Apple might also provide another way to interact with the TV.
A remote control with game pad features.
Yes, I think that if Apple is working on some kind of television product, it would have support for downloading game apps and that any remote control for said TV would be able to be used to play those games.
It certainly makes sense. There are more and more televisions out on the market that are being labeled as so-called "smart TVs". They have network ports and/or WiFi support that allows them to connect to a home Internet account. They are capable of streaming Netflix videos and downloading apps for news, weather and even social networking apps like Twitter and Facebook. Google has tried to put in its Google TV software inside TVs but so far only Sony's Bravia line has offered such features.
These kinds of "smart TVs" are admittedly just baby steps in the move toward making the television in the living room a truly interactive product. It is more than possible that Apple is ready to take that next big leap into this field, much as they did with the iPod, iPhone and iPad.
Imagine a TV powered by a new version of Apple's iOS operating system that would have access to a version of its App Store. People could quickly download and play games from the app store and start playing them pretty quickly. Apple could put in a more powerful processor and graphics chip in its TV product than they could in an iPhone or iPad. That would allow for games with high resolution graphics and more features than they could provided in Apple's portable products.
While the TV could be operated by a new version of the Siri voice controller, its very possible that Apple might also include a more traditional game controller as well with any TV product. All of this means that if Apple does create such a television, it would basically be a stealth game console as well, beating the Big Three (Microsoft, Sony and Nintendo) at their own game, so to speak.
One of the big obstacles for any Apple-branded television is price. Usually a TV purchase is a major one for any family, costing much more than a game console.  A normal TV is designed to last for much longer than the typical game console life cycle. Apple has to find a way to make such a TV as cheap as they can be while still being able to put in the interactive features.
Then there's the fact that Apple hasn't had much interest in the gaming industry compared to the music, movie and TV business. Apple has brought in id Software's John Carmack to show off cool new engine features during Jobs' keynote speech in the past. The sci-fi shooter Halo got its debut during another keynote by Jobs. But overall the game industry is something that Apple hasn't put a lot of direct time in promoting.
That attitude might have to change for any integrated TV project. Apple must know by now that there are lots of gamers out there playing iOS-based titles (Angry Birds, anyone?). It would be foolish to ignore that user base if it were to develop some kind of television project. In fact it could use the iPhone and iPad to link up to any game on the TV, perhaps as a touch-screen remote.
Finally there's the fact that if Apple does in fact release a new television with Internet and app support by the end of 2012, it will likely beat whatever release date Sony and Microsoft have for their next generation game consoles. Nintendo is scheduled to release the Wii U sometime in 2012 but many expect the hardware to be somewhat underpowered compared to what Sony and Microsoft have planned for their next consoles.
Add all of this speculation up, and you have what sounds like a credible case for Apple's television project also being the place to download and play games. Will it actually happen as I envision? Perhaps not. But that doesn't mean that Apple hasn't been thinking about such an idea. Indeed, in recent months Apple has been posting up job openings for game developer positions.
Quite frankly, if I was an executive at Sony, Microsoft or Nintendo I might be a little frightened. Even with Jobs' passing, it looks like one of his final projects for shaking up the television industry is in full swing. If Apple is successful then the era of the set-up game console box might soon be at an end.
Image via Apple