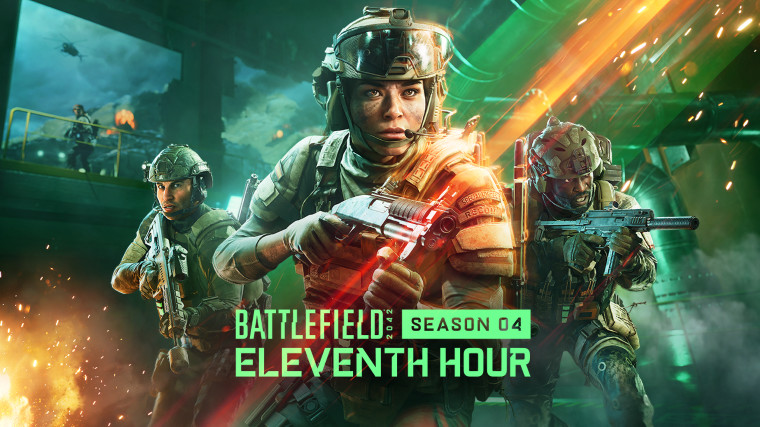 DICE has been delivering content updates at a steady pace to Battlefield 2042 for a year now, and it's almost time for Season 4 to kick off. Dubbed Eleventh Hour, the latest major content update is set to deliver a brand-new map, another Specialist, fresh weapons, a new vehicle, and more.
Focusing on the new Specialist, Camila Blasco arrives as a new Recon class option that's described as an ambush specialist. Her unique gadget, the X6-Infiltration Device, is a signal jammer that stops her squad from being spotted and locked-on using enemy weaponry. She also comes with a built-in counter measure against motion sensing gadgets but only for herself.
With Battlefield 2042's focus changing back to being a class-based system, DICE has confirmed that any future seasons will not ship with a new Specialist, making Blasco the final addition to the roster.
Meanwhile, Flashpoint is the latest map coming into the shooter, a massive new South Africa-set arena dedicated to close quarters combat. The launch map Discarded is getting the rework treatment this season, and from the trailer it looks like DICE has added a lot more cover and structures to the environment to boost its appeal.
As for new hardware, the CAV-Brawler arrives as a new type of infantry carrying vehicle built for maneuverability, while the LMG (RPT-31), Assault Rifle (RM68), and Shotgun (Super 500) categories are all gaining one new weapon each.
Carrying a new 100-tier Battle Pass, Battlefield 2042 – Season 4: Eleventh Hour launches on February 28 as a free update across PC, Xbox One, Xbox Series X|S, PlayStation 4, and PlayStation 5.