Earlier this month, Huawei announced HarmonyOS, its in-house operating system that will be used in many of its devices. While the company called it the "first microkernel-based distributed OS for all scenarios", we haven't gotten a look at what the actual UI will look like, until now.
Just two days after announcing HarmonyOS, the first device to use it was announced, the Honor Vision, a smart TV that includes Huawei's Honghu 818 SoC and 2GB RAM. The chipset includes two Cortex-A73 and two Cortex-A53 cores, utiliizing big.LITTLE architecture even in a smart TV. It also has a quad-core Mali-G51 GPU.
The 55-inch TV has 4K UHD resolution and supports HDR, just as you'd expect. There are two models though, the Honor Vision and the Honor Vision Pro, the big difference being that the Pro model has 32GB of storage instead of 16GB, and six 10W speakers instead of four.
I got to check out the Honor Vision Pro in Shenzhen this week, and the TV is pretty awesome, considering that the Pro model only costs around $680. Those six speakers sound phenomenal for built-in TV speakers, and the picture is pretty good as well.
HarmonyOS seems to be pretty full-featured, for something that's just getting started. The remote control works similarly to an Apple TV, with a touchpad used to navigate the tiled UI.
One feature that Huawei touted in our briefing is the ability to make 1080p 30fps video calls using a camera that pops out of the top of the TV. The idea of the pop-up camera is cool, because it also serves as a privacy guard when not in use. You can use the Honor Vision to call anyone that has their phone number tied to a Huawei account.
The 1080p camera can also tilt downward by 10 degrees, so it's adjustable based on your TV placement. It can pick up sound from up to five meters away. As you'd expect, you can even use the webcam to take a selfie.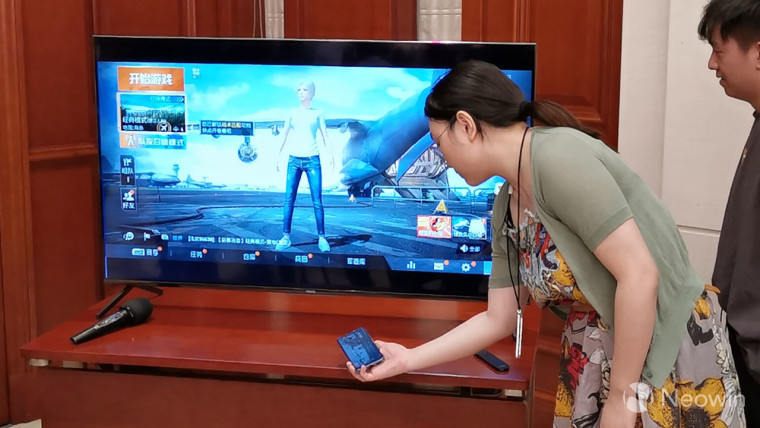 Another key feature is called Magic-link, which lets you control the TV with your smartphone. You can easily tap your phone against an NFC tag to get it to work, and that allows you to control your TV with a touchscreen, type things on your phone's keyboard, and more. You can also use it for screen mirroring, allowing you to play games on the big screen.
Another thing that's interesting is that you can use your phone as your TV's speaker. This might be a useful idea if you don't want the audio from your TV to be too loud, possibly waking up people that are sleeping in your home.
Moreover, you can use the TV as a desktop PC, using Huawei's EMUI Desktop or the Honor Magic Desktop. It's the same experience as if you plugged in your Huawei or Honor phone to any big screen.
Another functionality of the TV is similar to Sticky Notes on a Windows 10 PC. You can leave notes on your TV, or you can send a note from your phone. And of course, you can control all of your smart home devices that reside within the Huawei ecosystem.
Check out our video below:
Make sure to subscribe to Neowin on YouTube! It's the best channel in the universe!