This year, Chuwi has been producing some interesting offerings like its SurBook and more recently its LapBook Air. While the firm has been building computers, laptops, and tablets for quite some time, it really hasn't stepped up the quality of its designs until this year.
Luckily, Chuwi sent us one of its newer models to review, which means you won't have to shell out your hard-earned dollars just to test one out. We put the laptop through its paces for a week to see whether the LapBook Air can stand up to your daily routines.
Specifications
Chuwi LapBook Air
Display
14.1-inch 1920 x 1080 resolution IPS display
Processor

Intel Apollo Lake N3450
Quad core 1.1GHz up to 2.2GHz

Graphics
Intel HD Graphics 500 GPU
RAM
8GB DDR3
Storage
128GB eMMC
Connectivity
802.11b/g/n/ac
Bluetooth 4.0
Camera
2.0MP webcam
Ports

micoSD card slot
USB 3.0 x 2
mini HDMI port
3.5mm headphone jack
Power port

Battery
5,000mAh battery
Launch OS
Windows 10 Home
Launch Date
August 2017
Size & Weight
12.96in x 8.68in x 0.81in
Price
$459.99 MSRP
Usually sold from third party website for $379-$429
Design and Display
Having previously tested multiple Chuwi units in the past, I must say that the LapBook Air is by far the best built from what I have personally handled. When it comes to its style, the unit is fairly refined and looks pleasing to the eye. There really isn't much to complain about as it incorporates a sturdy metal build and features ports that you would expect to find on most modern laptops, coming with two USB 3.0 ports, a 3.5mm headphone jack, mini HDMI output, power port, and microSD slot. While it would have been nice to see a full-sized SD card slot, this isn't a deal breaker. Also, for those that are looking to expand beyond the 128GB of eMMC-based internal storage, there is an M.2 slot on the rear that can be used to upgrade the storage.
As far as the display goes, it comes in at 14.1-inches and looks crisp thanks to its 1080p resolution. Naturally, if you choose to get really close to the screen, you can see the pixels, but if you're using it like normal, you won't see these things and it looks good. For the most part, viewing angles are good, since Chuwi is using an IPS panel, with it getting only slightly dimmer when looking at it from an angle. Since it has a highly reflective glossy finish, this can make things tougher to see when outside, due to the reflection from external light sources, but the panel's brightness is able to combat this decently well, making web browsing and authoring documents comfortable while outdoors.
If you are one that likes to enjoy movies on their laptop, the Lapbook Air might not be the best option, as the panel suffers from inconsistent illumination from its LEDs. In some areas, the screen can look very bright, while others, it will look dimmer. This isn't really a problem if you're browsing the web, but becomes very clear once you get it into a darker environment with the laptop or when you start watching videos with dark scenes.
Chuwi has been making devices using metal for quite some time, but the LapBook Air is on a different level in terms of quality when compared to its previous products. The metallic chassis feels sturdy in hand and also has a nice weight to it that makes you feel confident when placing the laptop down on a surface, you don't have to baby it, you get the sense that it can handle the abuse that you'll throw at it.
Keyboard, trackpad, and sound
For the most part, the keyboard on the LapBook Air feels good. The keys are big enough, well spaced out, and have good travel. The keyboard is also backlit, making it viewable in lower light scenarios, which is a nice touch, but the illumination is not adjustable. If being picky, there is a little flex on the corners of the keys that might bother some. Those that are very particular with their keyboards will most likely need a little time to adjust, but it isn't something that will destroy your typing experience. One other thing to note is the positioning of the Home, Page Up, Page Down, and End keys, as they are right next to keys like Backspace and Enter. During my use, I found myself pressing the Home and Page buttons a number of times in error, and while this isn't a huge deal, it's there and something you'll want to be mindful of.
I hate to sound like a broken record but Chuwi has done it again with its trackpad, delivering a somewhat atrocious experience. Dare I say it, I think the one on the LapBook Air is even more unstable than those previously tested, and makes the laptop difficult to use. With that being said, after tinkering with the settings for quite a bit, and going through some trial and error, I found that disabling the "double tap to drag" and "two finger tap for right click" made a huge difference when it came to daily use.
Even with the adjustments, the trackpad isn't quite up to par, and this is an area that Chuwi needs to improve drastically. While toggling these options off does improve usability, this isn't a problem that most consumers are willing to deal with when it comes to a brand new purchase. As far as sound goes, audio is good for the most part. It's loud enough indoors but if using it outside, it still sounds good but could be a tad bit louder if there is ambient noise. Luckily, if you need a prime experience, you can still plug in headphones into its 3.5mm headphone jack.
Performance and battery life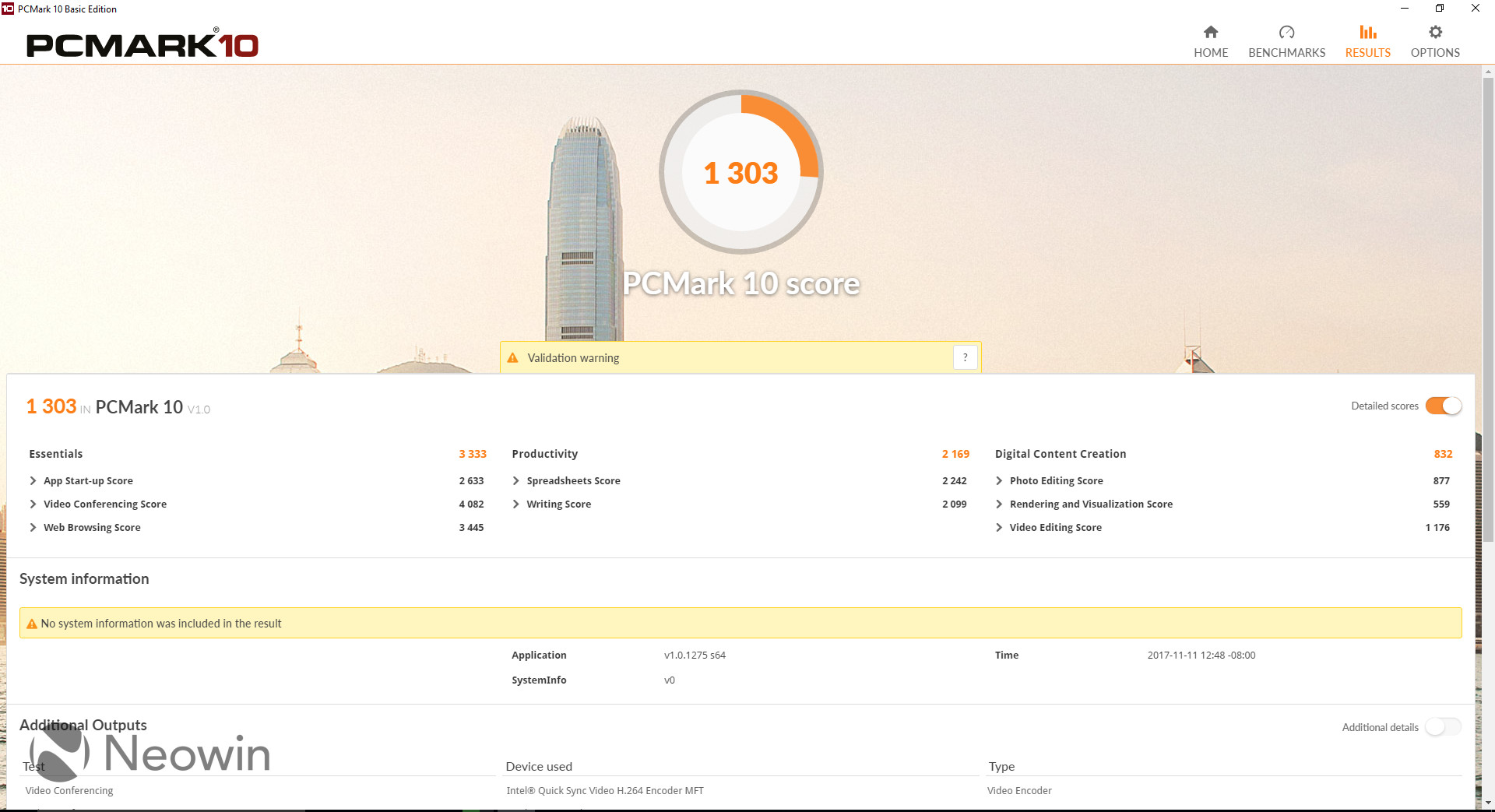 When it comes to performance, the computer does okay in most scenarios but can stutter when browsing the web or watching videos. Despite it having an Intel Apollo Lake N3450 that worked well on its previous offerings, the larger screen, coupled with the 1080p resolution must be pushing the chipset a bit towards its limits. While there's plenty of memory with the unit coming with 8GB, the processor definitely needs a bit more power.
As far as battery life is concerned you can expect to get about an average of five hours from the unit. During my use, I was getting mixed results with the low-end coming in at four hours and on the high end ending up with about six hours. This isn't bad per se, but Chuwi states that this model should be able to get about eight hours of use. Unfortunately, during my time with it, which included browsing the web, watching YouTube, authoring documents, and email - I was unable to achieve this. It would have been nice to get the eight hours, but you really can't complain when you're talking about a laptop in this price bracket. The performance numbers have been posted using PCMark 10 which is a little different from PCMark 8. Unfortunately, version 8 wouldn't install and neither would 3DMark. There are also some read and write numbers for the onboard flash memory included as well.
Conclusion
Chuwi makes its best effort to offer something for everyone with the numerous devices it releases each year. While it can hit the mark in some areas, in others, it completely misses. Its new trend of replicating some of the more popular devices from top manufacturers seems like the start of something new and promising for the company, aiming to provide top-tier designed products at an affordable price.
While the display is okay, the performance of the unit suffers in certain areas. The keyboard is actually a generous size, backlit, and feels decent, but the trackpad is still a problem. If there is one part of the experience that cripples this unit, it would be the trackpad. While adjusting it made a difference, it comes at a sacrifice, by disabling features of the unit. Just to make sure it wasn't just me, I did loan out the laptop to others without any advance warning and sure enough, the comments would always come back that the trackpad behavior is a bit unusual. This is a problem that is discussed quite a bit in Chuwi's own forums but seems to be an issue it has yet to resolve.
Overall, this is a pretty decent unit but does have some drawbacks. If you're going to be using this at home or with an external mouse, it might be the perfect option, but for me, I think when you start creeping up towards the $400 price range, there are better and more reliable options from big name brands. Sure, the other options from the likes of Dell, Toshiba, and others aren't as svelte compared to the LapBook Air, but they are certainly more powerful, probably more reliable out of the box, and when something does go wrong, you'll probably have an easier time trying to get it fixed. This was again a good attempt by Chuwi, but it will need to step things up and take things a step further to make this a product that I could fully recommend.
If interested to purchase, you can grab it from Amazon that currently has it priced at $429.99 or GearBest that has it for less at $379.99.
Cons
Can lag a bit at times Trackpad Better options from big brands