Microsoft and Valve has been battling for the attention of PC gamers for a long time. So far, Valve has come up on top. Now, it's looking like Valve might be going after the console game space, but using the same ideas and philosophies that have taken the company to the leadership role in PC gaming.
Ironically Valve's very existence is due indirectly to Microsoft. Valve's co-founders Gabe Newell and Mike Harrington worked for a number of years at the company. Newell has said he was a producer of the first few versions of Windows during his 13 years at the company while Harrington worked on the Windows NT team. In 1996, both men left Microsoft and used their hard earned Microsoft money to fund Valve. (Harrington decided to leave Valve in 2000).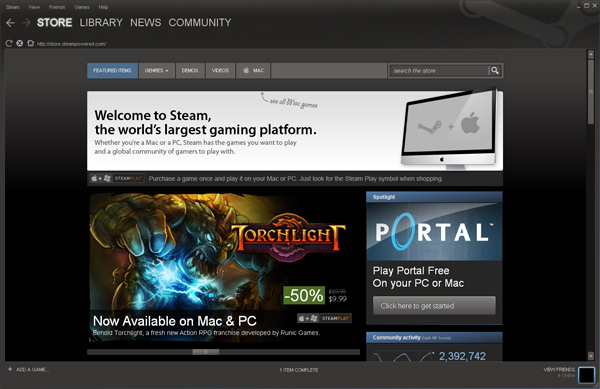 In 2004, Steam was introduced with the launch of Half-Life 2. While the concept of downloading and purchasing full commercial PC games wasn't new, Steam offered other services such as automatic downloading of game updates, pre-loading games before they were released and more. In fact, Valve marketing head Doug Lombardi said in a 2008 interview they tried to get other companies to offer such a service, including Microsoft. None of them were interested so Valve decided to do it themselves.
While there were lots of issues with Steam when it launched, Valve learned from their mistakes and after several months the team got Steam to work efficiently. The end result was that by January 2012, Valve had over 1,500 games available to purchase and download on Steam. The service now has over 40 million registered users and has reached over 5 million concurrent users at once. Over 400 games now use Steamworks. Many game developers and publishers feel that Valve and Steam saved PC gaming and helped to transition the industry from a retail store-based environment into one where downloadable PC gaming is becoming the norm.
Meanwhile, Microsoft found out quickly that the company's own Games For Windows Live service was not attracting as many PC gamers as Steam. Microsoft tried to change its user interface and add features and third party games to the mix but in the end Microsoft ended up integrating the Games For Windows Live web site into its own Xbox.com site.
So what's the lesson here? Mainly, it's that Microsoft marginalized the PC gaming industry for several years. Meanwhile, Valve knew that the PC game business wasn't dying; it was simply changing to embrace downloadable games and other business models. Valve struck first and now Steam is the number one destination to purchase PC games.
A few days ago, I mentioned that the Windows Store feature in Windows 8 could be a major threat to Steam. That's still possible. Indeed, Microsoft is bringing the Xbox Live service to Windows 8 in an attempt to bridge the gap yet again between the Xbox business and the PC gaming community. It remains to be seen if that effort will be successful; only time will tell.
But since that editorial was written, there's been yet another new development. Credible rumors suggest that Valve is trying to work with hardware makers to create specifications for a "Steam Box", a desktop PC but with the small size of a console that would be able to run PC games, perhaps on a big screen TV similar to a console like the Xbox 360.
Newell said in a recent interview that while Valve doesn't really want to enter the hardware space, Valve feels the company might have to so Valve can "continue to have innovation." The next logical step in bringing PC games to an audience that is used to playing games in front of a big screen TV is making a product that would have all the characteristics of a console machine but still be a true PC with an open hardware and software platform.
In other words, Valve might be trying to bring the company's philosophies in the PC game software space to the console hardware industry, and that also means yet another direct battle with Microsoft, which again helped to create Valve thanks to the company's ex-employees and their Microsoft funds.
Valve may not want to get into the hardware space, but Newell and the rest of the company clearly sees that the closed garden approach to console gaming, such as the Xbox 360, has a number of issues. Game developers have to go through Microsoft's approval process to get patches and content updates to their games. They also have to pay a license fee to even get their console games published. That's certainly not true of a PC game system.
For consumers, they could be stuck with a console that for the most part is not upgradable in terms of hardware. They also won't have the freedom to download as many games from third party developers and publishers as they would from a PC system.
The idea of a console-like PC system, something similar to what Alienware recently launched with its X-15 PC, is hugely appealing, if it handled in the right way. It should be able to combine the best aspects of a PC (open system, upgradable hardware, more games and game innovation) with the advantages of a console (small form factor, playable on big screen, more easily affordable).
The nice thing about the "Steam Box" proposal is that Valve already has a business model that has been successful that the company can follow: Android. Google's mobile OS has allowed lots of smartphone hardware developers to release Android devices based on a system that is more open that Apple's much more closed iOS system. The result is that Android is now the leading OS for smartphone makers and the Android Market (now Google Play) has become a true rival to the iOS App Store.
There's no reason to believe that Valve couldn't make a dent in the console game space with some kind of PC oriented game machine. That's a prospect that could be making some people at Microsoft, and indeed the entire console game industry, very nervous right now. We can't wait to hear when and if Valve will reveal more information about the "Steam Box". More importantly, we can't wait to try it out for ourselves.