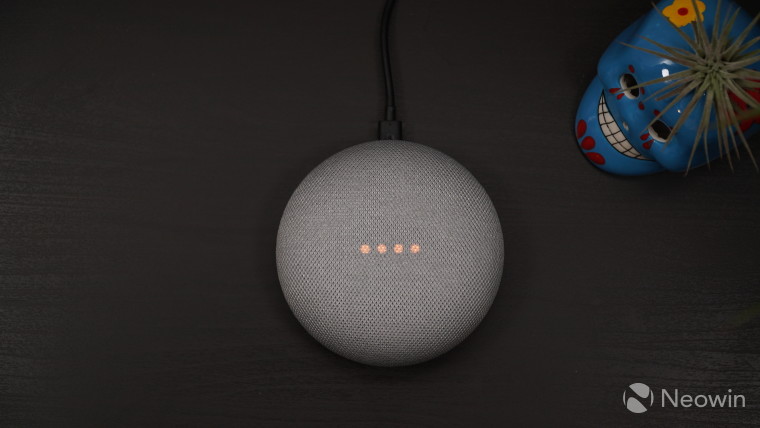 This isn't the first product that Google has produced that implements its digital assistant. That honor goes to the Google Home which made its debut late last year. While it seemed like a sound product, for some, spending $129, is a bit much on a niche product. Luckily, this year, Google announced a more affordable model with the Home Mini.
We were able to get our hands on one prior to its retail launch and have been using it for the past day. As far as first impressions go, this is quite a handy little device. It gives you a new way to interact with Google's Assistant and is also quite capable of pumping out the tunes. I wouldn't rely on this to get the party started, but it is capable of filling a decent sized room without sounding like it's being pushed to its limit.
So how is the build quality? It's quite solid. The top features a cloth mesh that feels tightly adhered, while the exposed plastic on the base area looks and feels good. This part also houses the mute switch and also the Micro USB charging port. Sure, it isn't the latest and USB Type-C would have been preferred, but in all honesty, in this application, it doesn't make a difference. You'll plug it in once and rarely if ever remove it. If you want to make it mobile, simply plug into a portable battery pack, and off you go. On the bottom, there is a rubber portion that is meant to create some resistance to prevent it from sliding all over the place and it works well.
Since this is just the first day, there hasn't been a deep dive into the settings of the speaker or all of the options of Google Assistant. But from what has been done so far, there has been very little in the way of issues. The speaker has been paired through the app to utilize Google Music and had no problem understanding when I asked it to play some Ryuichi Sakamoto. In order to test it a bit further, the app was also paired with a set of Hue lights. Surprisingly, everything went off without a hitch and the light controls were smooth and responsive.
For now, the $49 Google Home Mini seems like an excellent option for someone that is invested in Google's ecosystem and wants to dabble their feet into a smart speaker market. We will have a full review shortly so stay tuned.