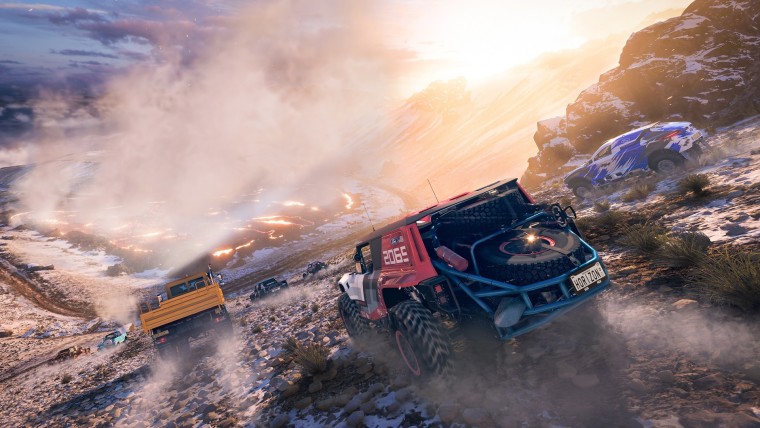 Xbox Free Play Days is a weekly promotion from Microsoft that offers players games to try out for a period of time for being Xbox Game Pass Ultimate or Xbox Live Gold members. The latest offer just went live, and it carries Xbox's latest Forza Horizon entry and three indie titles: The Knight Witch, Let's Build a Zoo, and Blasphemous.
Playground Games' Forza Horizon 5 continues the series' open-world racing bonanza, this time taking drivers to Mexico with hundreds of cars, numerous race types, and even storms to contest in. New vehicles to race in are still incoming too, with the latest injection including Italian sports cars.
Jumping into the indies, The Knight Witch is a top-down, fast-paced, shoot-'em-up entry where you wield magic to take down hordes of enemies.
Let's Build a Zoo, as its name suggests, is a tycoon experience that has you managing a zoo, with you being in charge of everything from constructing it to creating new types of animals using DNA Splicing. Lastly,
Blasphemous is an unforgiving Metroidvania action platformer that will test your skills with the blade.
The four games included in this weekend's Free Play Days are currently discounted as well, letting players continue playing after the promotion for cheaper than usual. Here are the games' Microsoft Store pages and their available platforms:
The Knight Witch: $12.99 (Xbox One, Xbox Series X|S, PC)
Forza Horizon 5 Premium Edition: $49.99 (Xbox One, Xbox Series X|S, PC)
Let's Build a Zoo: $9.99 (Xbox One, Xbox Series X|S, PC)
Blasphemous: $6.24 (Xbox One, Xbox Series X|S)
All four titles are available via Free Play Days for Xbox Live Gold and Xbox Game Pass Ultimate members from now until Sunday, August 20, at 11:59 pm PDT.
With the Xbox Live Gold branding going away soon, this is one of the last few Free Play Days promotions as part of the ageing subscription.
While the free weekends will continue as usual, Gold subscribers will be turning into Xbox Game Pass Core members in September. Read details about this new subscription tier that's taking the place of Xbox Live Gold by heading here.
When you purchase through links on our site, we may earn an affiliate commission.