GOG, the PC games store that only deals with DRM-free products, today announced Galaxy 2.0, an upcoming overhaul of its existing Galaxy launcher. The company is aiming high for this update, as it intends to make Galaxy a universal launcher for games across all PC platforms, not just GOG.
Essentially, users will be able to connect the new Galaxy launcher to other gaming platforms and import their libraries of games to make a "master collection," be it from Steam or the Epic Games Store, for example. In addition to launching games straight through it, Galaxy will also keep track of added games' achievements, hours played, and other statistics.
Adding console accounts to the launcher will also be an option, however, this is only for tracking and library management purposes as it's not possible to launch those games on PC anyway.
The company says that with Galaxy 2.0 users won't need to keep track of friends on multiple platforms either, as the launcher will connect to chats on these competitors and offer a friends list encompassing all of them. However, in its current beta stage, only a cross-platform friends activity feed and leaderboards will be available.
Regarding why the company decided to take this route, the managing director at GOG, Piotr Karwowski, said:
"As gamers, we need to juggle between multiple clients to access our games and see what our friends are playing. We believe gamers deserve a better experience, and this became the driving force to redefine GOG GALAXY client. GOG GALAXY 2.0 is designed for all gamers and extends well beyond existing GOG.COM users, into both PC and console platforms."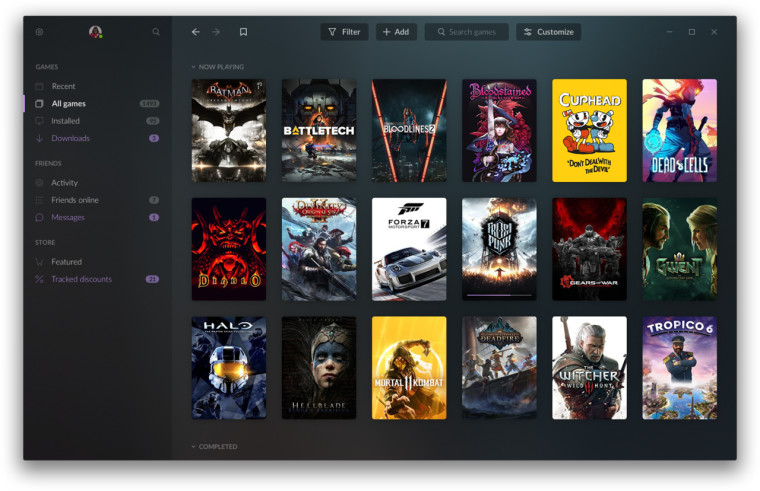 With all these connected services, privacy was another point touched on in the announcement, as GOG stated "it's designed to protect your privacy – your data belongs to you and will never be shared with third parties." Data imported onto the launcher will also be available to remove with "a single click."
GOG is now accepting closed beta sign-ups for the Galaxy 2.0 client, with the company letting in users on a "first come first serve basis." The app will be available on Windows and macOS.
And yes, the client remains optional for the DRM-free games offered on GOG.
Images: Gamespot