Microsoft have announced in another post over at the Building Windows 8 MSDN blog that Windows 8 will have native and in-built support for both ISO disc images and VHD (virtual hard disk) files. The Windows 8 team have stated that support for both of these files types in Windows Explorer has been heavily requested and will improve the core functionality of Windows.
Through the Windows 8 enhanced Explorer ribbon, users will be able to easily mount ISO files without the need for any third party software. This will create a "virtual" mounted drive in the filesystem with the contents of the ISO file inside. Once you've finished with the ISO, you can simply eject it using the easy to access button.
While some software allows you to easily manage and replace content inside a disk image, at this stage it looks like Windows 8 will not be supporting this functionality, rather keeping ISO files as read-only like their optical disc counterparts would be. Also, there will not be support to create an ISO file easily from within Explorer.
VHD files will also be managed in a similar way to that of ISO files. You can mount the virtual hard disk and it will appear alongside your physical hard drives in Explorer; from there you will be able to add, remove and modify files just as you would with a standard drive, with the ability to format it as well. Once you've finished with the VHD you can simply eject it.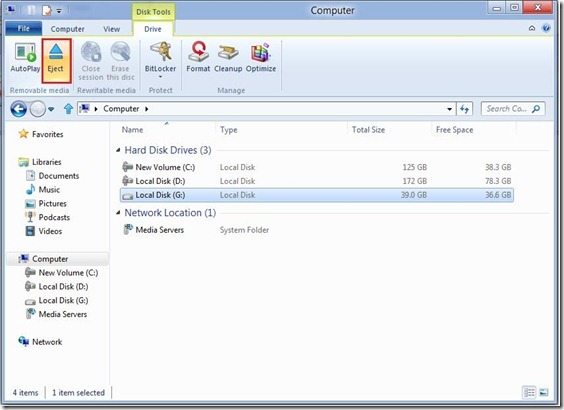 Yesterday the new Windows 8 ribbon-based Explorer was revealed through the MSDN blog, and previous to that we have seen information such as the improved copy-and-paste functionality to be included. Windows 8 is rumoured to be shown off more thoroughly at the BUILD conference between September 13 and 16 where Neowin will be in attendance.
Update: Below is a video of the new functionality in action. Note the work-in-progress Metro Start Menu that also appears towards the start of the video.
Images courtesy of Building Windows 8