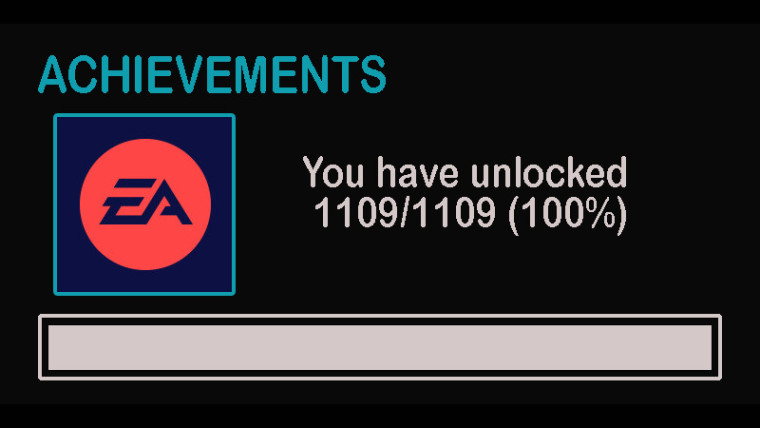 While Electronic Arts titles started making their way back to Steam last year, most of the new games arrived lacking achievements. A major request from fans since then has been to implement the popular challenge tracking system on to the Steam versions, which is exactly what EA has now delivered.
Over 1000 achievements are now available for claiming across 25 EA-published newly-released titles on the Valve platform. See below for the list of games announced to have gotten the capability:
A Way Out
Battlefield Hardline
Battlefield 1
Battlefield 3
Battlefield 4
Battlefield V
Burnout Paradise Remastered
Dead Space 3
Dragon Age Inquisition
Fe
Jedi Fallen Order
Mass Effect 3
Mass Effect Andromeda

Mirror's Edge Catalyst
Need for Speed
Need for Speed HEAT
Need for Speed Payback
Plants vs Zombies Battle for Neighborville
Sea of Solitude
Star Wars: Battlefront
Star Wars: Battlefront II
Titanfall 2
Unravel
Unravel 2
Madden 21
Those who have already gone through these games on Steam won't have to replay them to gain their overdue achievements either, with EA saying that the process is retroactive. Moreover, if a player already owns the game on EA's Origin platform and has earned achievements on there, the new system will unlock the same achievements on Steam when they launch the title.
While some may wonder why more classic games from the publisher haven't received achievements support yet, it is simply because the Origin versions also lack the capability.
Moreover, EA is preparing to bring its game subscription service EA Play, formerly EA Access, to Steam on August 31. Origin store and client redesigns are happening behind the scenes too, with EA Play members gaining beta access.