As is customary every month, Microsoft has detailed all the new features that are being added to Teams for the month of September. This month's update is exhaustive and covers everything from performance improvements, enhancements to video calling and chatting features, new devices and capabilities for Teams Rooms and phones, and much more.
The first in the list relates to the performance improvements being made to the collaboration tool across platforms. The company says that it has improved launch times on the desktop clients by 30%, thanks to improvements such as delaying the launch of "non-essential operations", server-side optimizations, and more. There is also support for offline sending on the desktop, meaning that messages drafted when offline will automatically be sent when users connect to the internet.
Other enhancements include improvements to video rendering on the desktop that reduce CPU and GPU load, up to 40% improvement in battery consumption in the background on iOS, and enhancements to reliability in low bandwidth environments for the Android app, improving message sync and file uploads.
As for the improvements to meeting and calling, the firm noted that it has completely rolled out the new 7x7 grid view that lets users see up to 49 participants at once. It added that the new together mode scenes will also be making its way to consumers later this year. Other meetings improvements include a new pre-joining experience for helping users set up the mic and video configurations, the addition of caller name in the activity feed for the Reverse Number Lookup feature, a new Safe Transfer feature to transfer calls between Teams and Skype for Business reliably, and discounts for meeting and calling packages.
In the messaging department, there is a new 'Reflect' extension for Teams, provided on Github, that allows for "emotional check-in" or polls about the mood of students, employees, or other users. Earlier this month, the company also announced the general availability of Lists in Teams. Apart from these, the Redmond firm also listed the newly added Whiteboard capabilities – such as adding sticky notes to the canvas – for improved real-time collaboration.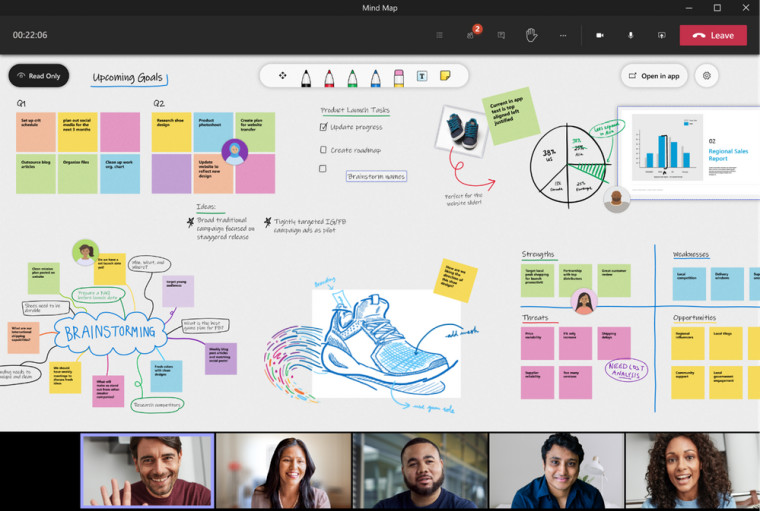 Teams for education is getting a whole host of features that the company detailed in a separate blog post. This includes an admin applied "Only Me" setting for organizer meeting options that allows only the organizers to join a meeting, keeping students in the lobby, assignments grading history, and much more.
There are a few updates for capabilities geared towards first-line workers. A Walkie Talkie feature that brings a push-to-talk feature in Teams for Android is now rolling out. Additionally, the integration of Teams with RealWear head-mounted devices allows for hand-free communication. There is also a new Shifts Connector for Power Automate that lets admins and managers schedule and manage shifts, create templates, and more. Lastly, organizers can now create personalized praise badges for their employees.
Teams on phones is also getting a bunch of new features such as a redesigned home screen, support for auto-accepting calls, and more. Teams Rooms on Windows is also being updated with 3x3 gallery view support, live captions, and a preview for Teams Rooms users to connect to Zoom Rooms users. The company is also announcing a bunch of partner devices, which you can check out here in the blog post. You can also find the improvements for developers, the Power Platform, and security improvements being made this month.