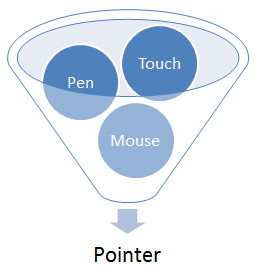 In September, Microsoft announced that it had submitted a new website standard proposal to the The World Wide Web Consortium called Pointer Events. Microsoft's proposal offers a new way for websites to be accessed from a number of different inputs, including the old fashioned mouse and keyboard, along with the more recent pen and touch screen interfaces.
This week, Microsoft's Open Technologies subsidiary announced it had released a prototype patch for its Pointer Events specifications for use in the development of WebKit-based web browsers, such as Google's Chrome browser. In their announcement, Microsoft asked for feedback on the patch from the WebKit community as it tries to get the full specs available to those projects.
So why would Microsoft want to help out WebKit, and its main web browser rival Google, with this action? Microsoft stated, " ... we are obviously interested in moving forward existing and new input types on the open web and, as the spec evolves, maintain interoperability between WebKit and Internet Explorer."
Ars Technica reports that Microsoft, Google, Firefox creator Mozilla and Opera are all working together to refine the Pointer Events specifications, along with other companies such as Nokia and Zynga. The major holdout on working with Pointer Events is Apple, which recently cut off support for the Windows version of Safari. Ironically, Safari's rendering engine is based on WebKit.
Source: Webkit.org | Image via Microsoft