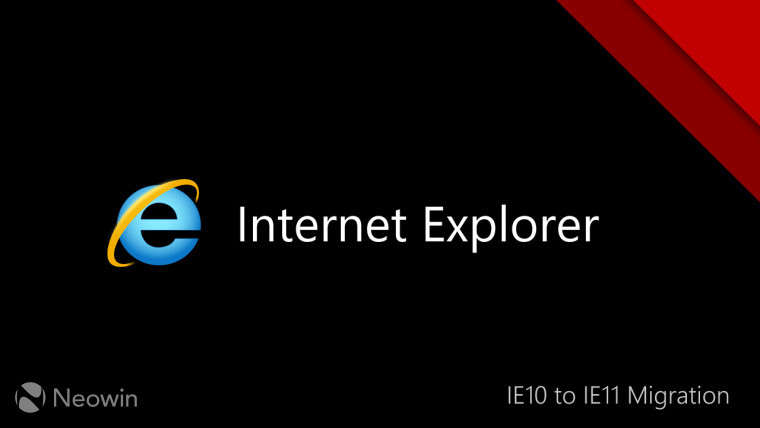 Microsoft's Internet Explorer has had its share of popularity in the early days of the web. The browser's monopoly has even gotten the Redmond giant into legal troubles. Though its market share was eventually toppled by Google's Chrome when it came to consumers, many enterprises still rely on IE for their legacy applications. With Internet Explorer 10 (IE10) reaching end of support this month (well, almost) for Windows Server 2012 and Windows Embedded 8 Standard, Microsoft is issuing a reminder to enterprises to migrate to IE11.
The company began letting Windows Server 2012 and Windows Embedded 8 Standard customers pilot the migration to IE11 back in January 2019. The firm notes that the upgrade to IE11 will ease the migration path to Windows 10, Windows Server 2016 or 2019, or Windows 10 IoT.
Up until now, IE11 had been labeled as 'Optional' in Windows Update and Windows Server Update Services (WSUS). A standalone update package was also released for IE11 through the Microsoft Update Catalog. However, customers of the said OSes will now notice that starting February 2020, the then 'Optional' update in the Update Catalog and WSUS will be labeled as a 'Recommended' update. For those looking at Windows Update, the package will be flagged in the 'Important' section.
Post upgrade, users will also have to install the latest cumulative update for IE11, termed "Cumulative Update for Internet Explorer 11" from the Update Catalog, WSUS, or Windows Update. The company notes that updates for the browser will be included in the Monthly Roll-up packages in the Update Catalog and WSUS later in 2020.
Microsoft adds that "Upgrading to the latest version of Internet Explorer will ease your migration to Windows 10 and also allow you to reduce the number of Internet Explorer versions you support in your environment". Users can use the 'Enterprise Mode' in IE11 for increased compatibility which launches IE10 based applications in 'compatibility mode'.
As with the final update for Windows 7, the final update for IE10 will be released on 11 February 2020, which happens to be Patch Tuesday of the month.