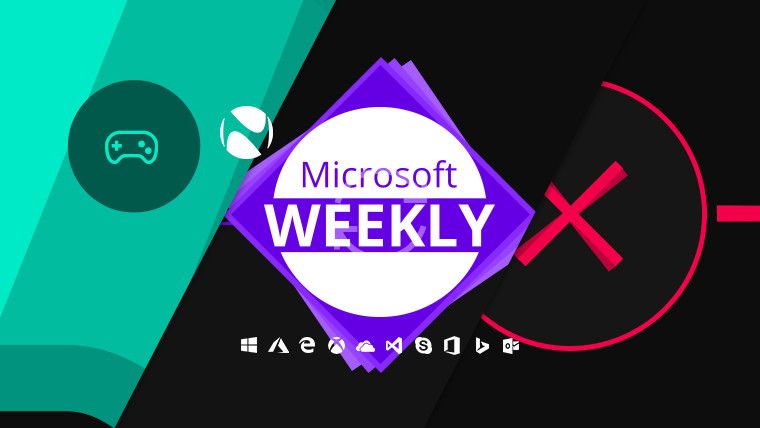 We got some interesting gaming service news, a couple of apps being discontinued, and some encouraging news concerning the next feature update for Windows 10. Be sure to check all that out – and of course, the usual bit extra – in your Microsoft digest for the week of March 30 - April 5.
Gaming services
While it was announced about three months ago, the Razer Turret mouse and keyboard combo for the Xbox One is only now shipping. Folks interested can buy the peripheral combo for $250.
In case you didn't catch last week's announcement about this month's Games with Gold, you are now able to get The Technomancer for the Xbox One, as well as Star Wars Battlefront II for both the 360 and the Xbox One, for free. That is of course, if you have an active Xbox Live Gold subscription.
If you're in the UK, prices for the aforementioned subscription are set to jump rather significantly starting next month. There will be a 25% increase in price, with annual subscriptions costing £49.99 rather than the current £39.99. The three-month plan will be bumped from £15 to £18, and a monthly subscription will set you back £7 instead of £6. Though the change occurs May 8, current subscribers will still pay the current rate for the next three months, thus being affected by the changes post August 7.
Folks may remember than Microsoft has something called Xbox All Access, which is basically the console variant of the two-year carrier contracts we see for phones. It allows you to get the Xbox console of your choice (either the S or the X), along with Xbox Live Gold and Xbox Game Pass for one monthly fee. As it turns out, the company is also allegedly working on something than doesn't include the hardware, but rather only the subscription services. Dubbed Xbox Game Pass Ultimate, this would be available for $14.99 a month – or $1 per month for Xbox Insiders during testing -, according to leakster WalkingCat. If the company is planning to unveil this combined offering soon, the most likely 'big event' at which this could happen would be E3, which takes place June 11-14.
Since we mentioned Xbox Insiders, if you're running either Windows 10 1809 or higher, you can now take advantage of some features coming to Game Bar. One is Spotify integration, followed by the ability to add text to your screenshots – thus potentially transforming them into memes -, and a new Xbox Social widget. You can also at long last customize Game Bar by choosing where to pin widgets. To access all this, you need the Xbox Insider Hub app, inside of which you need to select Insider Content, and then Windows Gaming.
Now, gaming on Windows is a broad subject, but of particular interest is Halo: The Master Chief Collection which 343 Industries hasn't exactly revealed a release date for. However, we do know that if all goes to plan, the studio wants to start testing of Halo: Reach / Master Chief Collection flights this month.
Rounding off this section is a reason for celebration, especially if you're into Minecraft. To be more specific, the Java Edition on PC has crossed the 30 million sale threshold, which is quite the achievement. As a reminder, the title was released back in 2011 and became a first-party game after Microsoft outright bought Mojang in 2014. According to number released back in October, Minecraft had sold in excess of 154 million copies and had more than 91 monthly active players across all platforms.
A bunch of builds
We kick off this section with a cumulative update for the October 2018 Update, which is KB4490481 and bumps the build up to 17763.404. It includes a long list of fixes related to Edge, IE, information related to various time zones, Microsoft Store applications failing to launch, and much more.
There are some known issues to be aware of with the update above, one of which is IE11 – and other applications which use WININET.DLL – having authentication issues. This is solved by creating a different account for each person logging on to a Windows Server machine.
Yet another known issue is one centered on MSXML6, which causes applications to stop responding if an exception is thrown during node operations, Custom URL Schemes for Application Protocol handlers may stop working, there may be issues with the Preboot Execution Environment if the Variable Window Extension is in use, and finally, if end-user-defined characters (EUDC) are enabled per font, the system will end up blue screening. It is recommended that you don't enable EUDC.
A tidbit relevant for developers is that SDK preview build 18362 is out, carrying the same number as the one in the Fast and Slow rings. This means 18362 is the most likely release candidate for version 1903.
Speaking of Fast and Slow rings, 18362.30 has been pushed out to both and it fixes an issue with AAD users not being able to sign-in after updating to a 19H1 PC on an AAD-joined PC, the users' inability to enable or disable .NET Framework or other optional features, and a bug which caused PCs to refuse to boot after installing a cumulative update, followed by an optional feature-on-demand. On a related note, if you're in the Slow ring, you'll have to install 18356.21 before the build above, because this one removes the block for the 18362 line of builds. As you may remember, this was because of some updating issues in this ring back when 18362 was initially released.
Capping off the section is a weird bit of news, as Microsoft has announced that 20H1 builds are headed for the Fast ring. No, this isn't a typo, and yes, 19H2 does still exist. The latter is promised to be coming later this spring.
Apps being discontinued
If you happen to still be on Microsoft's ill-fated Windows 10 Mobile, you'll be met with a message when you open the Instagram app. This informs you that support for Instagram on the platform is being pulled come April 30. This of course is no surprise in light that Microsoft has abandoned the mobile OS and that support for version 1703 of it ends in June, while that for 1709 ceases in December.
Just so the app above doesn't feel lonely – or more likely due to them being made by the same company -, the official Facebook and Messenger apps are also being killed off on April 30. The singular app that is conspicuously missing is WhatsApp, though presumably the announcement of its discontinuation isn't far behind.
Switching companies and platforms, it's Microsoft's turn to discontinue something. On this occasion, we're talking about the Books section in the Store. The books tab is effective immediately, but those who have either bought or rented titles can read them until the end of the rental period or until July 2019, when they will be removed completely. However, you will get a full refund of the original price of purchase, and any pre-orders will be canceled, with the user not being charged. As you may remember, this feature debuted with the Creators Update, which means it's been available for less than two years.
On a more positive note, while there has been a switch from EdgeHTML to Chromium for the Redmond giant's browser, a fair few folks have been asking whether features like smooth scrolling and 4K Netflix streaming will still be a thing once the new Edge (or Edgium, or however folks want to call it) is available. As it turns out, it's been spotted by some folks on Reddit that Edgium has flags for Widevine and PlayReady, the latter being a hardware-based DRM system – Intel Kaby Lake CPU, Nvidia GeForce 1000 series GPU or higher needed - which allows for 4K streaming. Edge has been the only browser to support 4K streaming since 2016, and these flags are apparently not found in any other Chromium-based browsers.
The Fast ring
Hot corner
Hot corner is a section of The Fast ring dedicated to highlighting five Microsoft-related stories that haven't been covered over here, but that might be for interest.
Logging off
To end, we take a look at the announcement related to the next feature update for Windows 10, known until recently only as 19H1 or version 1903.
Though there's been speculation that the update would be dubbed after the month of April, Microsoft has finally revealed that 19H1 is the May 2019 Update, and that it will be coming to the Release Preview next week.
It will be made available near the end of May, meaning it'll spend at least a month in Release Preview testing, unlike its predecessor which skipped the last ring before production entirely.
But there's more, as the Redmond giant will be adding a download and install option specifically for feature updates. This way, you'll be able to install cumulative updates normally, without the fear of the next version of Windows 10 being also installed and potentially breaking something. The only time this automatic push will happen though is if your current version of Windows 10 is nearing its end of support.
Although 1903 is the first to get the option described in the paragraph above, by the end of next month, this feature will be available to folks on 1803 and 1809 too.
Two more things to touch on are the period for which you'll be able to pause updates, which is up to 35 days. You'll be able to do this one week at a time for up to five times, and it applies to all flavors of Windows 10 (yes, Windows 10 Home included). Lastly, there will also be a so-called Windows release heath dashboard in order for users to check out the update's rollout status and known issues.
The changes above are certainly welcome, and should alleviate the more pressing issues that contributed to the kerfuffle around 1809 and its rather low share.
Missed any of the previous columns? Check them all out at this link.