NeoBytes :) is an occasional feature that takes a step back from the big headlines, to take a look at what else is happening in the vast, scary expanse of the tech world - often with a cynical eye, always with a dose of humour.

Google's Street View has seen its share of controversy over the years, with a wide range of complaints against it, from those claiming that it invades their privacy to others saying that it can be used as a tool to aid in criminal acts. The company even found itself facing accusations that one of its Street View cars had killed a donkey in Botswana last year. 
But the service has also been a source of much amusement, with many unusual scenes captured by Google's fleet of camera-equipped vehicles around the world, from Horse Boy to Guy About To Mate With Street View Camera to... well, whatever this is. 
Street View has caught plenty of people in compromising positions over the years too, including those spotted urinating in public or just having a bit of sexy time, but there are those who spot Google's cars approaching and see it as the perfect opportunity to share their creativity with the world. Some express this by simply raising a middle finger to the camera, or flashing their buttocks, but British auto mechanic Dan Thompson decided he wanted to do something a bit more imaginative.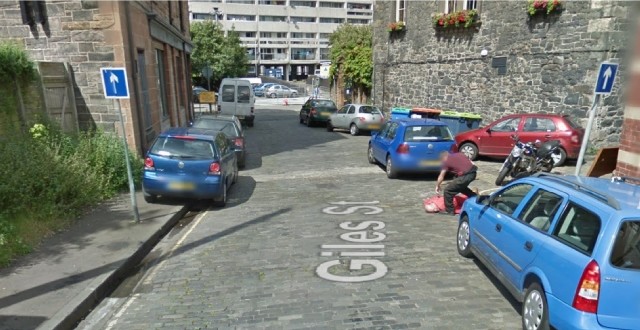 After spotting a Street View car approaching his workshop in Edinburgh, Scotland, Thompson realised that he had mere moments to come up with an idea and make it happen. He grabbed his colleague and ran back outside, where he lay face-down on the road, while his co-worker loomed over him with a pick-axe handle. The scene was successfully captured by the vehicle's camera and immortalised on Street View.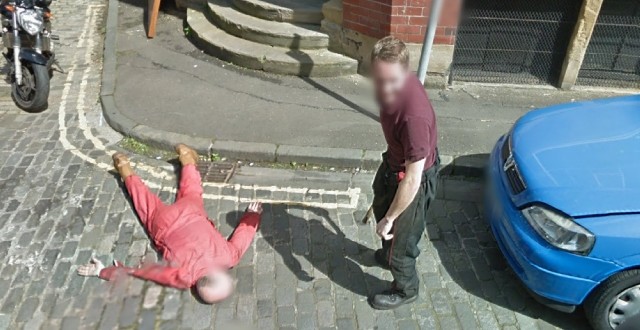 Satisfied with a job well done, the two men went on with their lives and put it out of their minds... until a year later, officers from the Scottish Police called in on them to investigate a possible homicide.
A concerned Google user had seen the latest images to be uploaded to Street View, which included those of Thompson and his colleague, and had contacted the cops. Thankfully, it didn't take too long to explain what had happened, and the police quickly ended their line of enquiry, with some good humour by the sounds of it.
Thompson told BBC Scotland that when he had originally spotted the Street View car, he "had one minute to rush back inside the garage and set up the murder scene. There are pictures of men on Google flashing their bums but we thought we would be more classy. We had forgotten about it when the police arrived a year later, and we apologised for wasting police time. They found it funny." 
You can check out the 'murder' scene for yourself on Google Street View. 
Source: BBC News | images captured via Google Street View