Technology retail giant Newegg has reportedly initiated the process of accepting returns for Gigabyte PSU models GP-P850GM and GP-P750GM. These two SMPS models from Gigabyte have been stated to have a rather "explosive" nature and it was found that the retailer was bundling these units in its Newegg Shuffle package alongside high-end graphics cards.
Apparently, in an email sent by Newegg, the etailer giant has asked eligible customers to respond in case their Gigabyte PSU models fall within the denoted serial numbers (S/N) that Gigabyte had mentioned earlier in its official response to the incident. Below is a part of the statement Newegg has said in the alleged mail:
If your item's serial number falls within the range of the corresponding model number, please reply back to this email so we can assist with setting up a return for a refund or replacement.

If your item's serial number is not part of the above serial number range and you are still within the product warranty period, please contact Gigabyte directly for further assistance.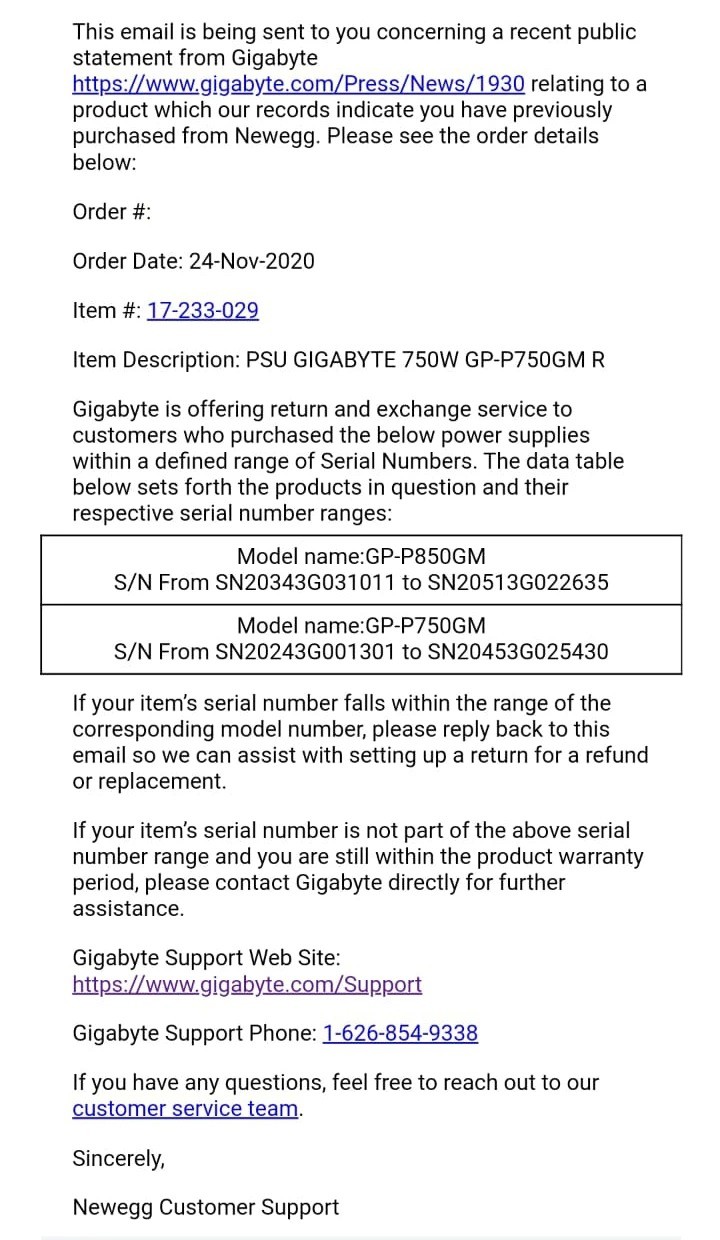 The Gigabyte GP-P850GM and GP-P750GM units outside of the S/N range have a new OPP (Over Power Protection) setting that reduces the OPP limit down to 110% ~ 120% from an earlier 120% ~ 150%.
However, according to PSU expert, Dr. Aris Mpitziopoulos, simply lowering the OPP triggering point may not be enough to label these PSUs as safe as there were other underlying problems too, at least in his review unit.
Source and image: VideoCardz