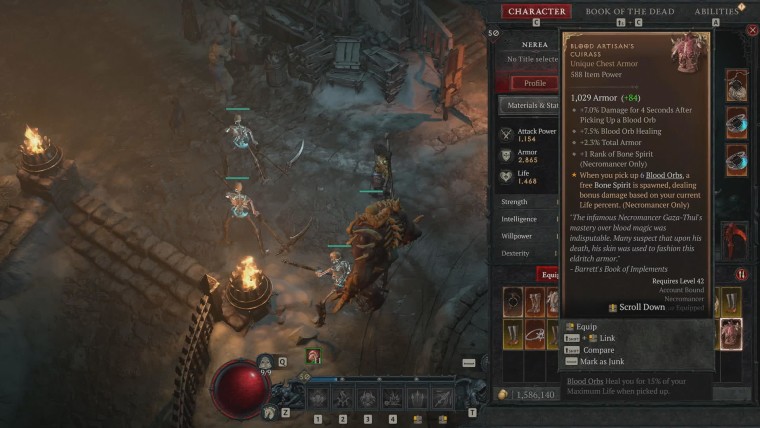 NVIDIA has released a new Game Ready driver today for its GeForce graphics cards. The new driver, version 535.98, is WHQL certified. The update's big new feature is that it is Game Ready for the long-awaited Blizzard Entertainment action-RPG sequel Diablo IV.
NVIDIA's article on this new driver released has some information on how the update helps to boost performance in Diablo IV with its GeForce RTX 40 cards, using its DLSS 3 technology.
In Diablo IV, DLSS 3 helps GeForce RTX 40 Series gamers multiply performance at 4K by an average of 2.5X. In our action-filled benchmark, performance on the GeForce RTX 4090 increased by 2.4X, enabling us to play at 229 frames per second with every single setting maxed out. The GeForce RTX 4080 hit 177 FPS, the GeForce RTX 4070 Ti ran Diablo IV at 139 FPS, and the GeForce RTX 4070 113 FPS.
Diablo IV launches for pre-orders on Thursday, June 1, and will launch for everyone else on June 5. Keep in mind that if you buy a new GeForce RTX 4070, 4070 Ti, 4080, and 4090 graphics card, or have a new card installed in your new pre-built gaming PC, you can get a digital code for a free PC copy of Diablo IV from now until June 14.
In addition to the Diablo IV support, the new driver is optimized for the System Shock PC remake which launches today. The driver also fixes some bugs:
Fixed Gaming Bugs

Applying GeForce Experience Freestyle filters cause games to crash [4008945]

Fixed General Bugs

Monitor may briefly flicker on waking from display sleep if DSR/DLDSR is enabled. [3592260]
[SOLIDWORKS 2023] rendering issues when Enhanced Graphics Performance is enabled [4050712]
[MAGIX Vegas Pro] Preview not working properly on some notebooks [4067005]
[TouchDesigner] Degraded performance using Vulkan [3952439]
[Nsight Tools] Abnormal termination that previously required a reboot [4056470]

Open issues

[GeForce RTX 4090] Watch Dogs 2 may display flickering when staring at the sky [3858016]
Increase in DPC latency observed in Latencymon [3952556]
You can download the new NVIDIA GeForce 535.98 driver for desktop GPUs here. NVIDIA notebook GPU users can use this link instead.