Last month, we reported on Pipo's X9 Windows 10 hybrid tablet PC. This month, it finally arrived at our door so we could get some hands-on time with what is probably one of the more unique Windows 10 devices to date. But, with something as unique as this, you have to really wonder, who is this device being catered to and what would they use it for. With that in mind, let's explore the Pipo X9.
Specifications
The Pipo X9 is a an all-in-one hybrid tablet PC that offers only one option when purchasing. You can either stick with the stock model with 32GB of storage or opt for the larger 64GB model that is currently only available for preorder. Although the packaging does indicate three color options (black, silver, gold), I have yet to see silver and gold available in the wild or for sale.
The full specifications for the Pipo X9 are below:
Windows 10 & Android 4.4 dual OS
8.9-inch 1920 x 1200 LCD display
Intel Z3736F Quad-Core up to 1.83GHz
2GB DDR3L RAM + 32GB ROM
Intel HD Graphics
Support Bluetooth 4.0
802.11b/g/n LAN
Built-in Speaker and Mic
Design
As mentioned previously, the Pipo X9 is probably one of the more unique Windows 10 devices that I have seen to date. Although reminiscent of a tablet, the X9 is certainly not portable. It has a 8.9-inch screen and utilizes a wedge design that incorporates a microphone, two speakers, 4 USB ports, 3.5mm headset jack, an HDMI out, Ethernet, a microSD card reader, Wi-Fi antenna and AC adapter port.
The wedge design limits the X9's flexibility as a majority of the panels house a port or switch of some kind. This means that if you choose to use the X9 as a standalone unit, there is effectively only one position in which it can be used. The X9 will always be positioned lower than you and in order to take advantage of it, you will most likely need to set it directly in front of you. The X9 for the most part is comfortable to use and the angle makes it easy to view and type. While I did not experience any strain while using it, the body position required might not be ideal for extended use. Furthermore, I constantly found myself wanting to pick up the unit and treat it like a tablet. Be warned, if you choose to do so, be sure to wear some gloves as the bottom of the unit can get uncomfortably warm.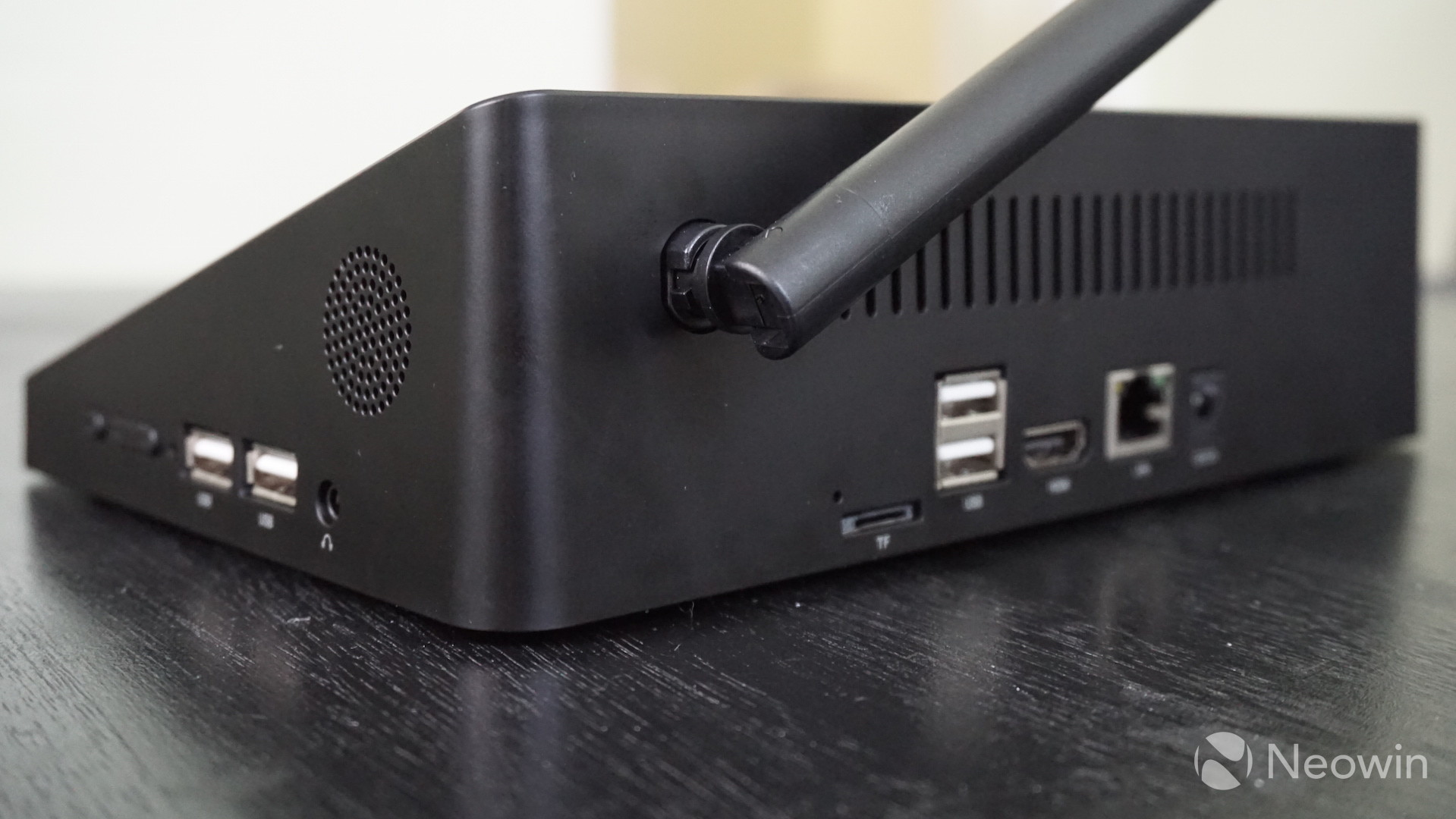 With the X9 offering a HDMI out and additional USB expansion, it was only natural to plug up a monitor and keyboard to see how the device would function. The experience was honestly much better compared to when using it on its own. By utilizing peripherals, the X9 became a powerful multitasking tool that easily allowed me to get through my daily work. It wasn't the fastest, but it could handle my day-to-day without issue. Perhaps, what I found most fun was utilizing the X9 as a secondary screen. By utilizing the device in this manner, there was no longer a restriction, as I could have productivity on one monitor and use the X9 as a "companion" device.
Overall, the design is a bit funky, but works fairly well. Although it is not the most ideal setup, it does work better when connected to a monitor and keyboard. Perhaps one of the major gripes about this unit is the volume buttons and the extremely short AC adapter that is included. While its tough to understand the design decision, the volume buttons on the device are reversed. For example, if you are sitting in front of the unit, traditionally you would press the volume button furthest from you to raise the volume and the one closest to lower. But, in case of the X9, it is the opposite. While this isn't a huge deal, I thought it would be wise to address the matter.
Secondly, the adapter for the unit is short, measuring in at 3 feet 10 inches. If this unit can't be charged (like a laptop), I do expect to have at least some wiggle room when it comes to using the device. Luckily, I was able to create some freedom while using the device thanks to a 32,000mAh external battery pack. If there is an future iteration, I'd also like to see the gargantuan Wi-Fi antenna module miniaturized or made internal and some of the ports shifted around to allow for better flexibility when it comes to positioning the device.
Performance
The Pipo X9 is powered by a Intel Z3736F quad-core CPU and 2GB DDR3 RAM. This is far from being one of the most powerful devices available, but it packs just enough to get through basic duties. For a typical day, I usually browse the web, author posts on Neowin and surf streaming sites to take in some entertainment. For these tasks, the X9 performed reasonably well, offering ample power to produce posts and also watch videos. When surfing sites, loading times were average and scrolling was smooth without interruption. Interestingly, this is in stark contrast to the Tronsmart's Ara X5 that under performed for the most part with simple tasks, yet packed a newer and improved CPU. While I didn't try intense gaming, I was able to play various web games like Bejeweled without issue.
Just to offer some numbers to the experience, I benchmarked the unit with Futuremark's PCMark and 3DMark. As somewhat expected, you can see the Pipo X9 does not look good on paper. Although the numbers put it on the bottom-rung and it is by no means a workhorse or gaming beast, it did work well for my daily use.
Conclusion
Overall, the Pipo X9 is an odd hybrid device that works for a majority of the things that you throw at it. While it doesn't offer the most flexible or comfortable experience due to its odd shape, it does work well for short sessions, or when connected to a monitor and peripherals. While its tough to understand who in the consumer space would buy this device, it does seem like something you would find applied in a variety of different ways in the commercial space. But, for around $130 USD, the Pipo X9 offers a unique device that can function as an adequate barebones Windows 10 PC or at the very least act as a conversation piece when you have family or techie friends over.
I'd like to extend a big 'Thank You' to the folks at Geekbuying who supplied the Pipo X9 for this review. If you are interested in purchasing this device, you can pick it up from Geekbuying. You can check out more at Pipo's official product page.
Pros
price performance flexibility via ports construction
Cons
wedge design short AC cord volume buttons monstrous Wi-Fi antenna