Retro Wednesday is a weekly column exploring forgotten classics, obscure curiosities, and things that should've stayed buried in the deserts of New Mexico.
While we're focused on covering E3 here NeoGamr, we thought it'd be a great time to do something a little different and take a look back at the very first E3 expo, journeying all the way back to 1995 (not very long at all by Retro Wednesday standards).
Some things haven't changed at all - alright, so the hair's a bit different - even back in 1995 everyone still loved their Booth Babes.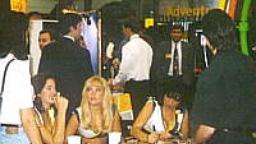 One thing that has most definitely changed are the hot new gadgets being offered, and even who's offering them. Back in 1995, Sega was still locked in a death grip with Nintendo, and it wouldn't be a stretch to say that they were front and center at E3 1995. Sony, on the other hand, was gearing up to stage an industry wide coup with the as of yet unreleased PlayStation.
Other 'players' never even had a chance to come or go. 3DO was excited to show off the fabled M2, a console that was supposed to be far more powerful than Nintendo's prototype 'Ultra 64.' They even got the cheerleaders of the San Diego Chargers to help promote the system (above). It would end up being sold to Panasonic, who used the underlying technology in cutting edge devices like coffee machines.
Nintendo showed off the Ultra 64, a prototype of... Well, you can probably guess. Far more impressive, however, were the stunning, vomit-inducing graphics of Nintendo's greatest innovation, the Virtual Boy. Designed by Gunpei Yokoi, the genius behind Game Boy, to 'totally immerse players in their own universe,' the bulky 'portable' system had no redeeming features whatsoever, and would be discontinued in Japan by December of 1995 (it was released in July).
The Virtual Boy's clunkiness was only slightly overshadowed by Atari's Jaguar VR headset (yes, Atari was still in the console business back in 1995). Designed to work with the ill-fated Jaguar console, Atari never managed to produce a working prototype, and by 1996 they admitted that the Jaguar's low install base meant that it would never see the light of day.
Sony, as of yet an unproven player in the gaming market, showed off the PlayStation, which had been released the year before in Japan. It wouldn't disappoint, providing stiff competition to the Nintendo 64. Even Bill Gates got in on praising the console, noting that Microsoft's game designer "liked the Sony machine."
Getting back to Sega, not to be upstaged by the lower price Sony's PlayStation, they shocked everyone by announcing that the much anticipated Sega Saturn would be released not on September 9th, but that it was in stores now. As in right then. How's that for a bombshell? It would be discontinued outside of Japan by 1998, having sold only 9.5 million units.
Last but not least, we're gonna leave you with a 2 hour long video from Atari Explorer Online, who covered the very first E3, courtesy of YouTube:
Images via PlayStation Lifestyle | Giant Bomb | IGN | Atari HQ | Wikipedia
NeoGamr and Neowin's coverage of E3 2012 is sponsored by War Inc. Battle Zone.