Like clockwork, Samsung announced the Galaxy S9 and Galaxy S9+, and although they weren't a complete surprise in terms of design, they do have some new tricks up their sleeves. Taking a page from Apple's book this year, Samsung made an effort to really distinguish the S9+ model from its standard S9 variant, giving the former not just an increased display size and battery, but also offering up dual camera sensors. Samsung has been dominating the smartphone world for quite some time, but will it be able to continue its reign?
Specifications
Samsung Galaxy S9+
Product Codes
SM-G965U (T-Mobile Variant)
Display

6.2-inch Quad HD+ Super AMOLED
2960x1440
529 ppi

Processor
Qualcomm Snapdragon 845 (U.S. Variant)
RAM
6GB
Storage
64GB
Connectivity
Wi-Fi 802.11 a/b/g/n/ac (2.4/5GHz), VHT80 MU-MIMO, 1024QAM
Bluetooth 5.0
GPS, Galileo, GLONASS, BeiDou
Camera
12MP + 12MP autofocus (wide-angle, telephoto) cameras
8MP front-facing autofocus camera
Ports
USB Type-C
Sensors

Iris sensor, Fingerprint sensor, HR sensor
Pressure sensor, Gyro sensor, Proximity sensor
Accelerometer, Geomagnetic sensor, RGB Light sensor
Barometer, Hall sensor

Battery
3,500mAh
Launch OS
Android 8.0 Oreo
Launch Date
March 16, 2018
Size & Weight
Dimensions: 158.1mm x 73.8mm x 8.5mm
Weight: 189g
Price
$839.99

Design and Display
Samsung has been honing its design for quite some time. The curved display first made its debut on the Note Edge which was released nearly four years ago. Despite the reactions being mixed, the firm continued to pursue the look, fine-tuning it with the S6 edge, S6 edge+, S7 edge, and finally the Galaxy S8. As you can imagine, the Galaxy S9+ is another refinement, making small changes here and there to improve the look and performance.
On the front, there is a beautiful, 6.2-inch 18:9 AMOLED display with minimum bezels on the top and bottom. The top bezel houses the front-facing camera, iris sensor, earpiece, and notification LED. The colors on the AMOLED panel look vibrant, and they can be customized to the users liking. As you can probably guess, things look extremely clear thanks to the 2960x1440 resolution.
The S9+ incorporates a slight curve on the right and left-hand side of the display and this gives the phone a very smooth look and feel, with the screen melding into the metal chassis. The handset looks bigger than it feels and is quite comfortable in hand but is also quite tall. Those with smaller or even normal size hands might find reaching the top end of the screen a little bit of a stretch.
By making use of an AMOLED display that is quite efficient, Samsung is able to put the panel to use by way of its Always On Display feature. If unfamiliar, the Always On Display setting allows the time, notifications, and other pieces of information to be shown on the screen, without much battery drain.
While it is a small thing, being able to control the music, see the time at a glance, or even to see what kind of notifications you've received without having to technically turn on the screen is great. Samsung has even included an on-screen home button, just in case you felt like waking the device in a more traditional method.
The rear panel is made of glass, and while beautiful to look at, does make it more prone to smudges and fingerprints, but that is to be expected. Also on the rear are dual camera sensors, an LED flash, a heart rate sensor, and a fingerprint reader that sits just below the lenses.
Samsung caught quite a bit of flack last year for the placement of its fingerprint reader and while things are better this year since it has been placed below the cameras, it still isn't that distinguishable, making it a bit of a guessing game when trying to unlock the phone. Luckily, the fingerprint reader is quick and Samsung has also packed in iris and facial recognition as alternative ways to unlock the phone. They both work decently well, but not as well as Apple's Face ID.
On the left side of the phone, you have the volume rocker and Bixby button, which can be disabled but not customized. If there is a gripe about the Bixby button, it is that you must set it up first in order to disable the button, which is a bit convoluted. On the right side of the device you have a power button and the bottom of the phone houses a speaker, USB Type-C port, and 3.5mm headphone jack.
As mentioned before, this design has been getting refined for quite some time and for the most part, Samsung has done a pretty good job. If there are complaints, it would be that accidental detections on the edges of the screen are still a problem, so you'll still want to be careful when handling the phone.
Performance and software
(Left: Antutu, Right: 3D Mark)
This year's Galaxy S line packs the latest from Qualcomm with its Snapdragon 845 processor. The Galaxy S9+ makes use of 6GB of RAM and as you might expect, with apps and games, they take little to no time to load. Samsung is still running its custom Samsung Experience UI over Android 8.0 Oreo, and personally, I have never had an issue using a firm's custom skin, and in this case, it is no different. For those that like to customize the look, Samsung does offer its own theme gallery where you can download free and paid theme creations and also custom icons. So if you want to go for a Google look, you can do that. If that isn't enough, you can load a third party launcher to change the experience further.
When it comes to the settings menu, things are well organized. Since this handset is positioned to be in the hands of many, the firm goes with the approach of including everything and anything possible. You have customizations for the display, audio with Dolby Atmos support, advanced features for gaming, gestures, and more. Despite the organization though, there is a lot to go through and some might find it a bit overwhelming. Luckily, Samsung includes a search bar at the top of the settings menu to make it a bit easier to find what you are looking for. Per usual, benchmarks have been run using Antutu and 3D Mark, with the results of those tests shown in the images above.
If there is one complaint about the software, it would be some of the redundant apps from Samsung, along with the level that the firm is pushing its own digital assistant, Bixby. From the moment you turn on the phone, it's apparent that Samsung wants you to use Bixby. It is embedded throughout the OS and is quite heavily integrated into many functions of the smartphone. What is nice, though, is that once you disable it, it is gone. You can always re-enable it if you want to have it become your main assistant.
Battery life and audio
Fortunately, the Galaxy S9+ has enough battery to last a full day for most people. The firm didn't make any attempt to expand the size of the 3,500mAh battery from last year's model, but this is understandable, considering Samsung's trouble only two years ago with the Galaxy Note7.
Using the handset on the default setting at FHD+ (2220 x 1080), a typical day would start at around 9am and it would easily make it through the day, ending at around 11pm with 30 percent remaining; daily use includes Gmail, web browsing through Chrome, Google Play Music streaming via Bluetooth, Snapchat, and some light gaming.
If you want the best quality when it comes to the experience, you'll need to head into the battery settings and shift over to high performance. This will crank up the resolution to WQHD+ (2960 x 1440), and will also increase the brightness of the display by 10 percent. Using the handset in this mode, the phone was still able to make it through an entire day, but was left only with 15 percent by 11pm. Those looking to customize the experience can do so, mixing and matching the various settings for the optimal settings for their use.
Overall, the experience with the battery in high-performance mode was good but not great. Personally, I have been using handsets with 1080p displays for the past few months and it really hasn't been a problem. In my day-to-day setting, I leave it in 1080p, but with the 10 percent brightness boost enabled, and that seems to be a comfortable way to get all day battery life.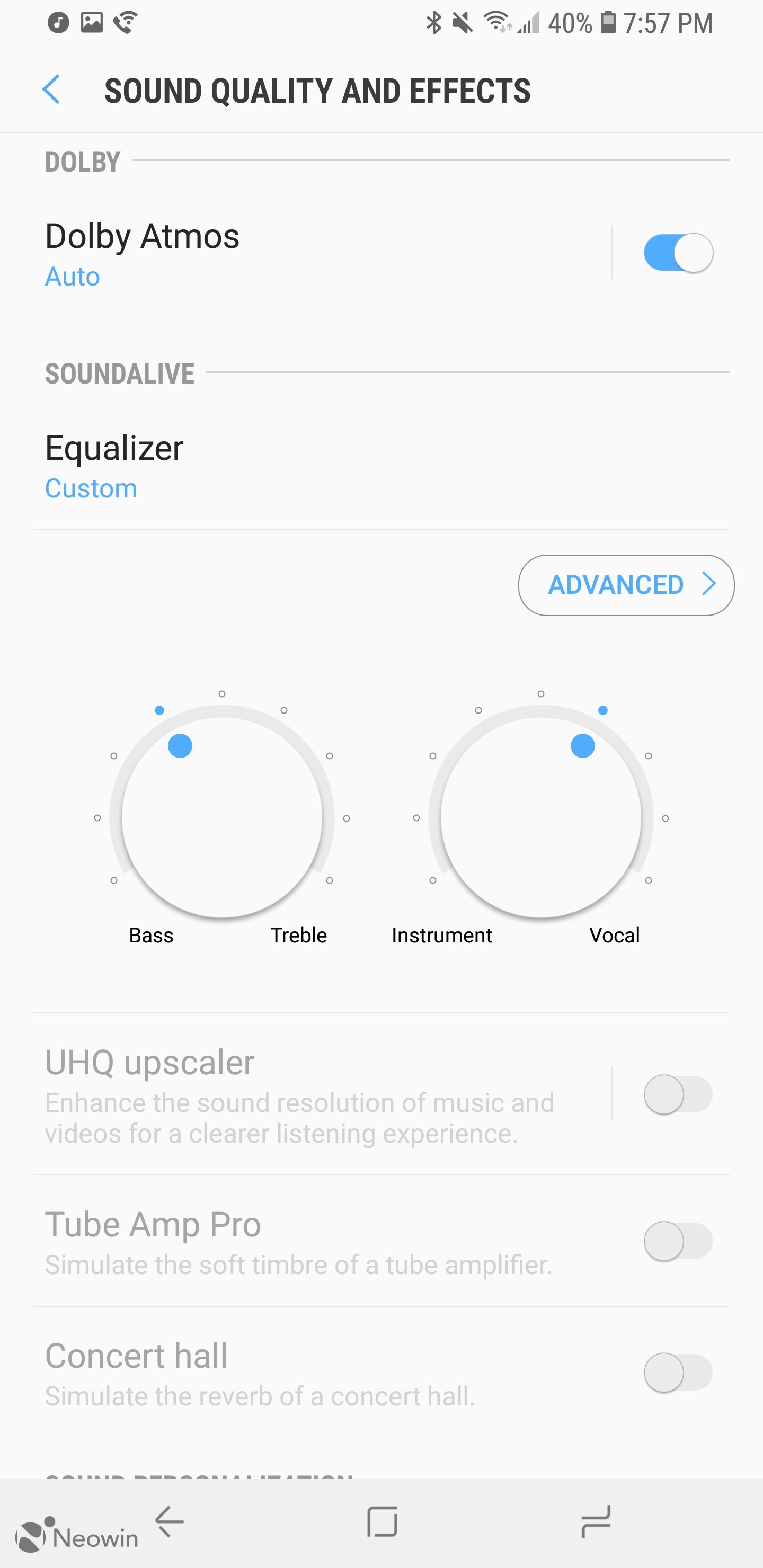 As far as the audio goes, the Galaxy S9+ finally makes better use of its earpiece by having it double as a speaker. That's right, the S9+ includes dual speakers, one that fires from the earpiece, the other firing from the bottom of the phone. It might not be the loudest set of speakers on a smartphone, but it does sound quite clear and provides good depth and rich sound. Those that watch media or play games on their handsets daily will appreciate the small change. The firm has also managed to retain the 3.5mm headphone jack, while also adding support for Dolby Atmos.
Dolby Atmos is buried towards the bottom of the sound settings menu and gives those that are picky with their audio a better way to customize it. You can choose from a number of preset options or fine-tune the equalizer to your liking and create your own. There is also an option to upscale the bitrate and bandwidth, along with a setting that will simulate audio passing through a tube amplifier. It isn't as robust as LG's DAC settings found on the V30, but it shows that Samsung is paying attention to its competition and that it's trying.
Camera
Every year, smartphone companies vie to produce the best possible products that will edge out their competition. Samsung has consistently reigned at the top, but its devices have never been known to have the best cameras. This year, it aims to change that with its Galaxy S9+, arming it with dual camera sensors and a variable aperture.
The Samsung Camera app on the Galaxy S9+ is revamped when compared to years prior, giving users quick access to modes by just swiping up or down on the viewfinder screen. There are a total of ten camera modes and while you can have all ten available to you, you can also edit the number of modes that appear on the screen, with the lowest value being one (auto mode).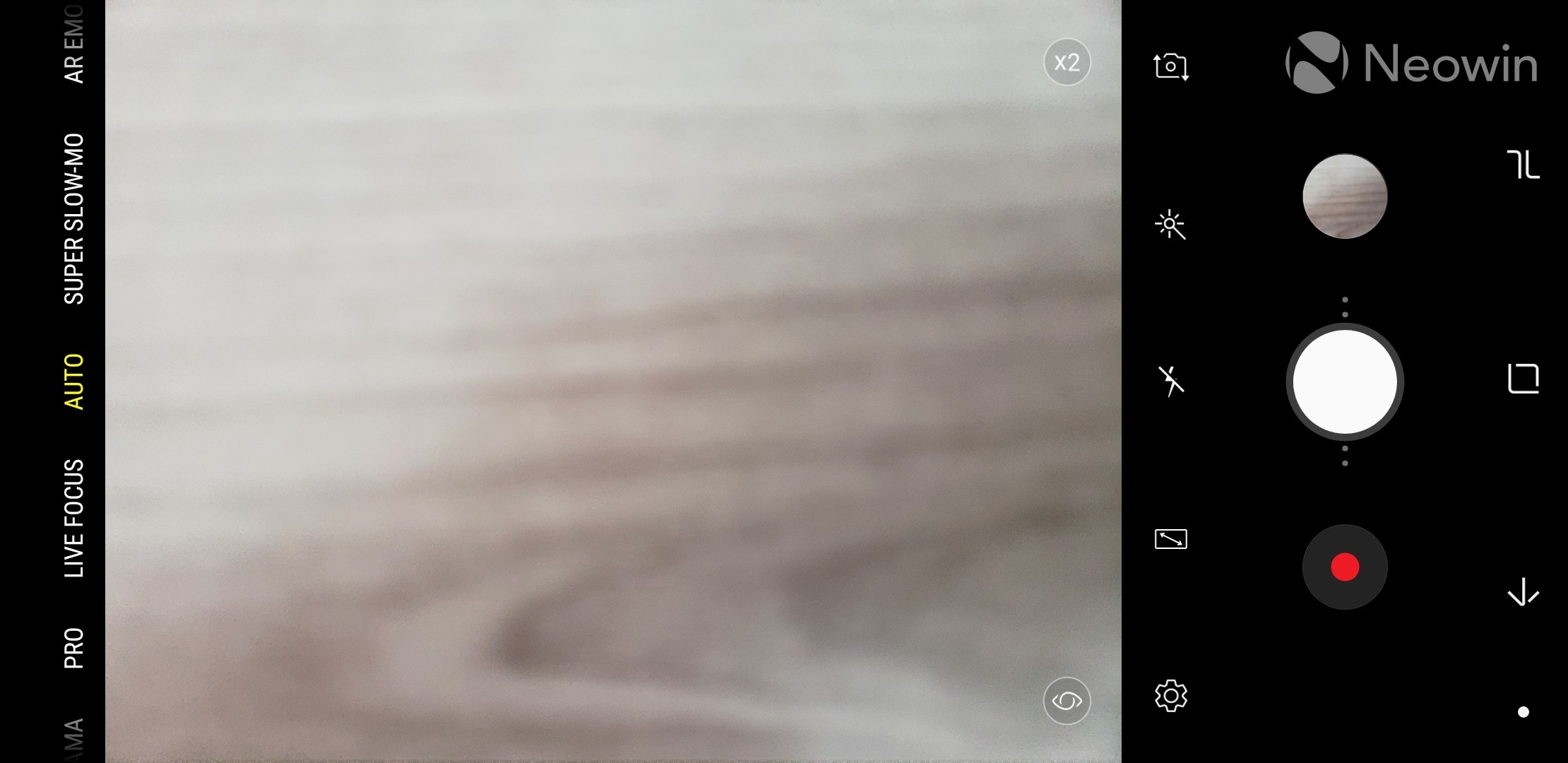 (Auto mode)
The auto mode is most likely what most will use when they are going to take a photo or video. It is quick and easy with most of the settings being applied automatically. If you are into adding effects, you can do so, as Samsung has included several for users to take advantage of. If the default isn't enough, you can always download more from the Samsung Galaxy Apps store.
(Full View mode)
You can also access the zoom function either by pinching in and out or using the virtual toggle stick There is also a small icon on the screen that will allow you to go from standard (x1) to telephoto (x2). Those that prefer to be immersed in the subject matter being photographed, can also expand the viewfinder to full view, which will allow the framing of the image to take up the whole screen. This makes things a little harder to see when it comes to the icons, but if you want an expansive experience, this is it.
(Bixby Vision working hard)
Samsung manages to add some Bixby into the mix with Bixby Vision. Vision gives users the option to point their camera at a subject and get relevant information like finding the item online, searches for similar images, locations nearby, text translations, and more. While there are plenty of modes, most of them don't work all that great, as you can tell from the example above. But it's good that it is available as an option and I'm sure that it will improve over time - at the very worst, you have a built-in QR code reader. As you might expect, there are also more traditional camera modes like panorama, live focus, sports, slow motion, and time-lapse. There is also a "food" mode that will allow users to highlight their extravagant or glutinous meals by easily adding a radial blur effect and adjusting the color temperature.
(Pro mode engaged)
For anyone that wants to take things up a notch, you can enter the Pro mode, which will give you access to different options so that you can dial in the look of your image. The settings that can be changed are some that you would expect like the ISO, shutter speed, white balance, focus, and exposure. Also inside the shutter speed settings, there is a small icon that will allow users to switch between an aperture of f/1.5 and f/2.4. Now, this is quite a big deal, as it is the first time something like this is being implemented on a smartphone.
(photos shot at f/1.5, ISO 400, 1/10)

Traditionally, the aperture found on a smartphone camera has always been constant. That means that no matter what kind of shot you were taking, whether low light or a bright sunny day, it would stay the same. Because there was always a fixed amount of light that was entering the lens and hitting the sensor, you were forced to compensate by modifying other aspects of the camera, like its shutter speed and ISO, to get the best image possible.
(photos shot at f/2.4, ISO 400, 1/10)
With the Galaxy S9+, you are no longer stuck with one aperture, but can instead utilize two, a f/1.5 for low light situations and a f/2.4 for everything else. You can do this by popping into the Pro mode and making the adjustments manually or if you are in automatic, the aperture will be set for you based on the conditions. It's a neat addition when it comes to shooting and I think that it can be better utilized when in manual mode. Although the auto mode does a decent job, sometimes you'll see areas that are blown out. It seems like this setting will be more useful when you have time to really dial it in, but I'll leave numerous examples and let you be the judge.
Super Slow Motion is another camera feature that has been touted heavily by Samsung. The setting allows users to capture movement at 960 frames per second. While this is impressive, there are drawbacks. The first being is that you are drastically reducing the quality of the video, shooting in 720p. Second, you are limited to 20 shots per video and roughly around 0.2 seconds of recording time that amounts to around six seconds of playback.
The mode can be activated manually or automatically. The manual mode will expose a second capture button once you start recording that will trigger the super slow motion mode. This means that you have to be quite precise when shooting or try and predict the action. While it seems like a tough task, it just requires a little bit of concentration and a dash of luck. Just know that you probably won't always get what you want but that is to be expected with such a small window of time to record.
The automatic mode is a bit different and places a target box on the viewfinder. In theory what is supposed to occur is that whenever movement is detected within that box, the camera will automatically start recording a super slow motion clip. However, in practice, things don't always go as planned. The camera does a decent job of detecting action but it was a hit or miss most of the time. Unless the object and movement are extremely obvious, the camera doesn't start capturing the moment.
Personally, I found the automatic mode a bit frustrating, as I felt like the camera was failing to capture something that could be easily done in manual mode. This will, of course, depends on how comfortable you feel when recording but give both modes a try and find out which one works best for your application. As for the quality, it looks okay, as mentioned before, it does record at 720p, and if you have adapted to watching higher quality media, you can tell that something about the clip just isn't right. Samsung has a built-in clip editor so you can either leave the clip as is or add some personal flair by using your own music or provided tracks. The editor will also allow you to trim the edges off the clip.
I don't know how many people will end up using this mode, but for my personal use, it just didn't quite capture enough of the moment and left a really unsatisfying feeling. It isn't a gimmick, but I think further refinement is definitely necessary. Luckily, Samsung has also included a mode that will allow you to capture slow motion at 1080p resolution at 240 frames per second. As a bit of warning, when shooting in super slow mode, things can look a bit dim in the viewfinder and the recorded footage, so in order to get the best possible results, you'll want to make sure to be set up in a bright environment.
Augmented Reality has been slowly been gaining more attention over the past few years and Apple seemed to bring it front and center last year to consumers with the debut of the iPhone X and Animoji. Samsung's AR Emoji attempts to duplicate this effect with its best efforts but falls a bit short. You can use the AR Emoji with the standard or front-facing camera and it allows you to be transformed into a variety of different animated characters that react to your facial movements.
The effects look okay but the tracking for facial movement isn't quite as precise. To differentiate itself from the pack, Samsung adds the ability for users to create an animated version of themselves. Again, this looks okay and feels like something that was just added in for the sake of it. This probably isn't a feature that many will revisit but its good that it's available for those that under the age of ten.
The camera is what often makes or breaks a high-end handset and the Galaxy S9+ is no exception. The Galaxy S9+ is up against some tough competition, but Samsung does bring something new to the table with its dual aperture setup. During the daytime, images and video look great. You get a wide variety of different modes to use when capturing a scene and this can be quite convenient to some.
At night, things look good but it wasn't the quality I was expecting to see based on all the hype. The dual aperture arrangement is a nice option, but some of the images can still look quite muddy despite the larger aperture when you are shooting in auto. There is the possibility of taking some very good photos at night, but you'll want to take the time to dive into all the manual settings, but sometimes that just isn't an option.
When it comes to video, the handset supports at its max of UHD (3840 x 2160) resolution recording at 60 frames per second, which is only currently available on a handful of devices. If that isn't the look you are trying to go for, you can also dial things back and shoot at UHD, QHD, HD or even spice it up a tad bit by shooting at 1080p at 60 frames per second. Much like other areas of the phone, Samsung gives you options. One thing to note, depending on the resolution that you choose when shooting video, options like tracking autofocus, video effects, and stabilization won't be available.
As you can probably gather, Samsung has packed a ton of stuff into the camera and its software. While it isn't the best, for many, it will be good enough. What is clear though is that the company is trying to match its competitors, which is good, but many aspects still need further refinement.
Conclusion
You can probably gather by now that Samsung Galaxy S9+ is a pretty good smartphone. It has a modern design that looks sleek, while also offering a display that is bright, vibrant, and crisp. The curved edges might give newcomers something to complain about but it's nothing major and just takes some time to adapt.
The software side of things should keep a majority of folks happy, as it offers pretty much anything that you would need in terms of features and functionality. It is running Google's Android 8.0 Oreo out of the box and should be updated with the latest security updates over the course of the year. But if the past is any indication, the frequency of major Oreo updates will be a bit more reserved, and the arrival of Android P won't be happening most likely until the release of the next Galaxy S handsets.
As for the camera, things look good when captured during the day. The dual lenses allow for wide and also telephoto shots. The dual apertures are a new feature to this year's Galaxy S handsets, and it does help, especially when in low light situations. The options to shoot video are plentiful, with users having the option to shoot 4K at 60fps to the more unique super slow motion mode that captures at 960 frames per second. It's a step in a new direction when it comes to camera technology and it will be interesting to see how other companies react and how much Samsung will improve it over the years to come.
When all is said and done, you're looking at paying around $839.99, with that price varying a tad depending on the carrier and retailer (check out our buyers guide for the S9 and S9+ here) that you decide to pick it up from. This isn't the cheapest handset on the market right now, but it also isn't the most expensive. It's a device for someone who wants the latest and greatest but is also looking for a safe bet. With that said, it also isn't a huge difference from last year's model, but it does offer just enough to titillate those that might be even remotely interested. If you're a Galaxy S8 handset owner, you'll most likely want to hold off but if you're jumping over from Apple and are using an iPhone 6s or older, this might be a great option.
The Samsung Galaxy S9 and Galaxy S9+ will garner a ton of sales as well as accolades and for good reason. It checks all of the boxes when it comes to features you are looking for in a smartphone that is built in 2018 and also has some interesting new features sprinkled in. Samsung has tossed its hat into the ring and it now awaits other manufacturers' challenges. It is still very early in the year and it will be interesting to see just for how long Samsung will be able to hold the crown.