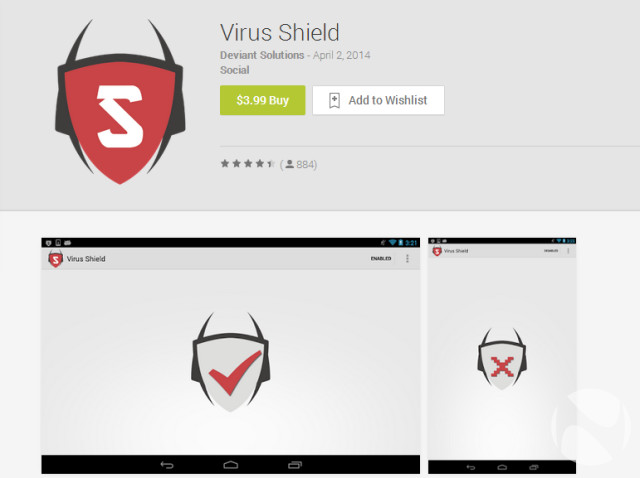 Security is an important factor when it comes to technology, and in most cases you can never have too much. In 2014, our smartphones know more about us than we know about ourselves, and if malware were to creep onto our smartphones then we could potentially suffer some major consequences. As a result, like any reasonable person, we would look to secure our device. This is what Deviant Solutions, the creator of the current #1 Play Store app, decided to capitalize on.
No, ZERO!
Virus Shield claims it is an antivirus that "protects you and your personal information from harmful viruses, malware, and spyware" and "Improve the speed of your phone," and it does this all with one click. It also claims to have a minimal impact on battery, run seamlessly in the background, and if that wasn't enough, it also acts as ad-block software that will stop those "pesky advertisements." This app costs $3.99, has been on the Play Store for just under two weeks and has already had 10,000 downloads with a 4.5 star review from 1,700 people. 2,607 people hit the Google "recommend" button. This means that the app must be doing something right... right?
Unfortunately for the buyers, Android Police has discovered that all the app does is change a red "X" graphic to a red "check" graphic. Literally. The 859kb app doesn't protect, secure, or scan anything. More work went into the Settings menu than the actual "security" portion of the app, and it appears that thousands of users have been scammed out of their money.
For $3.99, you get to see the image on the left turn into the image on the right
In tracking down the creator, it appeared that the creator was a well known scammer who had been banned from forums for trying to scam people out of low-valued online game items.
This calls into question some concerns about the openness of the Play Store. Is a walled-garden approach where the app goes through a strict review process, similar to what currently takes place in Apple's App Store, a better model for smartphones? Or does the freedom that comes from Google's approach outweigh the negatives of a bad app creeping in every now and then?
Google has just taken down the app a couple of hours ago and the link now returns a 404.
Android Police have posted the full code on Github which you can access here.
Source: Android Police